Creating a Feature Wall with Tile: Inspiration from the Parade of Homes
Posted by TOA's Blog Team on May 4th 2017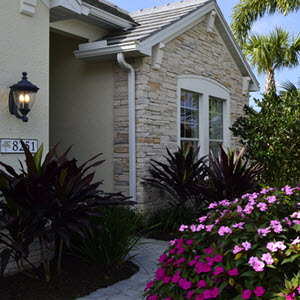 If you're looking to make a design statement in your home, consider creating a feature wall with tile.
While touring approximately 15 homes in the Fort Myers, Florida 2017 Parade of Homes sponsored by the Lee County BIA, Jeremy Sisson, Fort Myers Assistant Store Manager, and I noticed how prominent a role feature walls play, especially when interpreted with tile.
We also saw that products once considered trendy - wood-look tile planks and glass tiles, for example - have become mainstays given how beautiful, versatile and practical they are.
What is a Feature Wall?
One of my favorite design elements is the "feature wall" and it is becoming more prominent.
In fact, we observed feature walls in most of the homes we toured. Some homes had the feature wall in multiple rooms of the home while others stuck with just the living room or the master bedroom. No matter which room contained a feature wall, it added a great deal of depth to the rooms while creating an interesting focal point.
If you are asking what is a feature wall, let me explain.
A feature wall is generally one wall or a section of a wall in a room that is different from the other walls.
In the image below, the blue wall is a feature wall. It is different in color, texture and material from the rest of the wall. It stands out.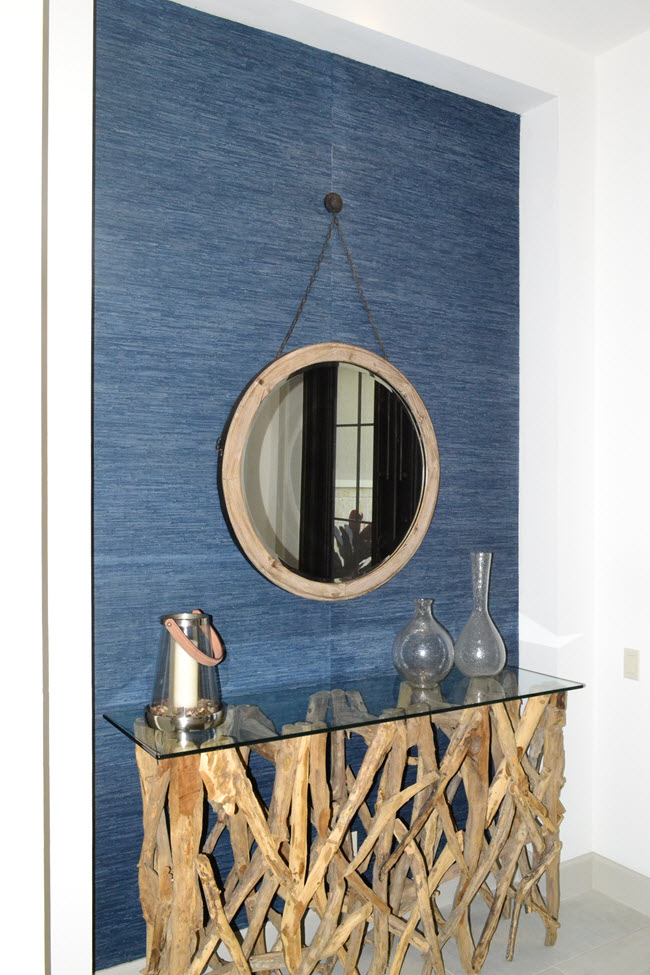 Typically, the most obvious wall in the room is selected, such as the wall in a bedroom where the bed is placed or the wall in the living room where the seating area faces.
In the image below, the bed has been placed against the feature wall which is different in texture and color from the other wall.
How to Create a Feature Wall with Tile
What I love about the feature wall is that it gives you the opportunity to be totally creative. If you aren't into bold designs, you can always chose to be more conservative and just select a paint color a couple of tones darker than your other walls.
However, since my true passion is tile and stone, I get much more excited about seeing and creating a feature wall with tile and stone.
Let me show you several ways to do so based on examples from the Parade of Homes that you might reinterpret with products from Tile Outlets of America.
A Feature Wall with Ceramic or Porcelain Tile
We saw walls that featured ceramic and porcelain tiles.
Depending on the tile you choose, you can create a subtle feature wall that is more about texture and a suggestion of pattern, or is bolder if your tile pattern exhibits a lot of shade variation.
>> See How to Deal with Shade Variation in Porcelain and Ceramic Tile?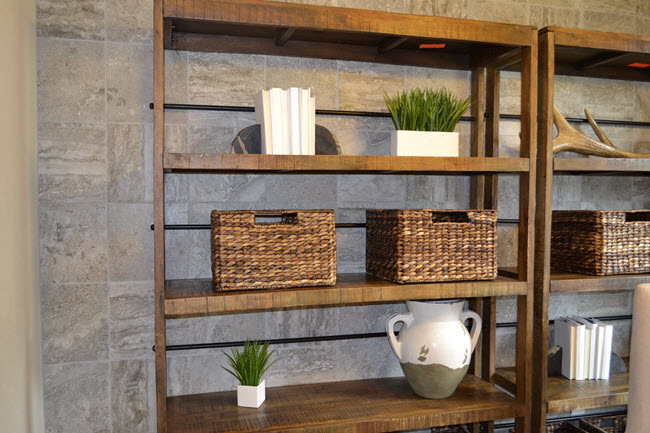 To create a feature wall similar to the one above, you might consider Newslate Multilight Porcelain Tile 12x12, or, in a 12x24 format, Clast Grey 12x24 porcelain tile for a classic stone look and Linho Light Grey 12x24 ceramic tile for a soft linen look.
A Feature Wall with Wood Look Tile
The wood plank tile look continues stronger than ever as a floor tile and as an exciting wall tile for feature walls.
In the two images below, notice how bold and fresh the dark wood look planks appear. The look is more formal in the first photo.
In this second image, the hand-scraped look and feel of the planks fit perfectly with the mid-century modern look of this seating space.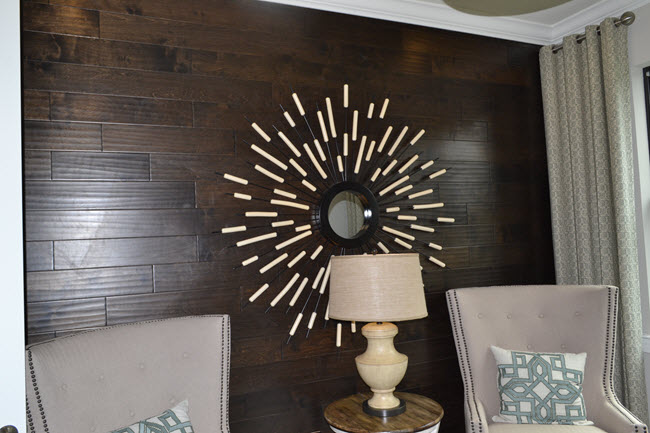 Tile Outlets of America has over 75 styles of wood look planks in porcelain and ceramic tile that you can choose from to create your feature wall such as Hunter Plank 8x47 for a rustic look.
>> See Five New Wood Looking Tile Planks To Transform Your Home!
For a more modern look, consider Parquet Affascinante 6x24 which is what you'll find as a feature wall in the Fort Myers store men's room.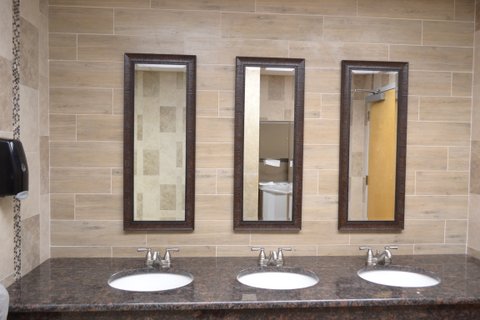 Tile Outlets of America bathrooms will inspire new tile and stone designs
A Feature Wall with Brick Tile
We noticed the feature wall interpreted with brick in several homes.
The two images below capture that look in white; you can easily imagine it in brick-like colors, adding color and texture.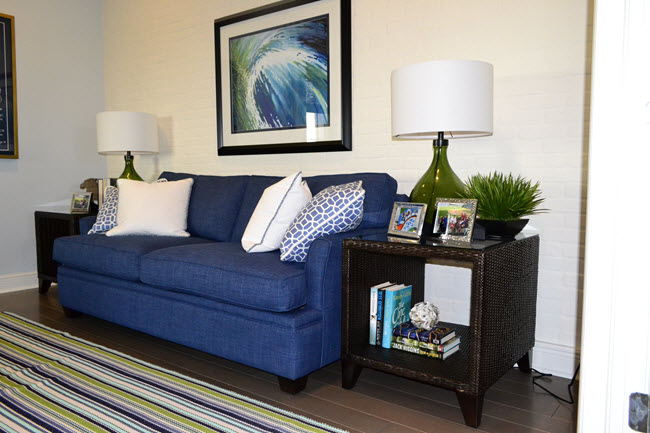 To create a brick feature wall with tile, try London Fog 5x10 porcelain tile and London Multicolor 5x10 tile or even Granito Granito Grigio 12x24 porcelain tile.
The image below shows you how a feature wall looks with London Fog brick-look tile.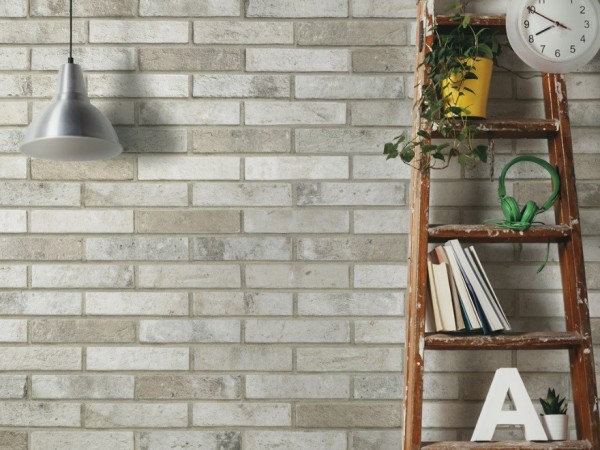 >> See Brick Floor Tile Collection Creates A Timeless Craftsman Look
A Feature Wall with Split Face Mosaics
Perhaps one of my favorite tile selections for creating a feature wall is split face mosaics. The end result is classic and elegant with strong visual interest.
The image below from the Sarasota Parade of Homes shows you how lighting works with that textured feature wall.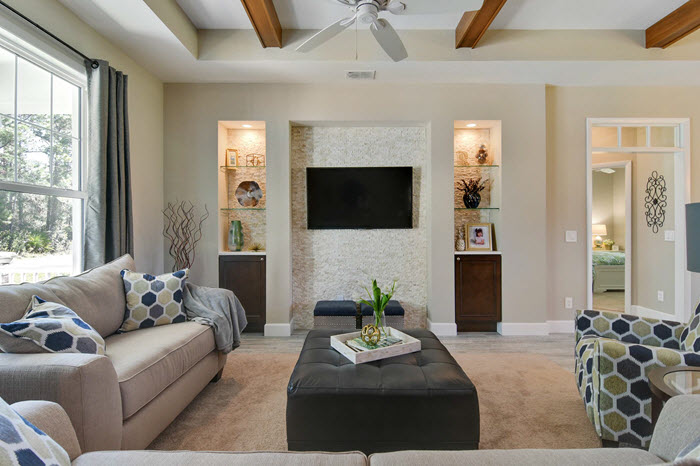 >> See Tile Selections Create Coastal Living Feel in Parade of Homes House: Tile Outlets' Donna Kern
In the example below, the strong wooden elements elegantly frame the feature wall.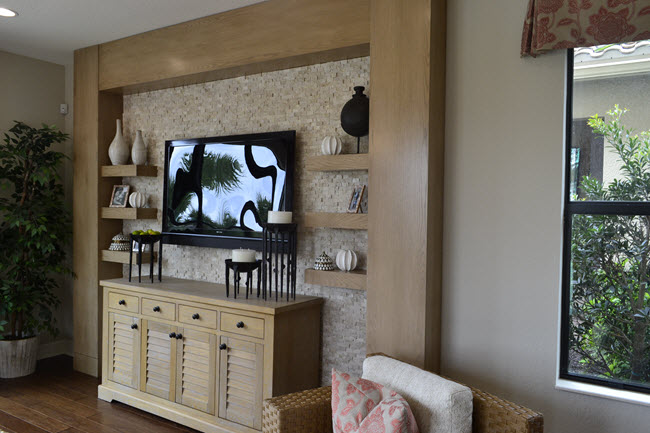 To create your own split-face mosaics feature wall, you could use Cascade White Travertine 1x2 Split Face Mosaic.
We used Noce Travertine 1x2 Split Face Mosaic as a second feature wall in the Fort Myers men's room.
Another great option would be Silver Travertine 1x2 Split Face Mosaic.
>> See From Tile Dream to Tile Installation Reality in Fort Myers, FL
Ready to Create your own Feature Wall with Tile?
We hope we inspired you as much as touring these homes inspired us. A feature wall is an easy and effective way to add visual interest to a room in your home. With so many product options, creating a feature wall with tile can be great fun. We hope you'll consider including one.
One last tip, any tile can be used on walls even though not all tiles can be used on floors. This means, when creating your special feature wall your options are limitless!
Thank you for reading.
Michele Hoover