Designing With White Tile on Suncoast View
Posted by Kate Spencer on Feb 21st 2023
Have you considered designing with white tile for specific spaces in your home? That's what Kate Spencer addressed on September 24th when she visited Suncoast View.
You may think that white is boring. However, incorporating it into your home decor is a great way to lighten up a room or add visual interest in a crisp, clean way. Especially with some of the tile ideas you'll see here.
In this article, Kate shows you how to create some amazing white spaces with tile.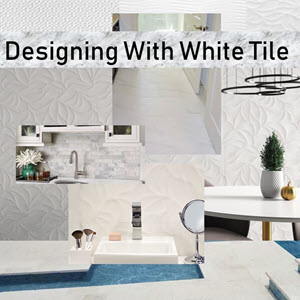 Brighten Up Your Spaces By Designing with White Tile
White tile, white spaces, and white finishes are worth incorporating into your space. White doesn't have to be in the kitchen or bathroom. You can use white features throughout your home space right to your outdoor deck.
In this article, we'll explore designing with white tile, white subway, white glass, white mosaics, and even white pavers to add light and visual interest to your spaces. More specifically, we'll explore the following:
Wall Features
Floor uses
Bathroom ideas
Kitchen spaces
Outdoor use
Creating Wall Features With White Tile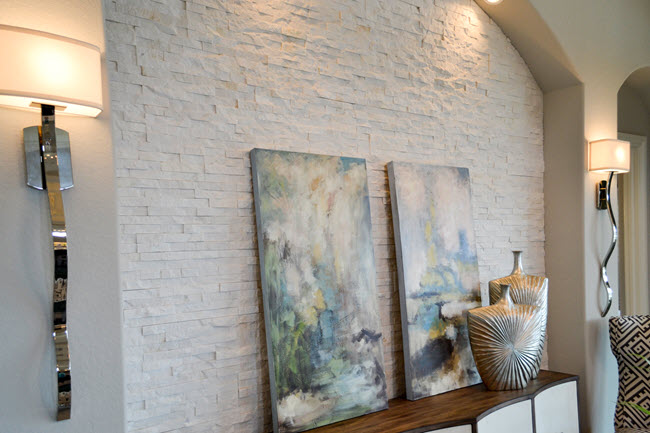 Here are several ways to use white as a strong attention-getting wall feature.
Above, you see a wall feature that uses a ledger or split face type mosaic. This adds dimension and texture to your wall to make it stand out.
Below, you see a wall feature created with white brick. This gives the room an industrial touch with simple clean lines that complement other colors added to the space. Notice how the blue touches pop.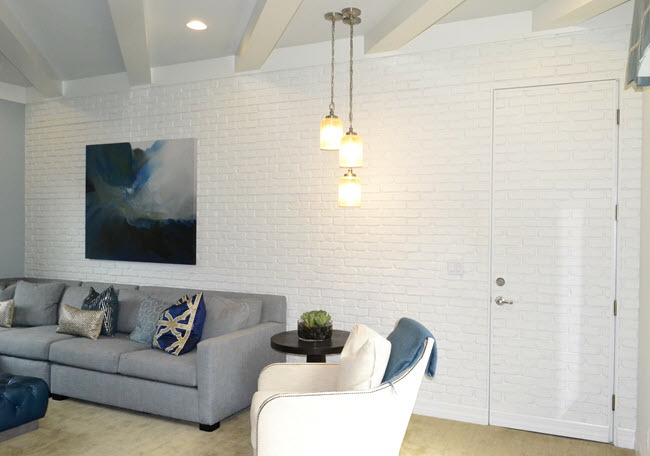 You might consider a mosaic backsplash done in stone and glass subway tile. Stone will have a flatter and more old world look.
A white glass subway tile, as you see below, brings shine and reflection to your space.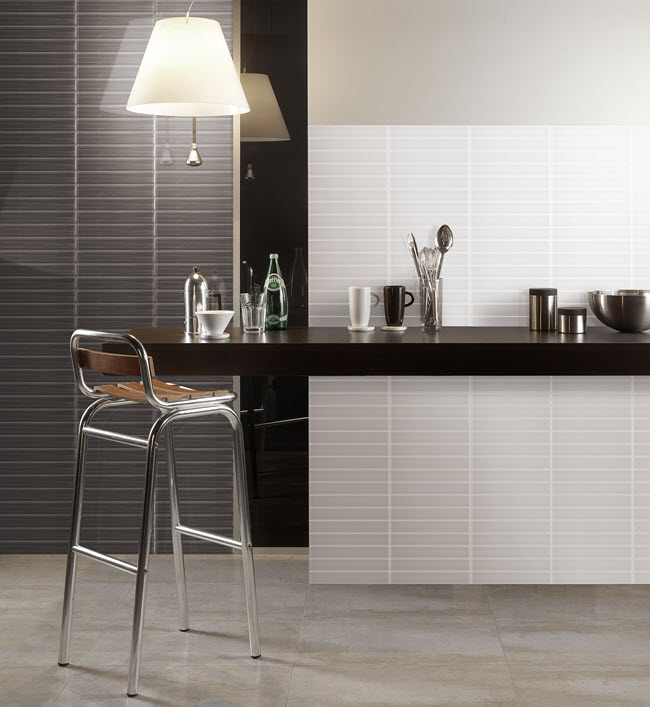 You can't top how creative dimensional decorative wall tiles look. Especially in white.
The image below comes from a recent tile trade show we attended in Brazil. Look how exciting all of these different dimensional white tile designs look.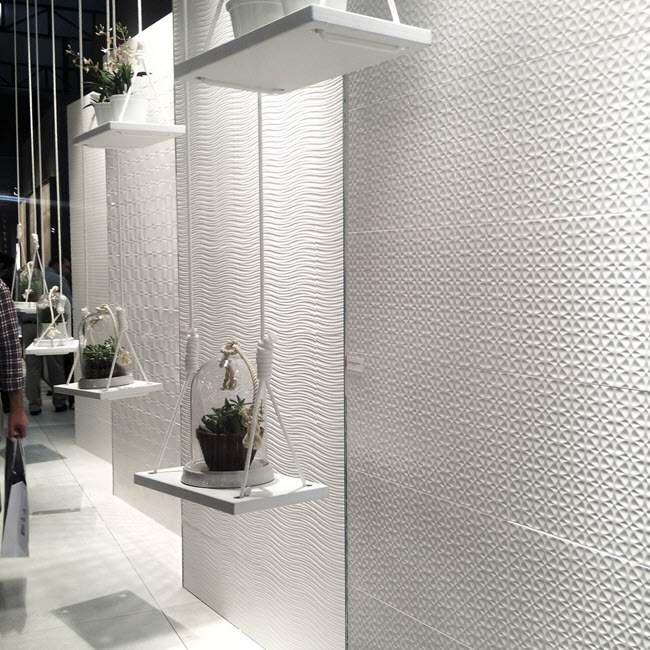 Now available at Tile Outlets of America are these three dimensional white patterns:
Folhas Leaf at the top.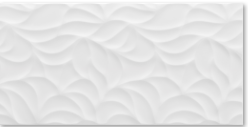 And here are Creative Blues and Creative Jazz.

To appreciate how these dimensional products look, here is Folhas Leaf as a full feature wall.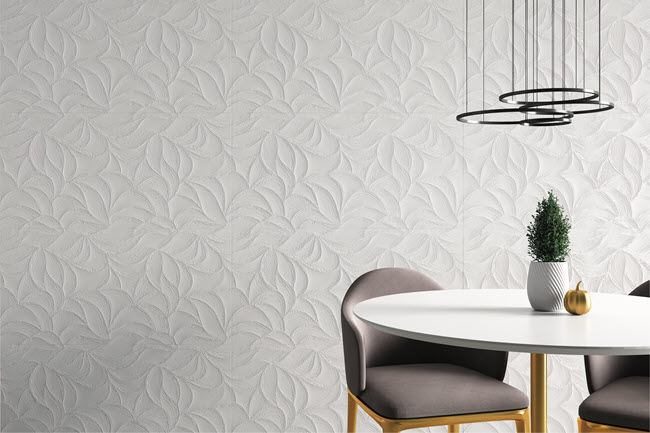 Adding White Tile to Floor Designs
White also looks terrific on floors. Not only do white floors make a space look bigger, but they also add an element of quiet and calm.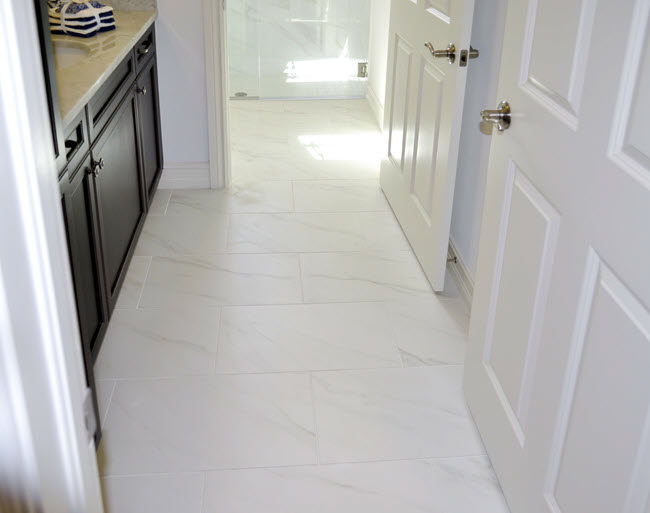 Some people wonder why you would put white tiles on the floors… because they get dirty. Honestly, all floors get dirty and they clean up just as nice as other colors and designs.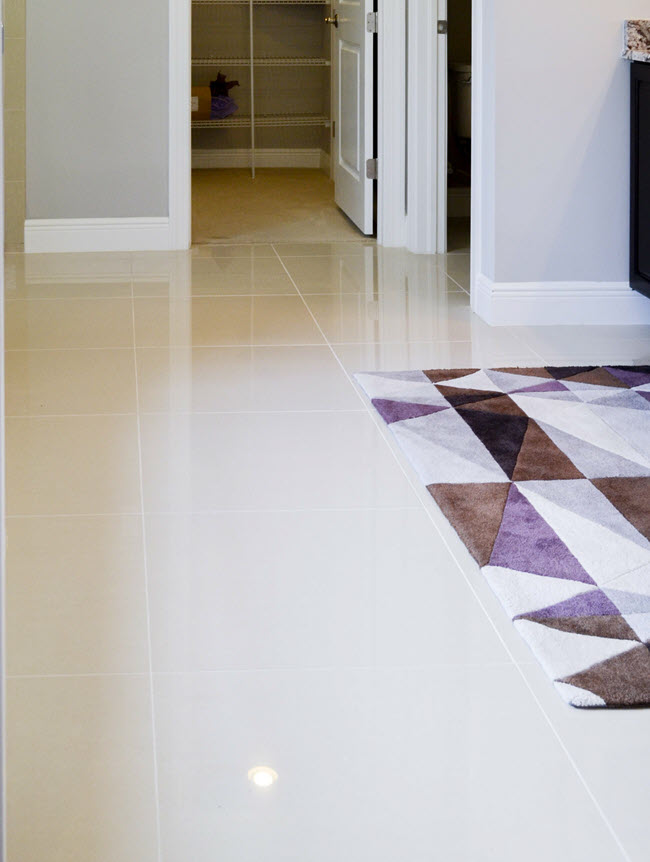 White tiles come in matte, glossy and polished.
When you have white floors, you can easily keep the look minimalistic to bring in a touch of room-brightening color.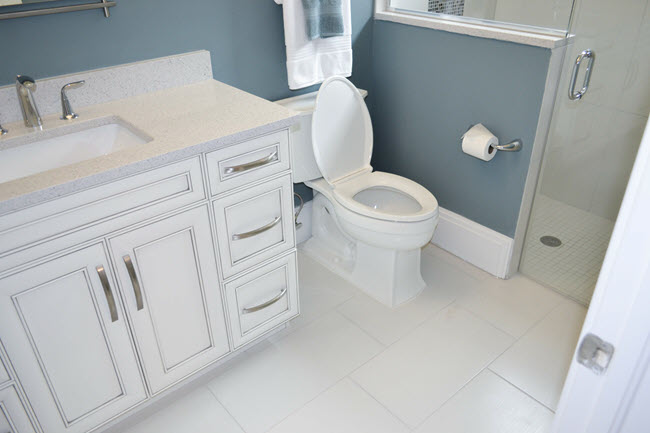 White floors don't have to be plain white. They can also be patterned with subtle or not-so-subtle marble-like striations as you see in the image below.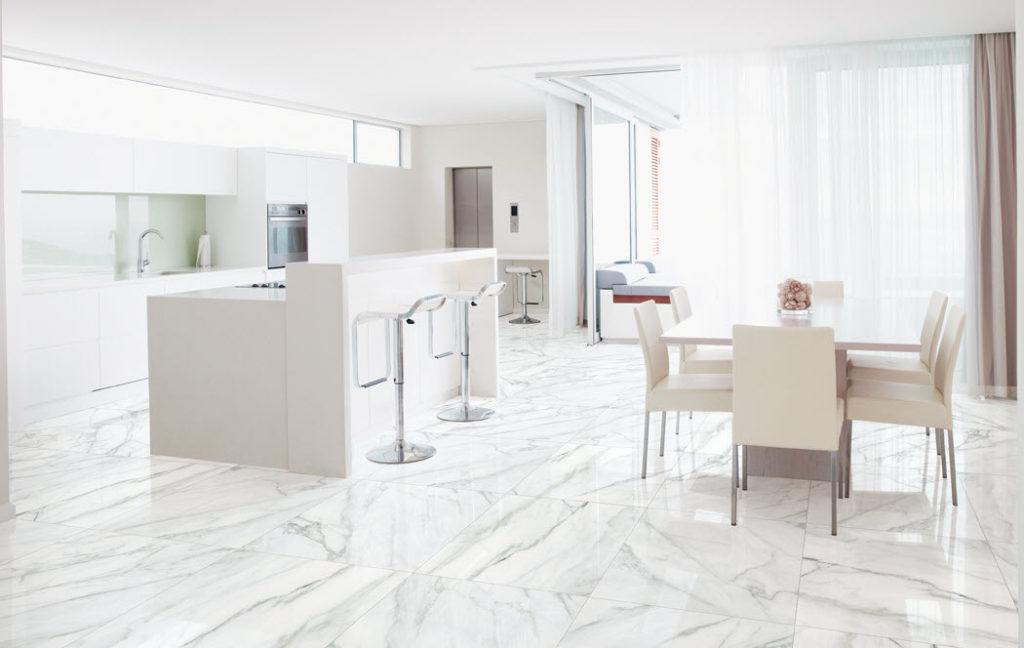 You can achieve a white floor with mosaics too. For example, white mosaics looks in ceramic and stone can bring a bathroom floor to life as you see with the marbleized hexagon mosaics in the image below.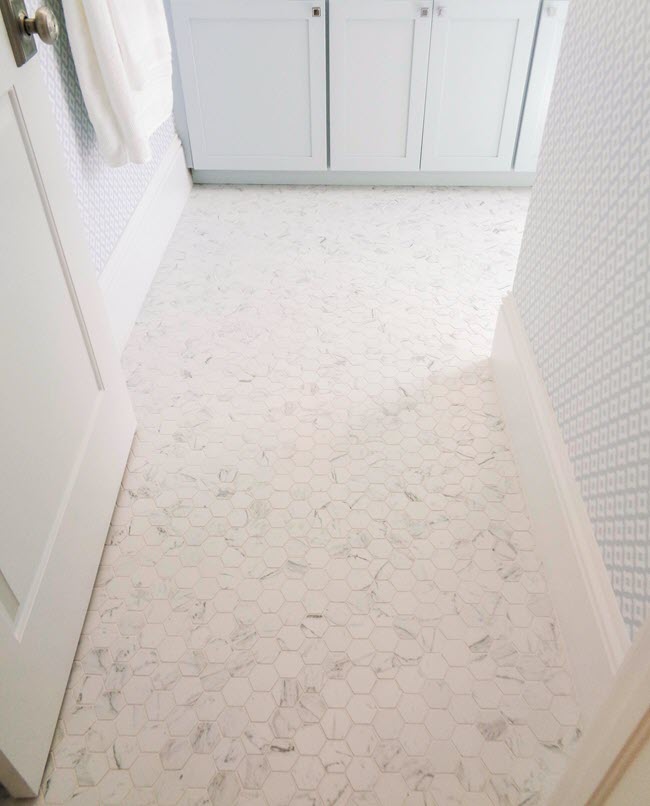 Designing With White Tile in the Bathroom
You'll often find the color white in bathrooms. It communicates a sense of cleanliness in addition to lightness.
That said, white tiles don't need to be antiseptically boring.
With different looks and applications, textured white tiles can give your bathroom a linen look as you see in the image below of white ceramic tile on the shower wall. It has a little bit of dimension without being too flat.
The shower wall in this next bathroom has a cleaner look. It's glossy and combined with white tile so you can barely notice the seams.
Dress up this bathroom up with a wood plank floor, a colorful shower curtain, white cabinets, and wall paint that coordinates with the floor tile.
Here's another interpretation of white: soft, pastel, almost-iridescent colors that shimmer in a calm, soothing manner. Notice the variation in the wall tile sizes and how well it works with the white porcelain sinks.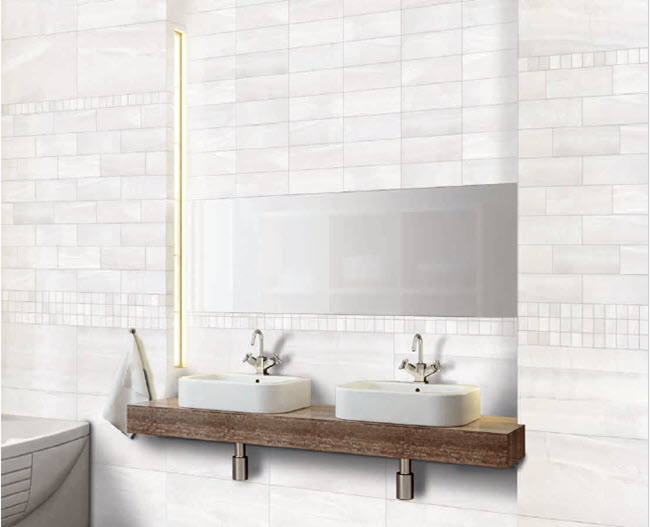 The next bathroom features white subway tiles from floor to ceiling. What makes this white bathroom unique is that the homeowner chose to use grey grout on the white walls and floor mosaic.
If grey isn't your favorite color, you might use another color such as teal or orange.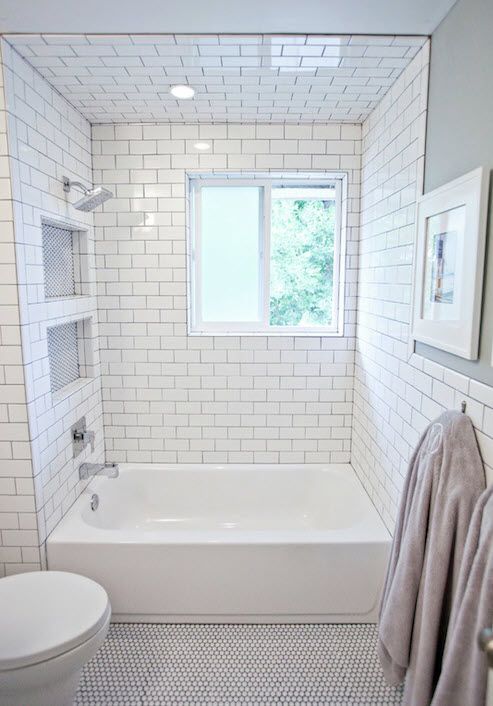 Earlier in this article, we talked about feature walls and dimensional white tile. Bathrooms are a natural for that kind of a look.
The next two images show you want bathroom walls with decorative tile and dimension look like. You can do this on the entire wall to create a look of decorative wallpaper, even though it is actually ceramic tiles with design elements.
Here's the wavy dimensional white tile.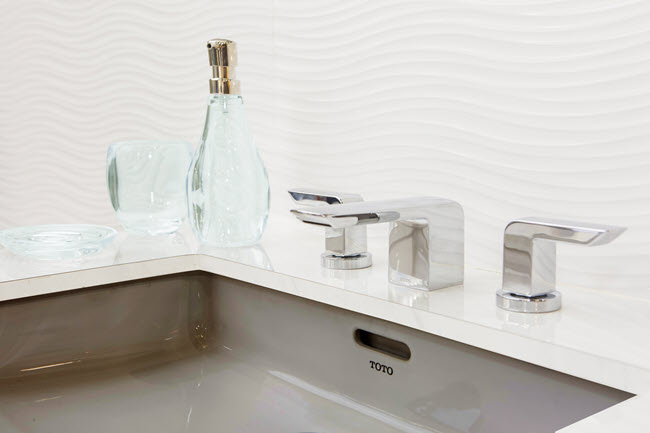 Below you see a 4x12 porcelain white bathroom wall application. These tiles are set in an offset and go from floor to ceiling. Notice how the finish of the tiles varies.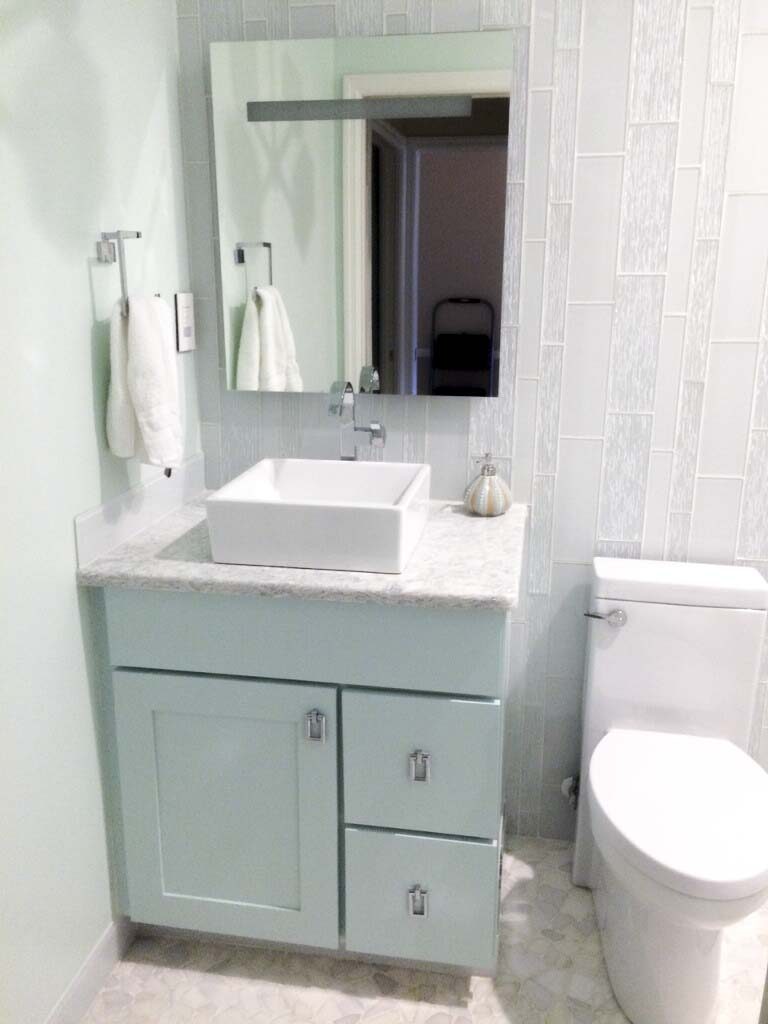 Here are two favorites.
Just as a touch of marble-veining can add visual interest to an all-white floor, so too can marble-looking brick mosaics set in a herringbone pattern.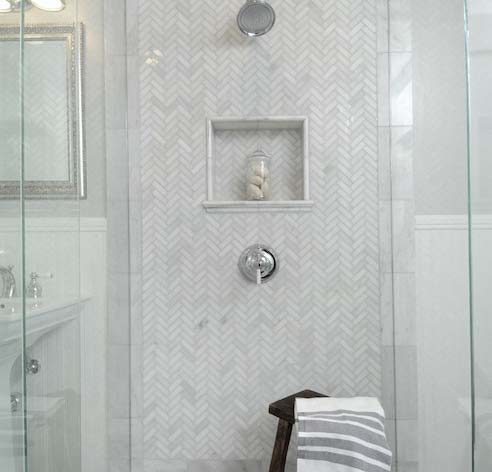 White Glass and stone brings a shimmer and reflective appearance to a room. Here you see marble subway tile combined with that hexagon feature wall. You have so many glass options to choose from between texture, smooth finish and mirrored looks.
You'll want to explore glass and mosaics more when you come to visit Tile Outlets of America.
White Tile Kitchen Space Designs
White is also popular for the kitchen where combinations of white tile, mosaics, stone, and glass go well with feature white cabinets and backsplashes.
For example, a stone backsplash coordinates well with granite countertops yet keeps the feel of a white kitchen.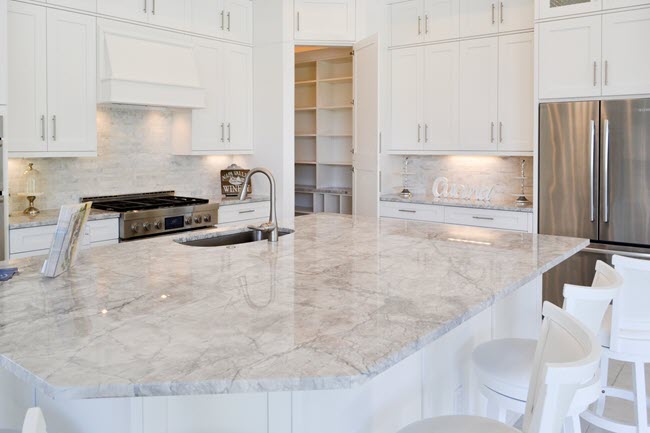 This next kitchen features a Cararra 3x6 subway tile to brighten up the white cabinets and dark grey island cabinets. Stone mosaics and subway tiles in white keep the room warm with old world charm.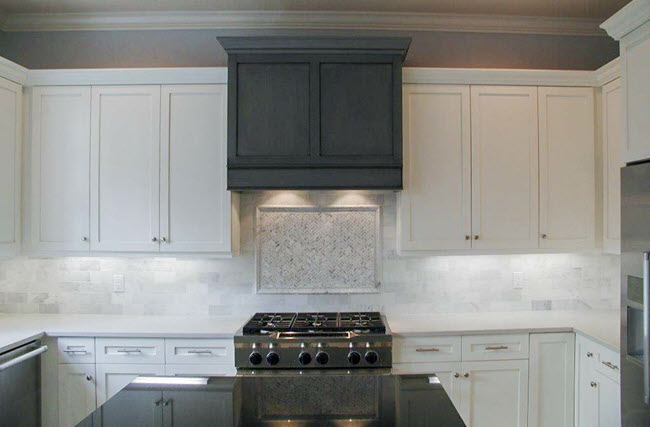 Here's another example of white subway tile with a darker grout. Notice how the subway tile backsplash goes all the way to the ceiling.
The wood floors act as a warm counterpoint to the white tile.
This last kitchen combines a white subway tile with a decorative 8x8 feature wall in the middle to break up the room.
Did you notice the floors are wood tile?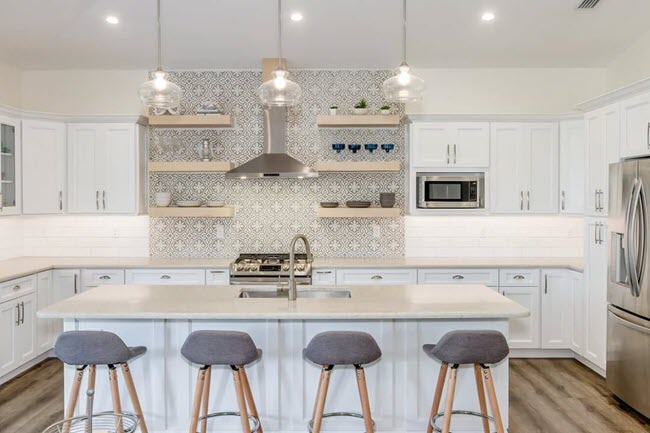 Designing With White Tile Outdoors
We live in Florida and spend a lot of time outside. So why not include white tile outside to complement your outdoor space and pool decks?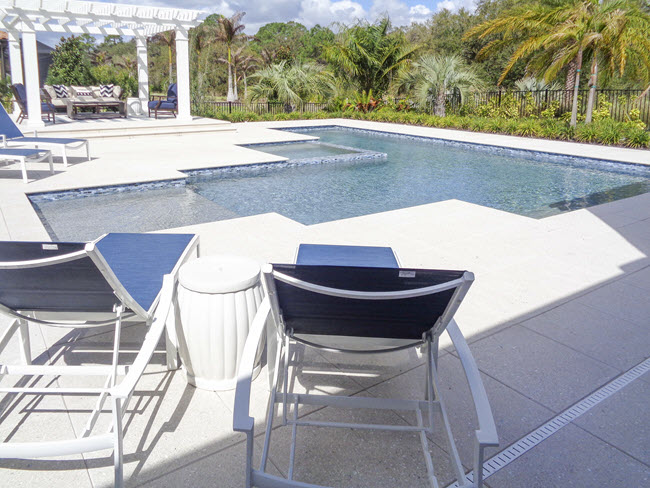 Stone, Marble and porcelain pavers are available in white formats.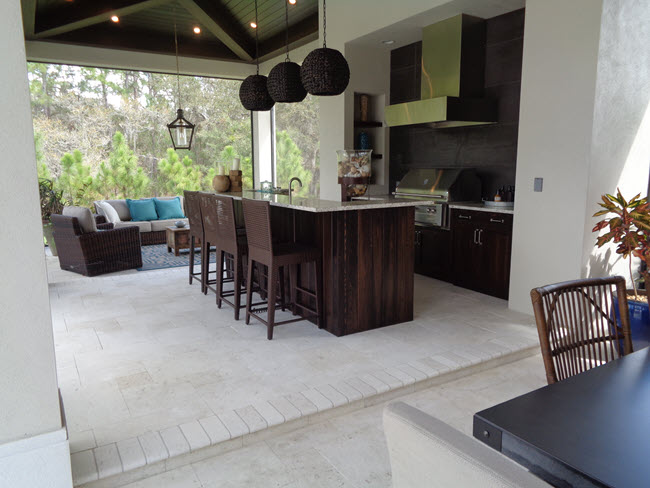 Not only will they look good, but white will help your outdoor space stay cooler to the touch.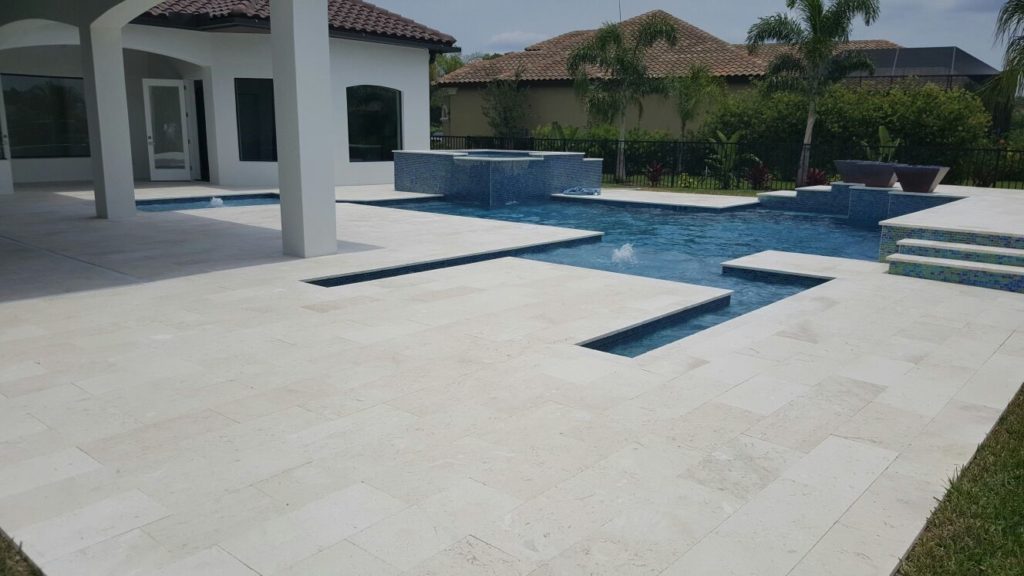 >> See Porcelain Tile Patterns and Shell Stone Marble for Outdoor Patio Looks
Ready to Design with White Tile?
I hope you enjoyed how to use white tile features to create your next remarkable space.
For more information on how you can incorporate white tiles into your home visit a Tile Outlets store in Tampa, Fort Myers or Sarasota. We look forward to showing these products to you.
Thanks for reading.
Kate