Porcelain Tile Patterns and Shell Stone Marble for Outdoor Patio Looks
Posted by Kate Spencer on Nov 17th 2016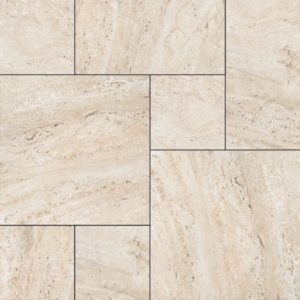 Imagine reinterpreting the classic looks of Travertine or brick with porcelain tile patterns, and of coral stone with shell stone marble. Talk about transforming an outdoor patio into a timeless retreat!
In this article, I introduce you to three new tile products that will definitely appeal to you for those outdoor patio spaces:
Sienna Beige modular porcelain tile pattern
Colosseum Verona porcelain tile
Shell Stone Marble.
Sienna Beige Modular Porcelain Tile Pattern
We love patterns and we love Travertine.
>> See The Truth About Buying Travertine Tile
We love Travertine patterns reimagined through porcelain tile patterns even more! That's where Sienna Beige comes in.
Sienna Beige modular pattern is a new porcelain tile item from Spain designed with the look of Travertine. The effect is so real, that you will want to touch it to believe it.
>> See How Inkjet Technology Has Transformed Ceramic and Porcelain Tile
As with the Travertine pattern floor tile choices available at Tile Outlets of America (i.e., Versailles or Roman patterns), each box of Sienna Beige is packaged to include one complete pattern and contains:
Four pieces of 9.84" x 9.84" porcelain tile
Two pieces of 9.84" x 19.68" porcelain tile
Two pieces of 19.68" x 19.68" porcelain tile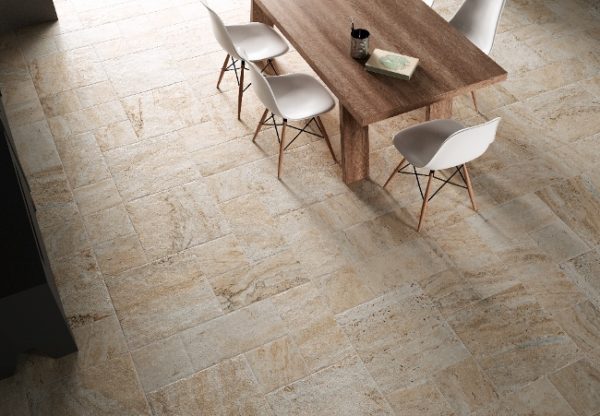 This tile is only sold in complete boxes. You must follow the pattern installation guidelines to get the proper look as you see in the image below. The design layout is on the box for easy installation.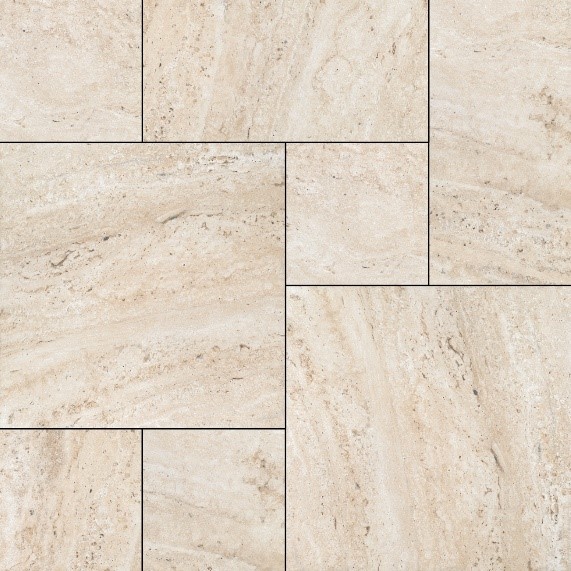 Sienna Beige Modular Pattern – SKU: 107073
Sienna Beige Modular Pattern has a PEI IV rating and a shade variation of 3.
It truly creates a porcelain tile patterned floor that looks like Travertine without any of the maintenance requirements.
This tile can be used indoors or outdoors.
Colosseum Verona Porcelain Tile
Although this next product isn't a modular one, it does feature interesting porcelain tile patterns.
Colosseum Verona is a 13x13 porcelain outdoor tile from Italy with the look of bricks.
It differs from other porcelain tile products with the look of bricks (see Brick Floor Tile Collection Creates A Timeless Craftsman Look) for two reasons:
Each 13x13 tile includes its own modular pattern.
The overall design includes the look of marble and stone.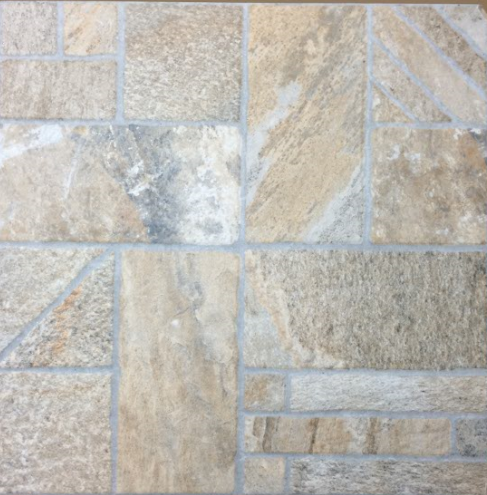 Colosseum Verona 13x13 porcelain outdoor tile SKU: 107075.
As you can see in the individual tile image above, there are multiple dimensions that create this interestingly rustic and outdoorsy design element that mixes the looks of marble and stone together.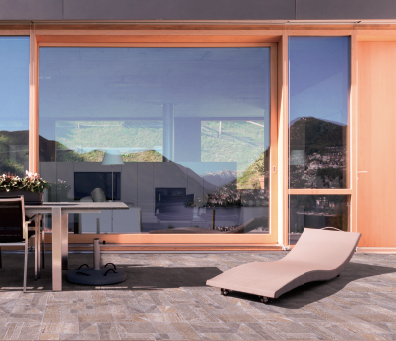 As you can see in the image above, the colors are very warm and the texture is just enough for any patio.
Colosseum Verona tile has a PEI rating of IV and a shade variation of 4.
Shell Stone Beige Marble
Shell Stone Beige Marble 12x24 is a brushed finished tile with a straight edge from Turkey.
Even though this material is known as limestone, the density of the material is much closer to marble. For that reason, we refer to it as shell stone marble.
This material was brought into the market to compete with coral stones. Shell stone has many advantages compared to coral stone. More specifically,
Shell stone is much stronger and denser than coral stone.
Unlike coral stone, shell stone has minimal holes.
Shell stone comes in ½'' thickness so it is very easy to install on floors or walls.
Shell stone can be used both indoors and outdoors, especially since the material always stay cool under sunlight (a big plus for sunny Florida!).
Compared to Travertine, shell stone has minimal color variation, making it look very consistent after installation.
The image below gives you a feel for the color consistency and also for how minimal the holes are.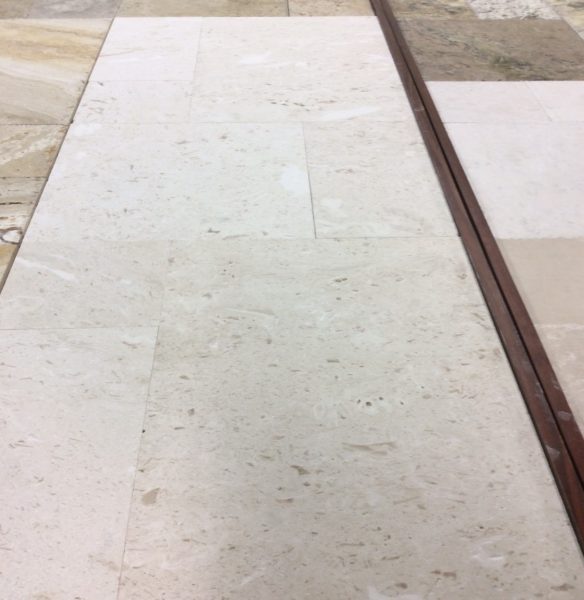 Shell Beige Marble BF/SE 12x24 – SKU: 305899
In the two images below, you see how the product looks in an outdoor installation around a pool. I particularly like the pattern that these large size tiles create outdoors.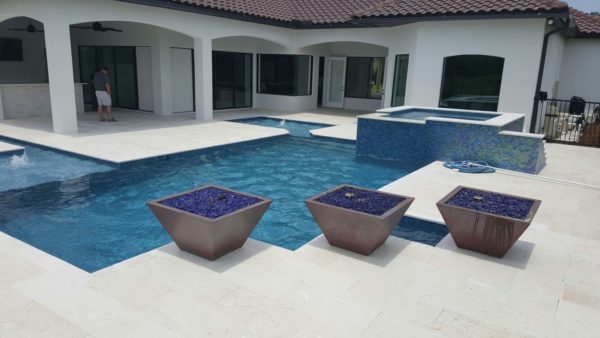 By the way, Shell Stone Beige Marble is also available in pavers via special order.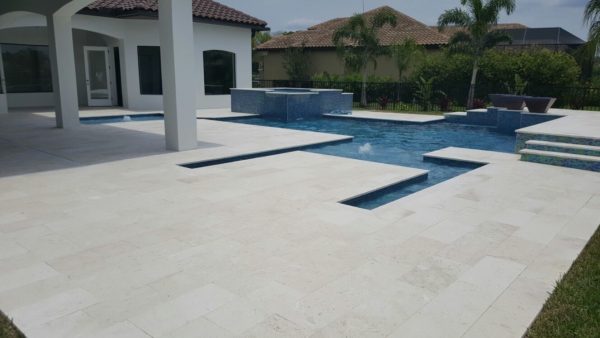 Shell Stone Beige 12x24 can be used indoors or outdoors.
I could definitely see this tile used as a wall tile in a beach bathroom where you could appreciate the apparent looks of shells in the stone!
What's your reaction to these three products? Could you see installing either of the porcelain tile patterns or the Shell Stone Marble in your home?
We look forward to answering your questions when you next visit Tile Outlets of America.
Kate