The Truth About Buying Travertine Tile
Posted by By TOA's Blog Team on Oct 6th 2016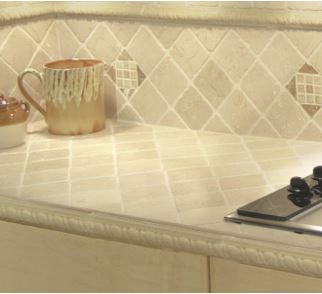 No wonder people love buying Travertine tile! It's an all-time classic for floors, walls, backsplashes and even countertops. Travertine tile is versatile, withstands the test of time, looks beautiful installed and generally adds value to any space you find it in.
If you count yourself as one of those people, here's the truth you need to know about buying Travertine.
Why People Love Buying Travertine Tile
We asked the Tile Outlets of America sales team why they think people love buying Travertine tile.
Here are some of their observations.
Many customers like the random nature of Travertine, the shade variations that come with Travertine and other stone products, and how every piece is different.

Some people feel that it's a classier product than ceramic or porcelain tile. They see an inherent beauty in it and feel that it adds tremendous value to their home.

Many customers like the antique look and rustic feel that it brings to their home. Some feel that Travertine adds a richer or wealthier look to their homes.

Some installers treat the installation of Travertine like a work of art.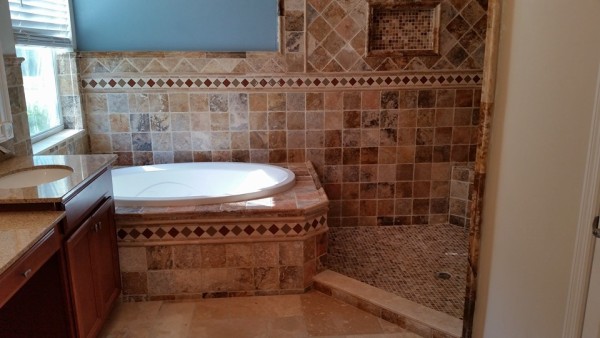 MasterTouch Installations used the 6x6 Royal Scabos Tumbled Travertine, Chiaro Honed Listellos 4x12 and the Classic Travertine 1x12
>> See Mining Travertine Tile: From Quarry to your Home
>> See 13 Facts About Travertine Tile
Travertine is timeless. It is also versatile. This is a selling point for people who like to try and keep their home updated with popular trends. You can mix it with tile or other stone, use it as a decorative piece, or even as an accent. A lot of Travertine is very neutral in color and that means it will match anything.
From a practical perspective,
Travertine can also be easier to repair if it gets chipped or scratched. Scratches can typically be polished or sanded out; chips can be filled with grout and look natural. These fixes can't be done ceramic and porcelain tile.
Here's a testament to the longevity and timelessness of Travertine. Warren Lampert took the photo below when he visited Jerusalem. These stones have been around for a few centuries, yet are still functional, full of character.
Travertine tile in Jerusalem: still functioning after several centuries.
Before Buying Travertine Tile, Explore the Finishes Available
Another aspect of Travertine tile versatility has to do with the finishes that the product is available in. Before buying, explore those finishes so you know which you prefer.
>> See Travertine Patio Tile and Decking Design Ideas
For example, you will come across the following finishes when you start shopping for Travertine:
A honed stone has a smooth texture and finish that can range from a dull matte to a satin or high hone. Honed and filled Travertine is one of the most common forms used in America. It can be used indoors, outdoors, on floors, walls, bathrooms, showers, kitchens and pool areas.
Tumbled stone is typically unfilled when purchased and can be left that way after installation or filled with grout by the installer during the grouting phase. Like Honed Travertine, tumbled Travertine can be used inside and out and is popular for walk-in showers, tub surrounds, and backsplashes.
Brushed stone is often unfilled and not as common as honed or tumbled stone. It is, though, common with patterned Travertine and can be used anywhere that honed and tumbled Travertine can be.
Saw cut Travertine is a popular finish for pavers, and can be found in other sizes for use inside and out.
Polished stone has a smooth texture and a gloss or semi-gloss finish that can sometimes be reflective. Polished Travertine is common in smaller sizes such as 8x12 or 4x4 and is used as a wall tile or insert piece. Because it tends to be slicker when wet, it is not recommended as a floor covering in wet areas.
The chiseled edge can be applied to any finish. It is commonly paired with a brushed or honed finish. A chiseled edge can be used in the same ways that tumbled and honed Travertine are.
>> Read Travertine Tile Finishes: honed, tumbled, polished and chiseled edge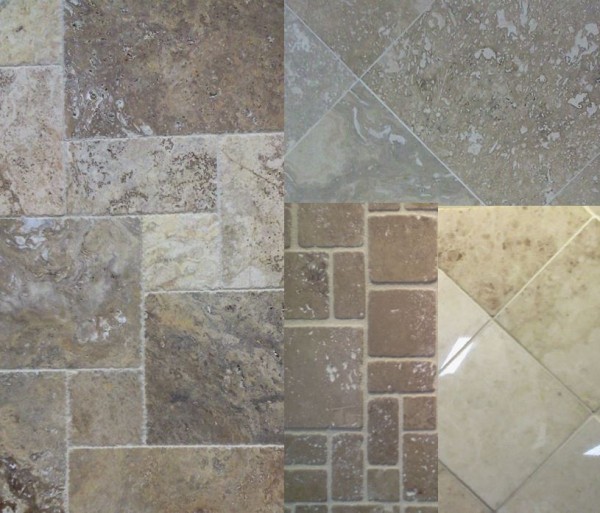 Honed, tumbled, polished and chiseled edged Travertine Tile Finishes
Before Installing Travertine Tile, Be Sure to Blend It!
In Why People Love Buying Travertine Tile, we mentioned how people love the random nature of Travertine and its natural shade and pattern variation. Travertine has an unmatched beauty all its own. Variation in color, shade, and pattern are part of the stone and should be expected.
What that means is, before installing Travertine, make sure to blend the tile pieces. Don't try to sort them into batches of light or dark pieces. You won't ever be able to identify enough light or dark pieces in one batch to segregate them. Rather blend them to show off the beautiful random nature of the Travertine tile.
>> For perspective on shade variation, see How to Deal with Shade Variation in Porcelain and Ceramic Tile?
Also, use a white thin set particularly with lighter Travertine. Gray thin set may darken or tint your stone. Mix the thin set to a sticky peanut butter consistency and use a notched trowel.
>> See 6 Tips on How to Install Travertine Tile
After Buying Travertine Tile, Seal It!
Be sure to seal Travertine Tile before you use it. Set a reminder to yourself to reseal it every 5 to 15 years depending on foot traffic and wear. You can check your sealer with a few drops of water in an area of high use; if the water is absorbed, it is time to reseal.
Here's why you need to seal and reseal your Travertine tile:
Your floor will be easier to clean and maintain.
Sealing protects your floor from dirt and spills.
As a result, your floor will retain its beauty and appearance for years to come.
Some installers recommend sealing Travertine before and after installation whereas others recommend doing so before and after grouting. The important message is to seal your Travertine tile.
>> Read Why and How to Seal Travertine Tile
Ready to Buy Travertine Tile?
Do you feel like you have a better feel for the truth about buying Travertine tile? If we've missed something, please let us know.
If you are looking for Travertine Tile in Tampa, Sarasota and Fort Myers, check out Tile Outlets of America! We hope to see you soon.