Have You Tried Large Format Tile?
Posted by Kate Spencer on Jun 20th 2019
Have you considered large format tile for your next project?
Tiles are getting larger. With larger tiles, you have fewer grout joints to see. You also have a tile that can make a small space look bigger.
So, if you're planning a tile remodel for a small space, you'll want to consider these larger sizes rather than limit yourself to smaller ones.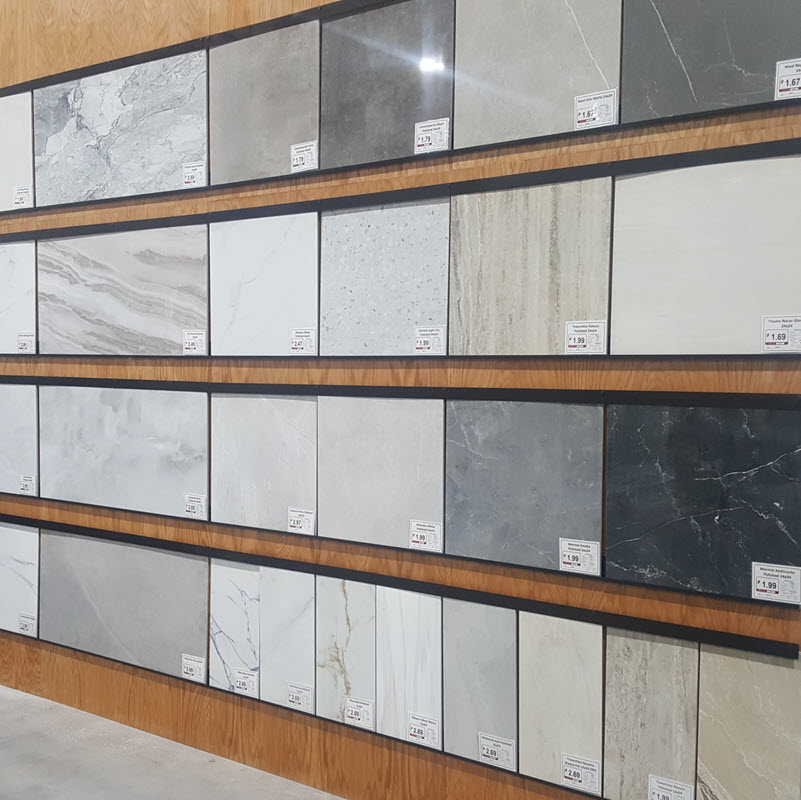 Large Format Tile Selections at Tile Outlets of America
When you next visit Tile Outlets of America, you'll notice many new large format tile selections that you can use on the floors, the walls and even outdoors.
Some are polished, others are matte and some even feature a decorative raised surface (it's a wall tile). You'll love the variety of styles available.
What they have in common is their large size in one of these two formats:
We also have other large sizes available - such as 12x48, 15x30, 8x48 and 24x24. For this article, we're focusing on these extra large formats.
Ready to learn more? Here's detail on 11 large format tile products.
Large Format 24x48 Tile Selections
In this category, you'll find three 24x48 large format tile selections we think you'll love. All three are rectified porcelain tile.
>> See What is Rectified Tile and Why Does It Matter for Your Tile Installation?
1 - Carrara Polished 24x48
The first 24x48 product is a porcelain rectified polished look called Carrara Polished 24x48. This tile retails for $2.98 sqft.
Notice the beautiful timelessness of the Carrara look. This is a classic that you can install on your shower walls and floors because it's porcelain. Unlike natural marble stone which requires regular cleaning and sealing, porcelain is maintenance-free and ideal for showers.
>> See Ready to Seal Stone? Here are the Types of Stone Sealers Available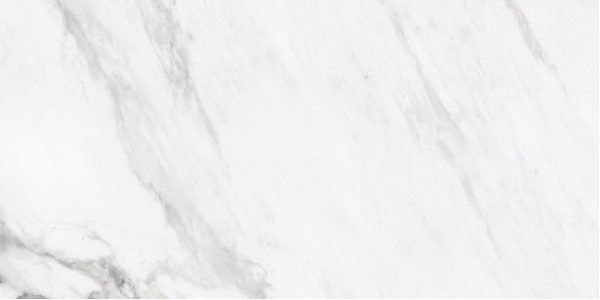 The white with the grey veining is a beautiful clean look.
Below, you see this tile installed on the floors and walls, creating a bright, clean, classic look.
2 - Aneto Ash 24x48
The next large format 24x48 tile is a matte limestone look called Aneto Ash. This rectified porcelain tile retails for $3.19 sqft.
The Aneto Ash has many different tile faces to create a nice stone appearance. The color tone is light grey.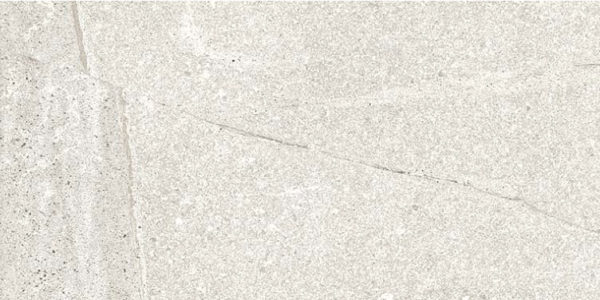 Here you see it installed. Don't you love how warm this stone-look is? The large format adds a calming, soothing quality to the design.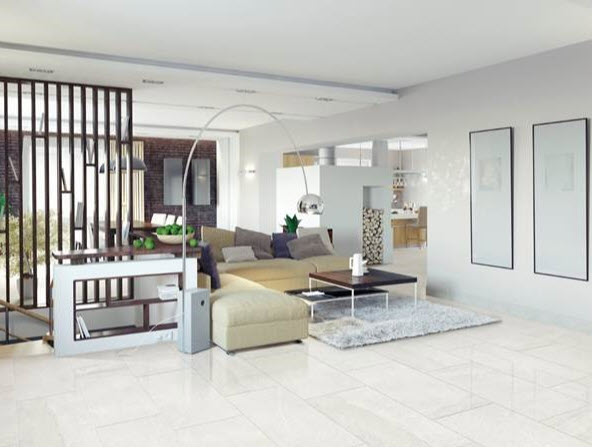 3 - Sardonyx Pearl Polished 24x48
The Sardonyx Pearl Polished 24x48 is a new item.
This polished rectified porcelain tile looks like onyx in soft grey/white tones. This tile can be used on floors and walls and retails for $3.59 sqft.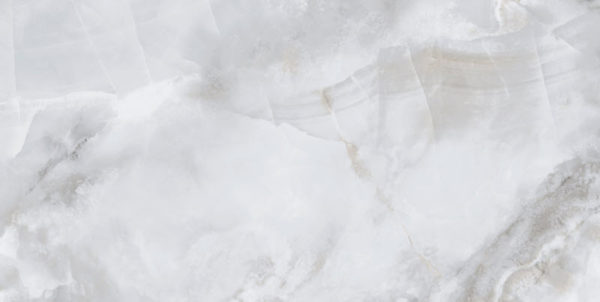 The installation picture shows you Sardonyx Pearl Polished on the walls coordinated with a contrasting darker floor and shower wall tile.
Note that you can use this large format tile on the floor as well and contrast the walls with another tone.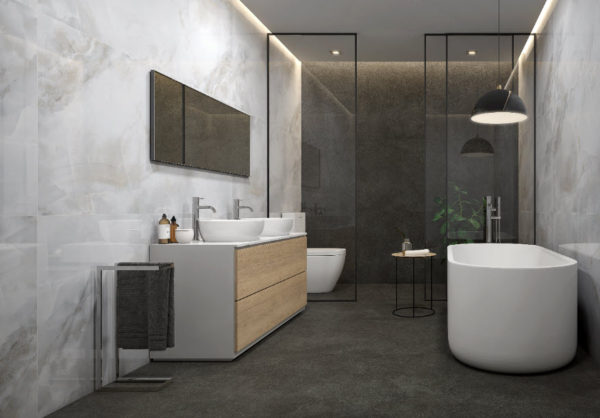 Large Format 18x36 Tile Selection
The next selection consists of seven products in a 18x35 format. This is still considered a large rectangular format.
Here are a few favorites and some new items to share with you.
1 - Roden Perla 18x36
The Roden Perla 18x36 is a porcelain matte tile that retails for $2.59 sqft. This soft cement/stone tile is great on the floor, outdoor or in the shower.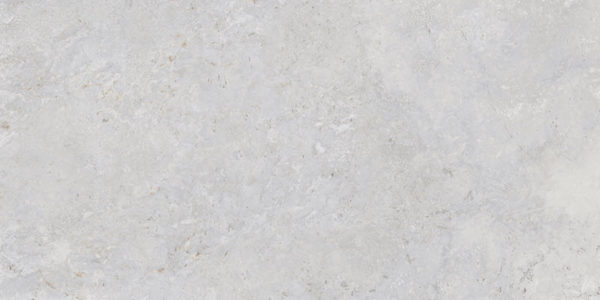 You will see this featured in our Fort Myers Inspiration Area as a shower installation.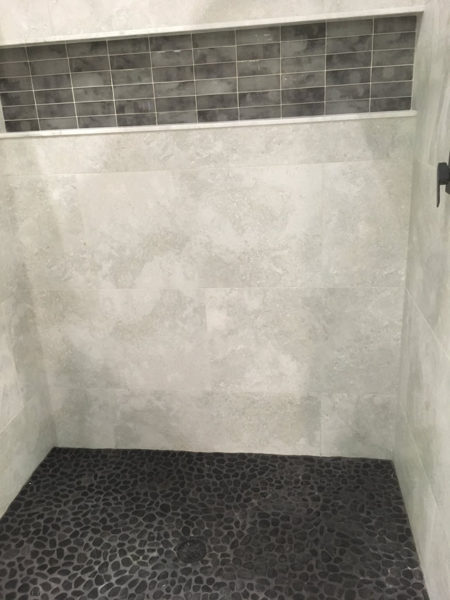 Here is a closeup of that installation in Fort Myers.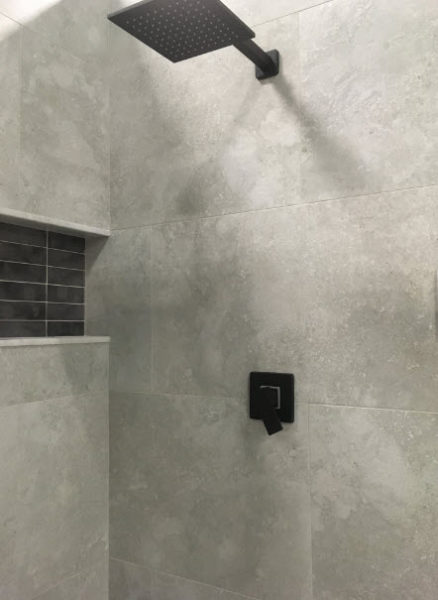 >> See Looking for Tile Design Inspiration? Check Out Tile Outlets in Fort Myers
2 - Trastevere Vibrato Series
The Trastevere Vibrato series comes in two colors – Ivory and Silver. These tiles are matte 18x36 and rectified.
These Italian made tiles are designed to mimic vein-cut travertine natural stone.
Here you see Trastevere Vibrato Ivory 18x36.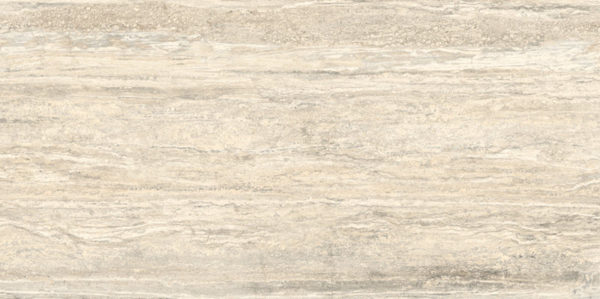 As you see in the image below, you call install this tile on the floors and walls.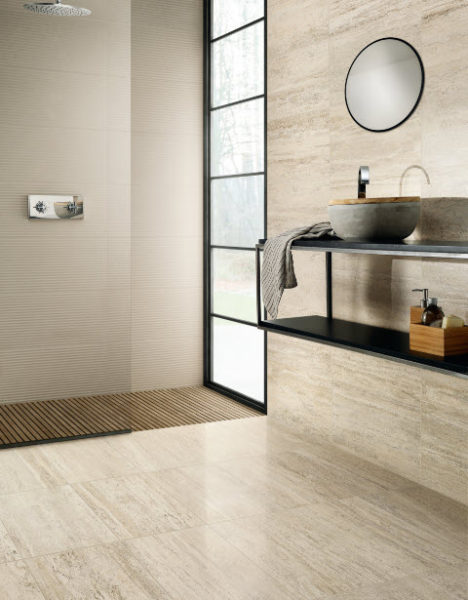 See below the Trastevere Vibrato Silver 18x36. Aren't the grey and tan colors in this tile beautiful?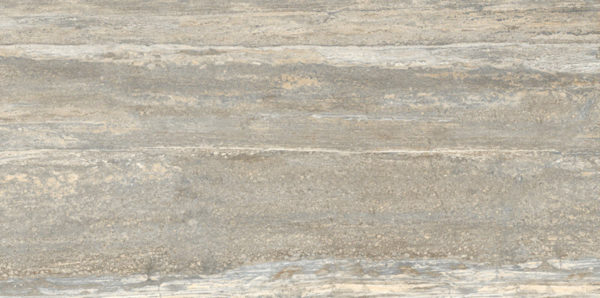 You can see the movement from piece to piece giving it that natural stone appearance.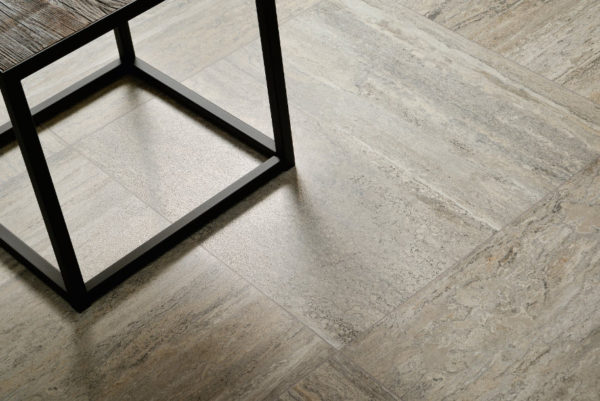 3 - Geo Stone Series
The Geo Stone comes in two colors Bianco and Tortoro. This tile is an Italian matte porcelain in 18x36 rectified tile. The colors are soft and can complement any space.
Here is Geo Stone Bianco 18x36.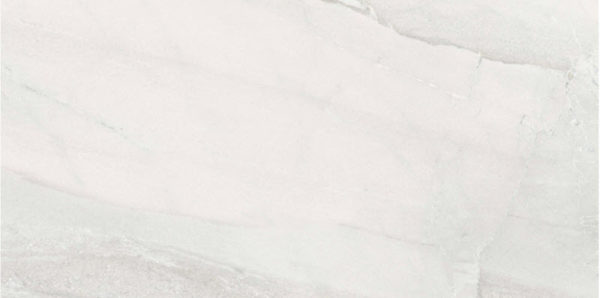 Here is Geo Stone Tortoro 18x36.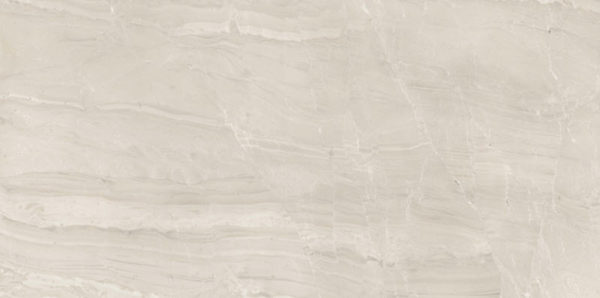 And here you see Geo Stone Tortoro installed on the floors with a decorative beige wall tile.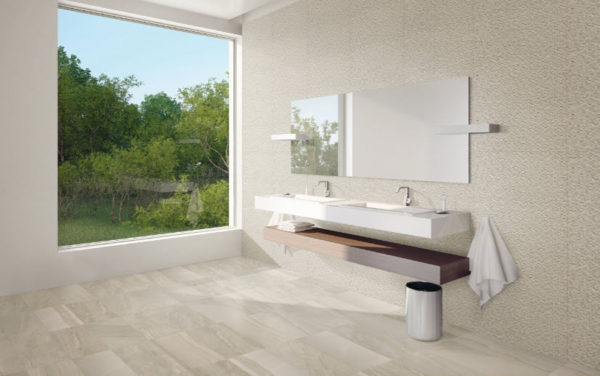 4 - Grava Gris 18x36
The Grava Gris 18x36 can be used inside or outside. You'll love the pebble characteristics in the design, especially if you install it outdoors.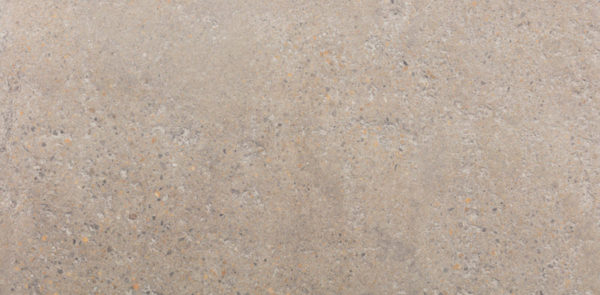 Look how suitable this tile looks for around your swimming pool.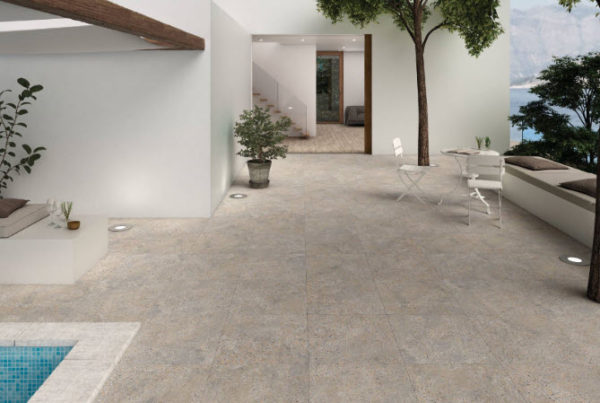 5 - Manaos White 18x36
The Manaos White 18x36 is a matte rectified porcelain tile.
Don't let the name fool you, the rich marble look tile is actually more in the light grey color family.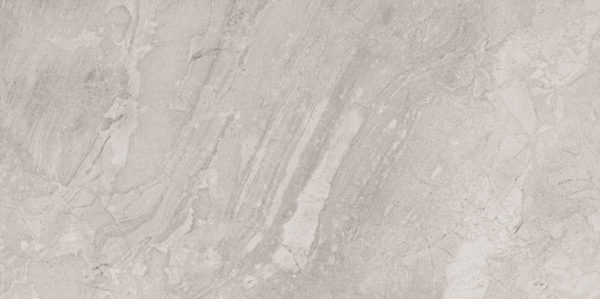 Here you see it installed on the floors.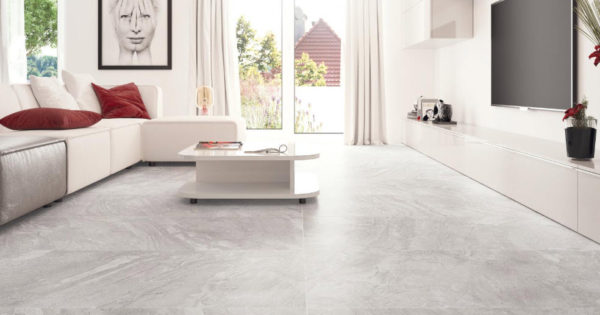 6 - Tresana Polished 18x36
The Tresana is a polished 18x36 rectified porcelain tile. This item features a beautiful calacatta marble look as you can see below..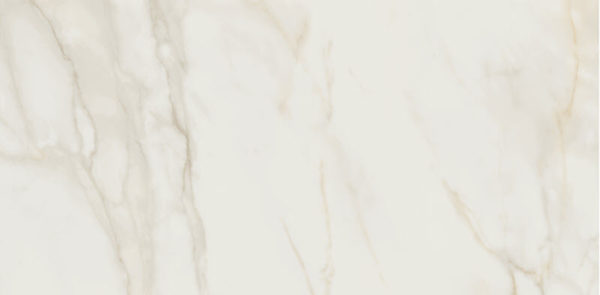 The lines are really soft and realistic. It's a stunning tile to use on the floors or walls. As you can see in the picture below, it creates an eye-catching backsplash for the entire back wall and looks beautify on the floors.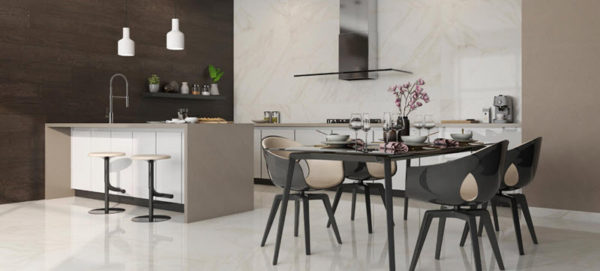 7 - Niro Polished 18x36
The Niro polished 18x36 is a polished rectified porcelain tile that captures a carrara marble look with soft grey veining.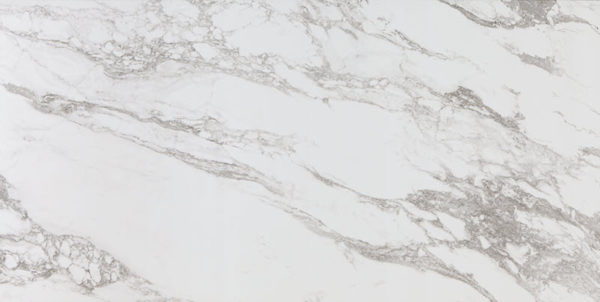 We always talk about using the tiles on floors, but I want to show you how great these large format tiles look as backsplashes in a kitchen.
Remember, you'll have fewer grout joints to clean with kind of an installation.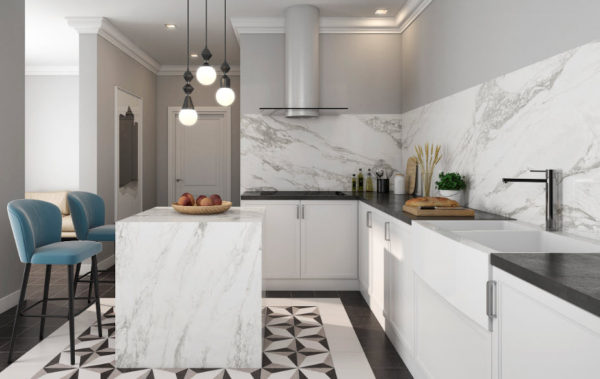 Large Format Wall Tiles
Folhas Leaf White 18x36
Last but not least, here is a large format wall tile with a textured decorative element to it so you can create that special bathroom space.
This is Folhas Leaf White 18x36.
Please note that this tile can only be used on the walls.
This is a beautiful bright white tile with a matte finish and a leaf design that is raised upon the surface.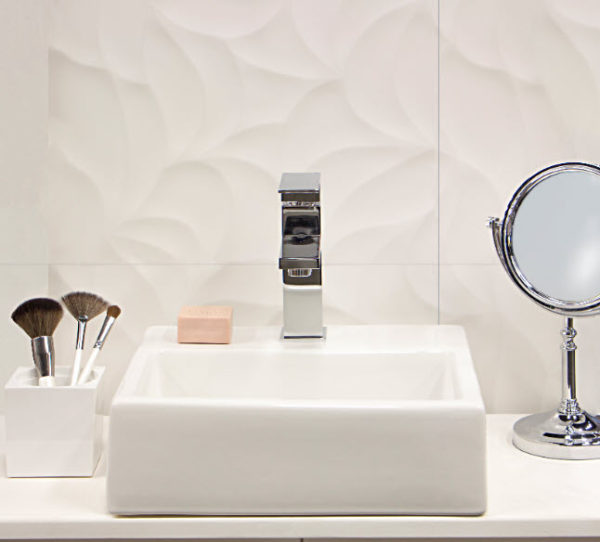 Another product for walls includes Diamante Branco.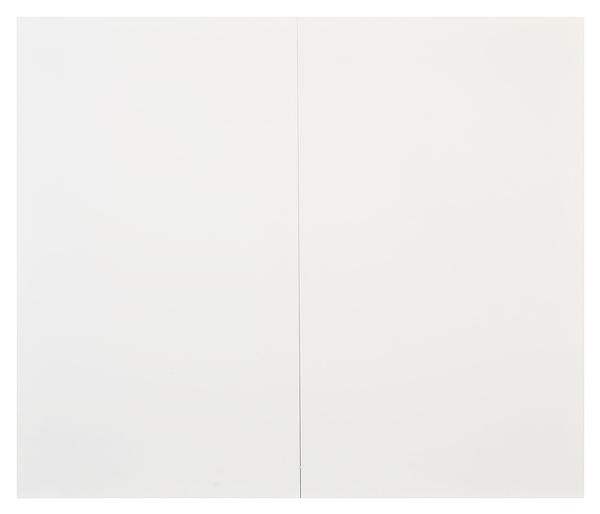 If 18x36 wall tile is just too big for your area, we also have a great selection of 13x36 wall tiles.
What's Your Reaction to Large Format Tile in Your Home?
Let us know whether you like the look. If you aren't sure, be sure to visit Tile Outlets so you can see these large tiles installed firsthand.
We hope you enjoyed exploring some of our larger format tiles. We are always adding new items so be sure to check out the inventory in the stores.