How to Combine Mosaics for Stunning Backsplashes
Posted by TOA's Blog Team on May 17th 2021
The most stunning backsplashes combine mosaics with other types of tile such as subway tile. In this article, we expand on a previous article we wrote on ideas for backsplashes.
>> See Discover Backsplash Ideas at Tile Outlets of America
Ideas on How to Combine Mosaics for Stunning Backsplashes
When you visit Tile Outlets of America in Fort Myers, Sarasota, and Tampa, you'll find Featured Products boards where we take currently available products and combine them to show you how you might do the same for your own remodel project. We regularly rotate product categories and update the products featured (just as we do the Inspiration Area vignettes and installations) so you can be sure to find fresh inspiration.
If you feel overwhelmed, remember that the teams at Tile Outlets of America are ready to help you. They will support you as they lead you from start to finish and generally help make any size project more manageable.
As you can see in the image below, you have two distinct boards to inspire you for your backsplash design.
We find that most customers will typically select either a mosaic, subway tile, or a combination of both when designing a backsplash.
For instance, maybe they will chose a subway tile for most areas between their cabinets and countertop but then would like to add more interest to the larger open area behind their stove. This is a perfect example of when a subway and mosaic can really complement one another without being too busy.
>> See Mad For Subway Tile? Consider These Ceramic & Porcelain Styles For Your Walls.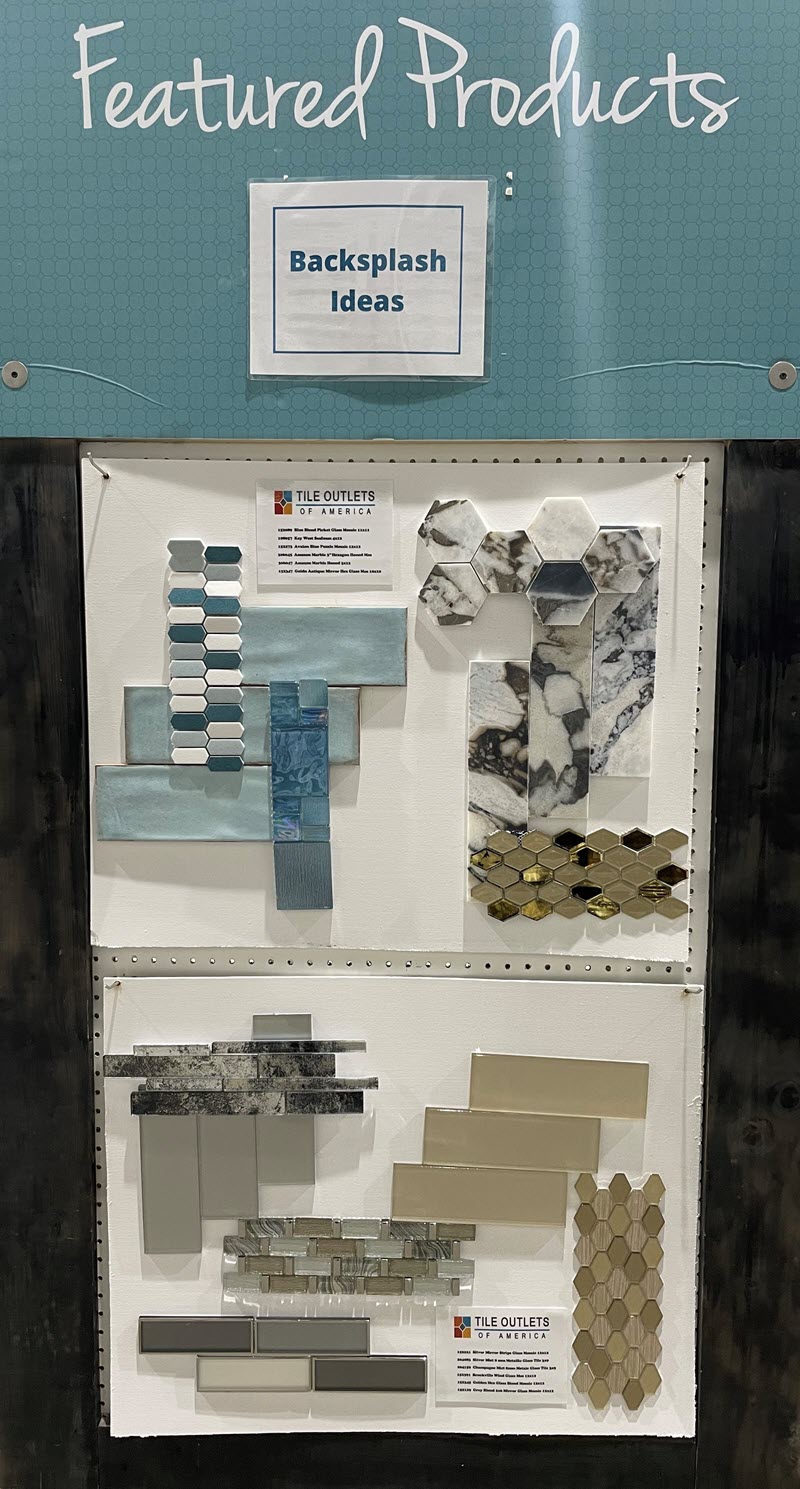 Mosaics Combination Concept Board #1
The first combination of subway tile and mosaics includes the following subway tile and mosaic SKUs. On the left side of the board:
On the right side of the board, you'll notice: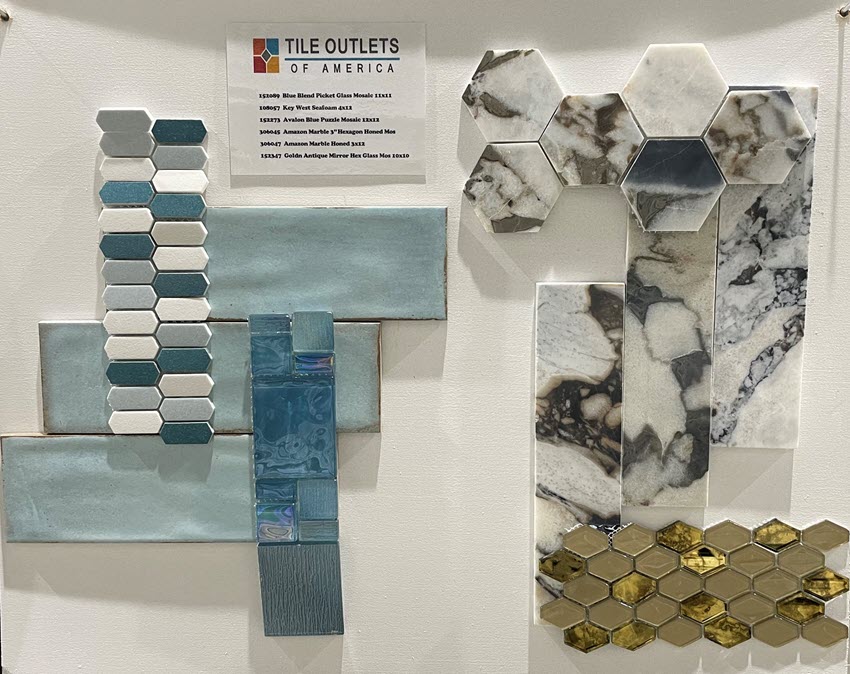 These product selections allow you to go in multiple directions depending on your color and design preferences.
On the left side, you see a beachy interpretation with seafoam green, shimmery blue water and blue picket blend that combines blues with sandy tones. The variation in pattern is more subtle and textural - like calm water.
Although the right side includes blue tones, it emphasizes sandy tones, warm earth tones and gold shimmers of glass mirror. The marble striations add movement and bring to mind the intensity of earth and sky.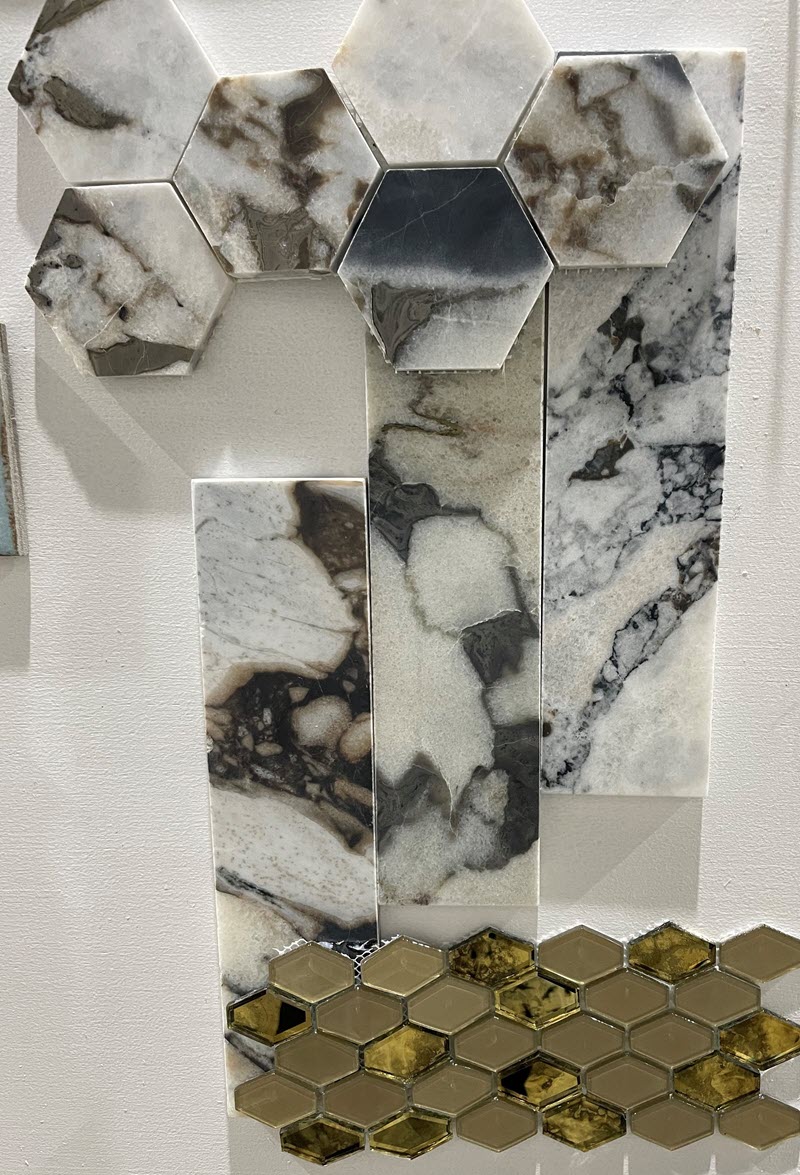 Imagine bridging the two sides to emphasize the blue tones by combining the Amazon hexagon mosaic with the Key West Seafoam subway tile.
Or, mix the Seafoam with the Golden Antique Glass Mirror mosaic.
You have multiple choices simply by selecting one of the items from the groupings or a combination.
Mosaics Combination Concept Board #2
The second board highlights metallics. Why? Because metallics are back! We are seeing increased requests for some element of metal or metallic finishes in a lot of current designs.
Metallics include lots of golds, rose golds, and champagne metallics as well as the ever popular silver or stainless metals. The category even combines silver and gold elements.
This board features the following products. In the silver grouping in the top left:
On the bottom left, you see 152129 Gray Blend Mirror Glass 2x6 Mosaic.
And on the right, you see
The Brockville Mosaic (above in the middle) is an excellent example of bridging the gap and covering both silver and gold tones. This particular mosaic works fantastically with both the Silver Mist 3x9 and Champagne Mist 3x9.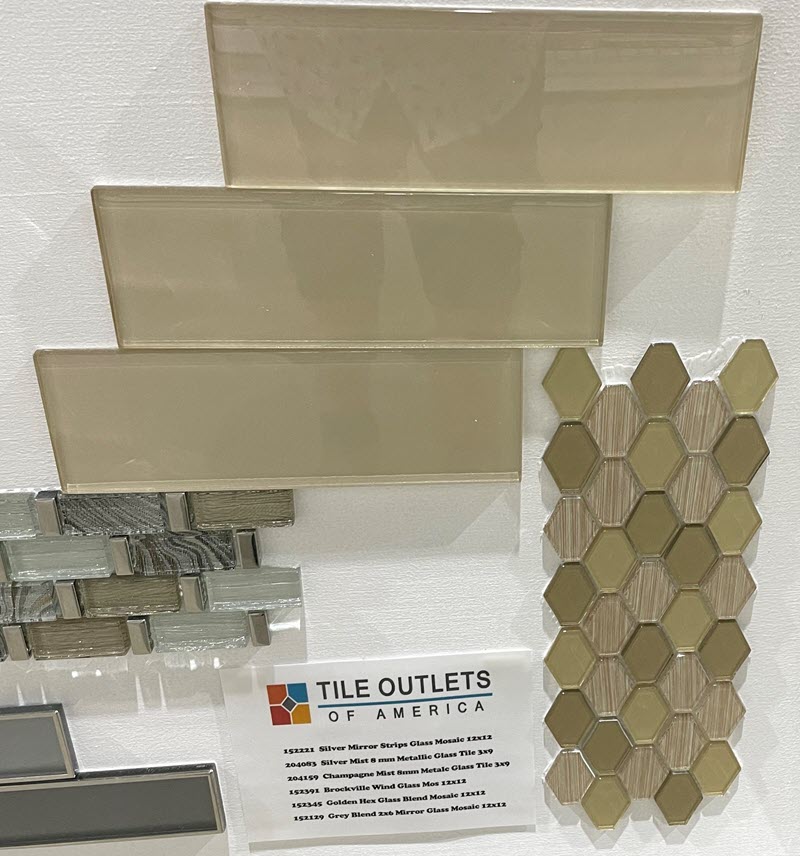 Notice how the Golden Hex Glass Blend mosaic combines solid gold tones with a textured gold pattern.
These metallic tones work well with intensely popular white kitchen cabinetry, reflecting and amplifying the feeling of light and sparkle.
Often customers will pair their white cabinets with mostly white countertops that feature only subtle flecks or grey or beige. The first grouping below is a great option for anyone who wants to add a punch of color to an otherwise white canvas.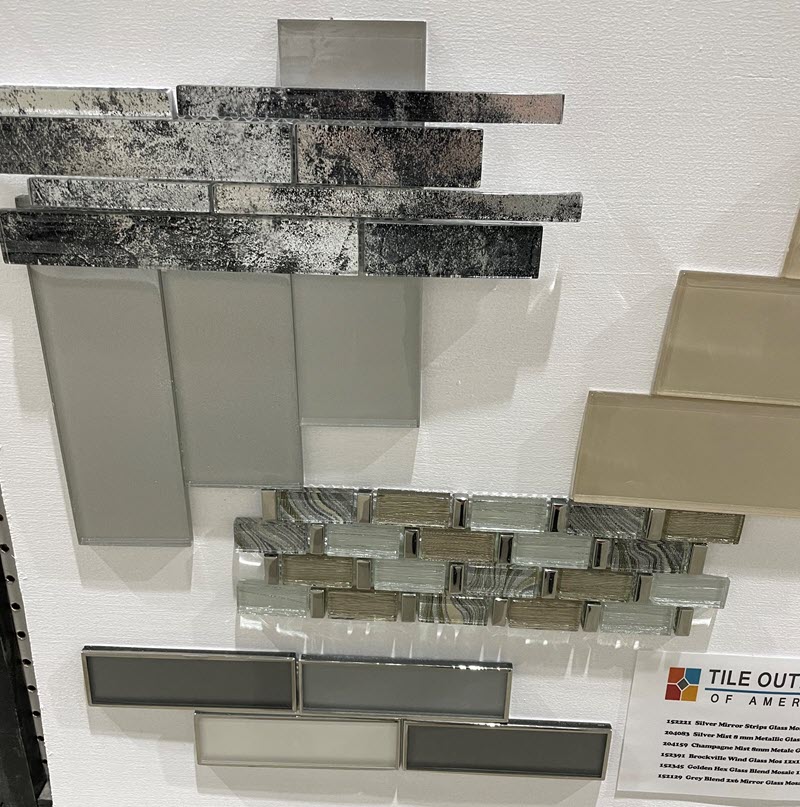 By the way, many of the mosaics highlighted in these concept boards have a fun shape and are step away from more traditional 1x1, 1x2, and 2x2 mosaics.
For more metallic inspiration, check out this Pinterest Board on metallic tile.
Are You Ready to Combine Mosaics for a Stunning Backsplash Design?
Have these concept boards inspired you to get started on your backsplash update?
With so many beautiful possibilities, let our experienced and knowledgeable tile experts guide you so your backsplash dreams become reality. Whether you come into our stores with visions already formed or feel stumped on where to begin, please know that we are here to help guide you.
>> See Explore the Wonders of Mosaic Shapes with Kate
We are passionate about helping our customers end up with a finished design that they adore. After all, making customers' dreams come to reality is what we're all about and we hope we've inspired you to come to explore these looks.
Thanks for reading!