Texture and Gold Tones in Tile from Cevisama
Posted by Kate Spencer on Apr 2nd 2020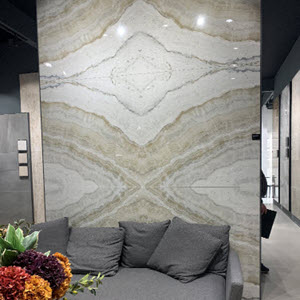 What's the next interesting trend from Cevisama? Well, in addition to Blue Tile Inspiration, we noticed plenty of textures and gold tones in tile.
That's what you'll discover in this article.
Texture and Gold Tones in Tile
The gold tones we observed at Cevisama naturally enhance marble patterns. They add warmth to concrete and stone looks and also permeate wood plank looks.
You'll notice that strong textures primarily on wall tiles, adding depth and visual interest. Other textures mimic the roughness of stone.
Across both trends, you'll be impressed with size.
As you can see in the dramatic image above, you can simply take three immense tile panels to create one feature wall tile installation to make a statement in a living room, a bedroom and even a bathroom.
You'll also find that both trends co-exist.
Ready to explore?
Focus on Gold Tones in Tile in Bathrooms
Let's start with bathroom ideas and spectacular vignettes showcasing the latest trends in tile and mosaics.
Marble Looks with Gold Striations
Here you see marble looks with gold striations, including in the textured focal wall. Notice the strong effect that the brass faucet has in pulling those gold tones together.
The wood planks on the floor are a great complement to the gold in the wall tiles.
Here's the other part of this installation: the sink area, complete with brass fixtures, mirror and accessories. Can you see the gold crackle tile design reflected in the mirror?
Also, notice the texture of the horizontal wall band behind the mirror.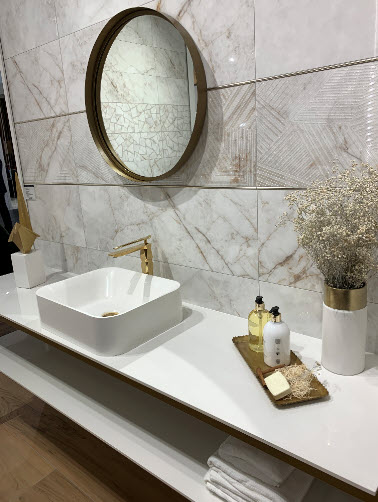 Honey-Colored Carrara Looks in Tile
The Cararra look continues to trend and be popular. Honey tones add warmth and dramatic size create an unbroken surface with far fewer grout lines.
The floor tile in the image below is one piece of tile with a linear drain at the end. Did you notice the textured wall on the showerhead side?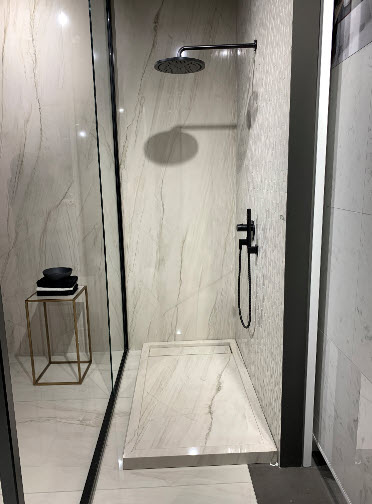 Warm Concrete Looks
Those gold tones aren't limited to brass fixtures. Notice the warmth in the concrete wall pictured below and how the wood planks amplify that warmth.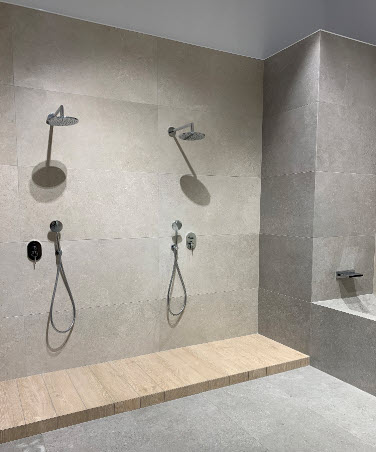 In this very modern design, you have large formats on the wall and wood planks on the floor. This is more of an industrial look with the concrete/cement looking style on the floors and walls.
Mixing Warm-Toned Wood Planks with Gold-Tones in Tile With Marble and Stone Looks
So, let's focus more on those warm-toned wood plank tiles and how versatile they are.
In the installation below, we were struck by the combination of marble and stone looks with wood planks with a masculine design vibe.
>> See Finding Tile for a Bathroom Remodel with a Masculine Look
These are showers with large format tile on the floor and wood planks on the wall, or vice versa. Above, the floor tile is done in a dark marble tile and complements the wood planks on the wall.
Below, you see a dark polished large format tile on the walls and a light color wood plank for the shower floor. Those gold tones in the tile just pop!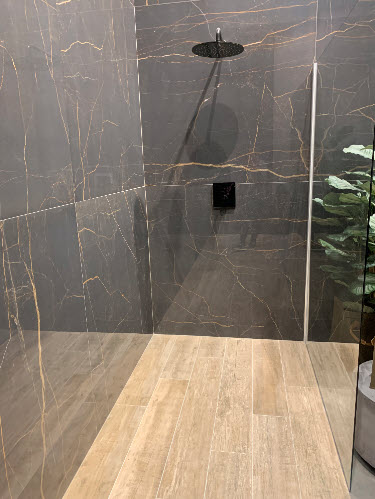 The shower below features fabulously variated wood plank tile patterns. Notice how the horizontal wall installation works with the perpendicular floor installation. Did you see the interesting band on either side of the main shower wall?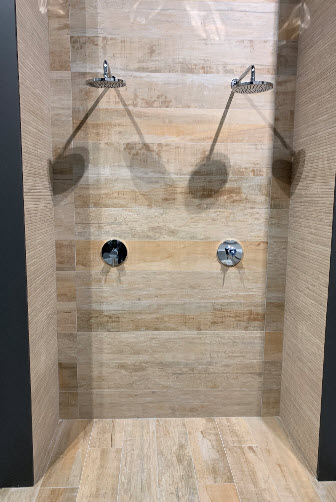 As you can see, wood plank showers are trending. The side walls are a textured wall tile to complement the look.
Warm Gold Wood Tones Beyond the Bathroom
Although you've seen many bathroom images, the gold trend goes beyond to other living spaces.
Take this tile rug which combines a warm-toned wood plank tile with a decorative pattern that seems stamped or stenciled onto the wood plank.
>> See Create Space-Defining Rug Designs with Tile Product Trends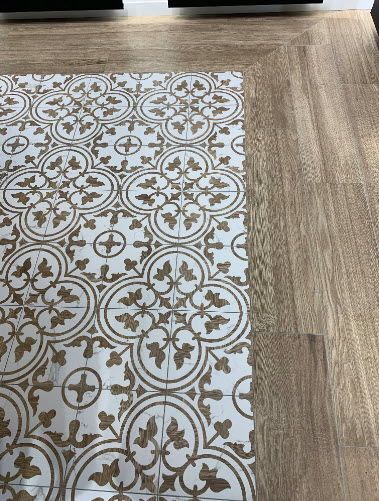 You can use these pieces to outline a space, make a tile rug in the room or install them by themselves.
Don't forget about outside spaces. These wood look tiles look great around an outdoor planter.
Let's Talk Tile Texture!
At the beginning of this article, we mentioned how these trends (gold tones in tile, texture and large formats) aren't standalone. Rather, you see them combined. That means that you've already been seeing how texture fits into design.
That said, let's focus more closely on wall texture examples showcased at Cevisama.
What do you think of the zigzag marble wall tile in the image below? It echoes the floor tile pattern with more visual interest. Check out the sink; each side is one piece of tile (see large tile below).
Notice the warm gold-toned wood plank tile on the floor and in the stools.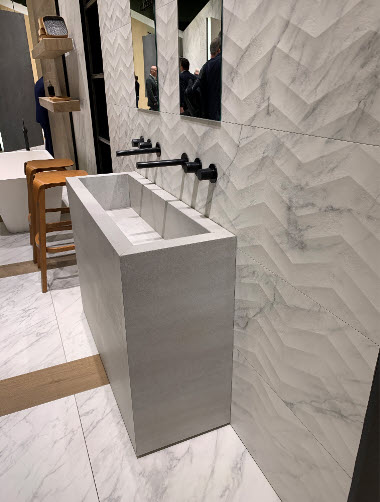 Below you see a fabulous combination of a strong stone-look tile with a linear-textured white wall tile. Both have texture. The fixtures echo the variegated stone design. Don't you think the visual effect is remarkable?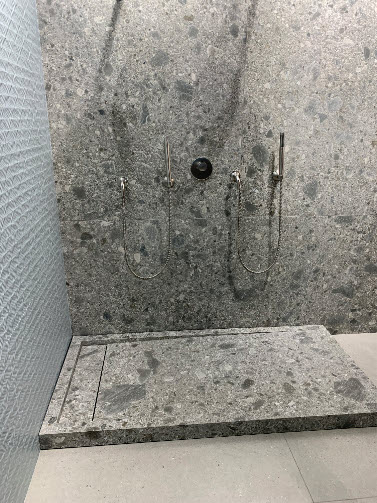 Notice the large format tile at the base of the shower floor combined with a linear drain. Overall, this makes for fewer grout joints and seams.
Next, here's Warren Lampert, our President, and CFO, checking out the texture on this warm-toned interlocking wall tile. He was impressed with the texture of this tile.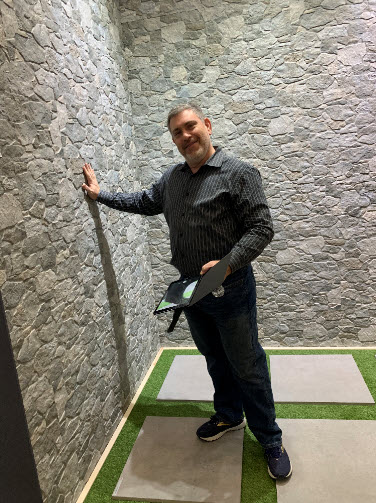 It gives the appearance of pebbles on the walls.
Another great porcelain wall tile is this ledger looking tile that captures the appearance and depth of ledger stone without the maintenance of a stone ledger.
The contrast with the smooth warm-toned concrete look floor tile is soothing.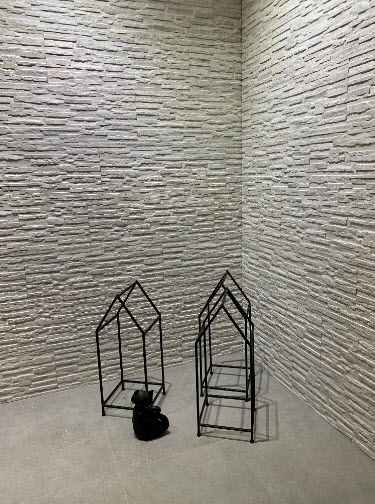 Decorative and Structure walls
Before checking out how gold tones in tile translate to bedrooms, let's check out decorative and structure walls.
Technically, they don't fit into this article. However, if you give me a chance to make my case, I think you'll agree that they fit.
Decorative Tile
The decorative segment is growing with more designs options and colors than ever before (above you saw a decorative pattern on wood plank background). These decorative tiles come in squares and hexagons and are generally smaller in format. You'll see them used inside or outside depending on how you want to use them.
The installation below features three distinct decorative patterns bordered with solid cement looks. These are all 6x6 designs in solid and decorative tiles to make this come together. Notice the warmth of the cement and how it coordinates with the warm wood tile-inspired parquet pattern on the floor.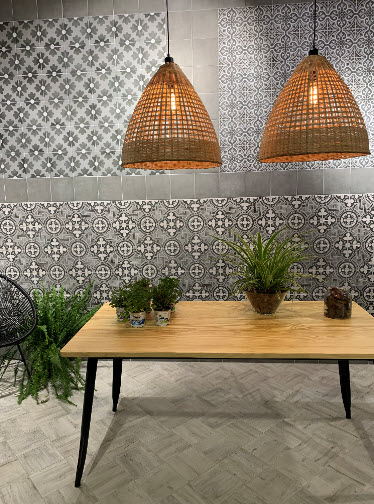 The gold-toned accessories - tabletop and light fixtures - tie the entire effect together.
Below, you'll notice the popular Carrara marble patterns. Imagine, though, combining it with a decorative pattern. Here you have a contrast between the patterns, the tile size formats and the amazing range of textures.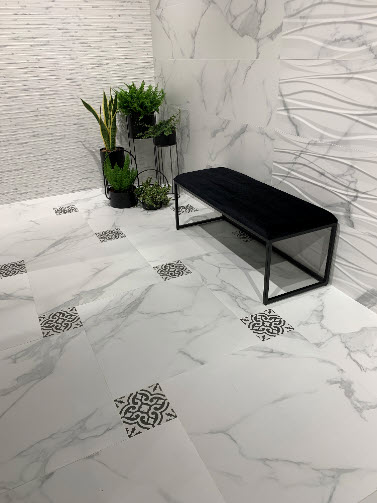 This is a tile in a plank format that reminds me of Zebra marble. It is installed in a herringbone to create this look on the floor.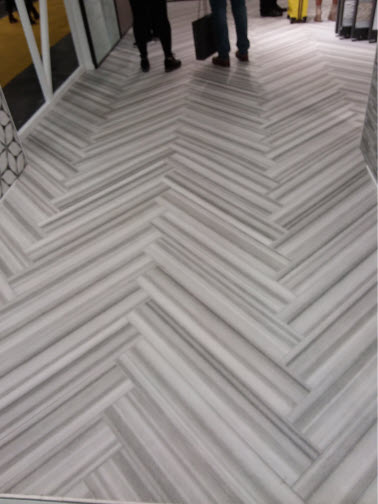 Hexagon Tile
These are hexagon tiles that are installed to create this unique triangle effect. Can you see the hexagons?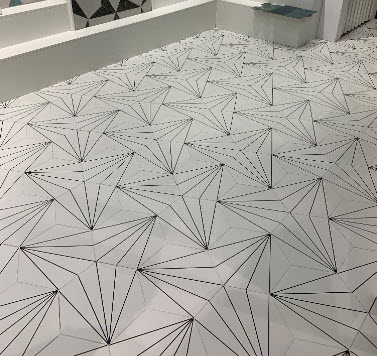 >> See Blue Tile Inspirationn at Cevisama
Structured Wall Tile
Structured wall tile is more dimensional and has the touch and feel of roughness and depth.
The wall tile below has dimension in the touch and feel of it. Although it almost looks like a mosaic, it consists of larger tile pieces that create this look.
The marble Nero Marquina on the floor is a great touch to finish the look. Notice the border around the wall design.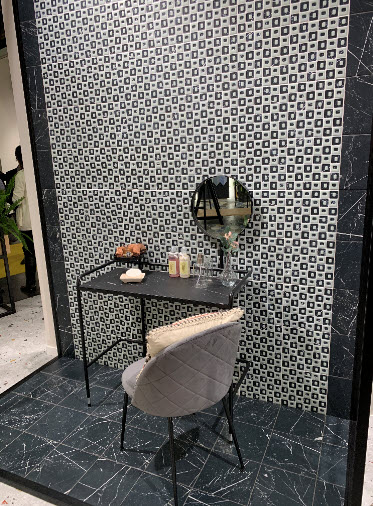 How Stunning Gold Tones in Tile Look in Bedrooms
As promised, bedrooms with gold tones in tile are next. You'll notice fabulous effects for headboards in particular and how they contrast with the floor tile choice.
Pay close attention to the size of the tile.
For example, the marble floor below is a very large format tile. Look at how the equally large wall tile picks the gold tones in the floor tile.
The combination of these classic stone looks pulls this design and color choices together.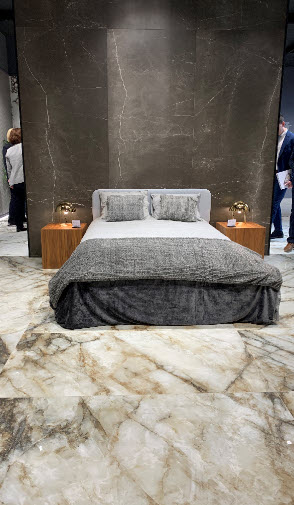 The Nero Marquina polished tiles below highlight this room while the white floor tile softens the room.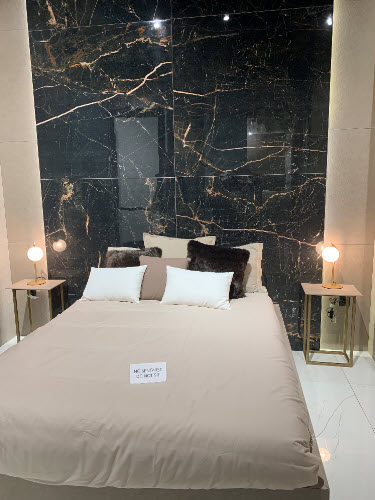 These dark bold colors look great on the walls and bring enough reflection to the room with the polished finish.
Living & Working With Gold Tones in Tile
Wall features are endless with possibilities. In fact, they go beyond bathrooms and bedrooms to accent many living and working spaces.
You can use tiles, subways, and mosaics as options to create the design that works best in your home.
Take this stunning wall feature design below where the bold gold floor tile frames the feature wall. Notice the horizontal band of texture. This is art.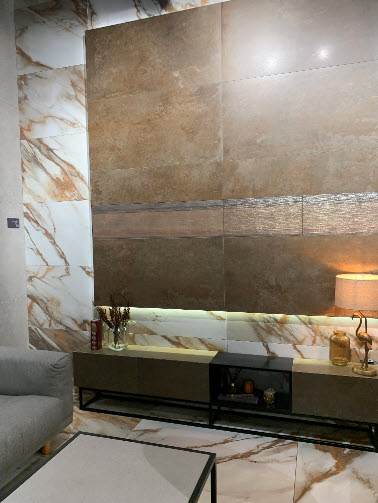 At the same time, you can create a cozier effect with an installation such as what you see below. Gold and brass tones meld with the wood shelves and the warm floor to create an introspective nook with gold marble wall striations.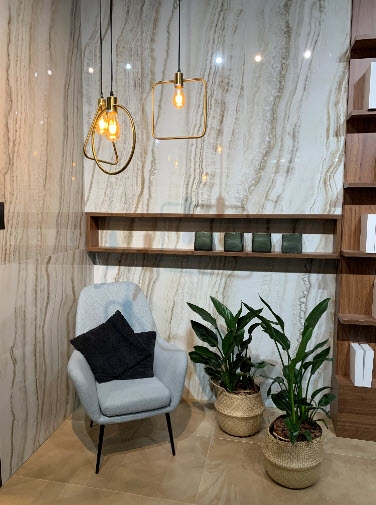 Next, you see warm wood plank tile on the floor and one wall, combining with the large format and gold tones of the other wall installation.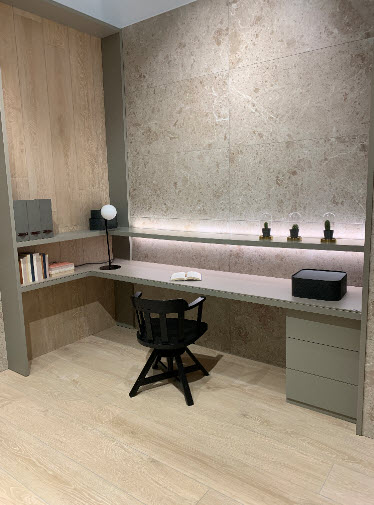 These two different styles go well together in this office space.
By the way, just because you have tile on the walls doesn't mean that you can't hang artwork and pictures to bring your space to life.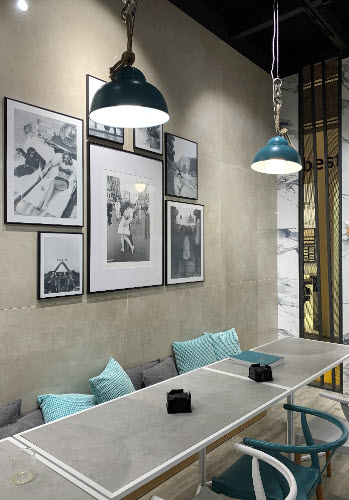 How Large are Large Format Tiles? Big! Even with Gold Tones!
Time to talk tile size.
The large format tiles or slabs are a trending item in the tile business. These pieces are getting larger and larger (think meters or yards rather than inches or centimeters) and they are finding their way not only onto floors and walls but countertops too.
The beauty of these large formats is that they allow you to cover large spaces with fewer tiles, which means minimal grout joints and seams.
As you can see below, these tiles comes in a variety of large sizes and also thicknesses for different applications. By the way, it takes two to three people to handle and install these pieces. They require special tools and techniques to avoid breakage.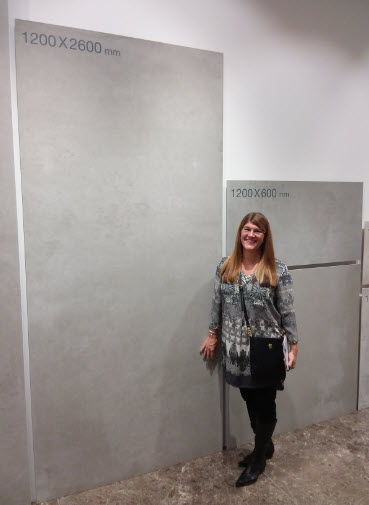 Combine the large format with the stunning advances in inkjet printing technology and the results rival Mother Nature's!
>> See How Inkjet Technology Has Transformed Ceramic and Porcelain Tile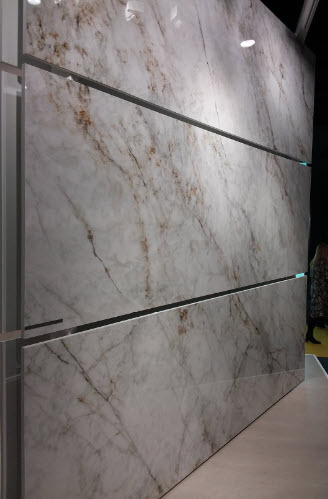 Large Format Tile Counters and Tabletops
Given that large size and range of different thicknesses, tile can now cover not just walls but also counters.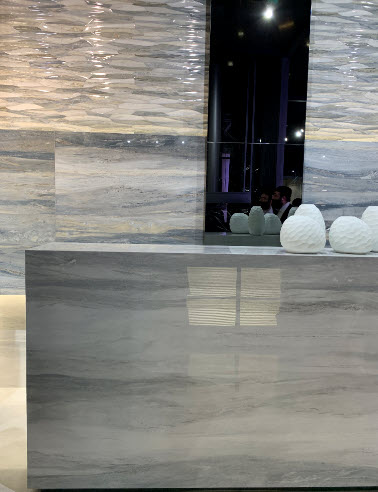 You can create islands, take a certain tile look from the counter to the floors to the walls and even create sinks.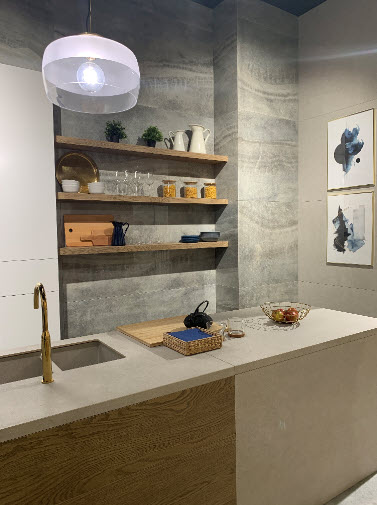 The counters above are done in two different tiles; the back feature wall tile complements the soft tones in the countertop.
Note that the tile on the backsplash is called Tivoli and is available at Tile Outlets of America.
What's Your Reaction to Gold Tones in Tile?
Does it warm your heart as much as it can warm your walls and floors?
We hope you've enjoyed discovering with us several of the top trends we observed at Cevisama and look forward to seeing them come to the stores.
We're grateful to you and to our tile family in Spain thanks to whom we have unique products to share with you.
Here we are with the Kertiles family: Michele, Zamir, Fernando, Warren and myself in the middle.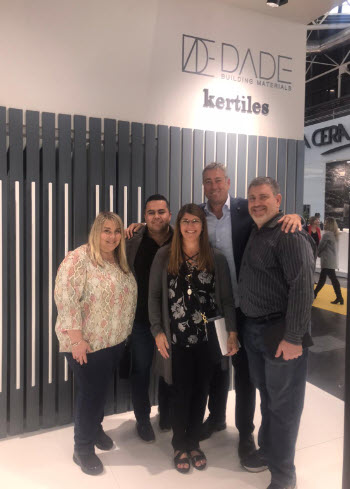 What a show when you have your own pizza food truck making pizza every day for the guests. Yes, of course, we checked it out.