Tile Builder Trends from Design & Construction Week 2017
Posted by Kate Spencer on Feb 9th 2017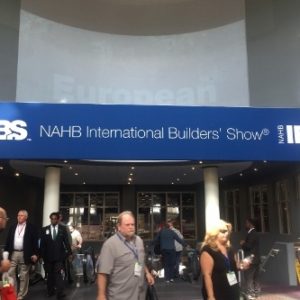 Wondering about tile builder trends showcased during Design & Construction Week® (DCW) 2017?
You're in luck! I attended the show which took place in Orlando, Florida, and came away with several trend ideas to share with you.
What is Design & Construction Week?
Design & Construction Week® (DCW) features the co-location of the NAHB International Builders' Show® (IBS) and the National Kitchen & Bath Association's Kitchen & Bath Industry Show® (KBIS). It's truly a mega-event that brings together more than 80,000 builders, general contractors, remodelers, designers, flooring professionals, as well as product specifiers from around the globe.
The NAHB International Builders' Show® (IBS)—the building industry's premier event featured 1,400+ exhibitors across 550,000 square feet.
My Favorite Tile Builder Trends
Although I'm primarily focused on tile, as I walked the International Builders' Show, I was on the lookout for unusual uses of builder materials as well as the presentation of ideas. For that reason, I've organized my observations in terms of favorite tile builder trends and welcome surprises. You'll notice some overlaps.
1. Combining Tile Textures and Colors
Ultimately, tile is about bringing together interesting shapes, textures and colors to create a one-of-a-kind personalized space that delights you every time to use the space. It's a point that designer Alena Capra makes about designing with tile.
>> See Alena Capra, Interior Designer, Talks Tile and Design
It's also one we've noticed when we visit new construction and remodeled homes in our neighborhoods.
>> See Tile Inspiration from the Fort Myers Parade of Homes 2016
Imagine my delight to see that message delivered in no uncertain terms during Design & Construction Week!
Below are images from Bedrosians who never disappoint with their really dynamic concept boards that not only allow you to be inspired, but also help you imagine what your space will look like if you combined these textures and colors.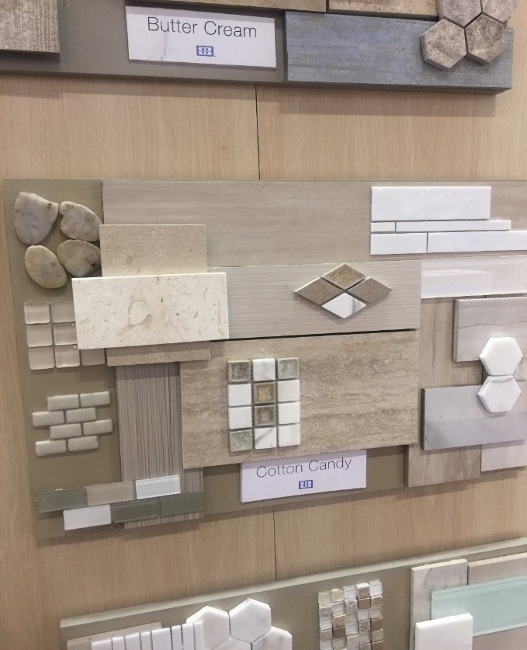 This display below shows you this concept board in action. The white wall tiles, with the mosaic border and the 8x8 blue tile design transforms into a beautiful bathroom space.
Here is the display room scenes created using the mosaics and tiles from that dynamic display boards. Look at how well the colors, shapes and textures come together. Each plays off of the other; the end result is a memorable space that you can't wait to return to.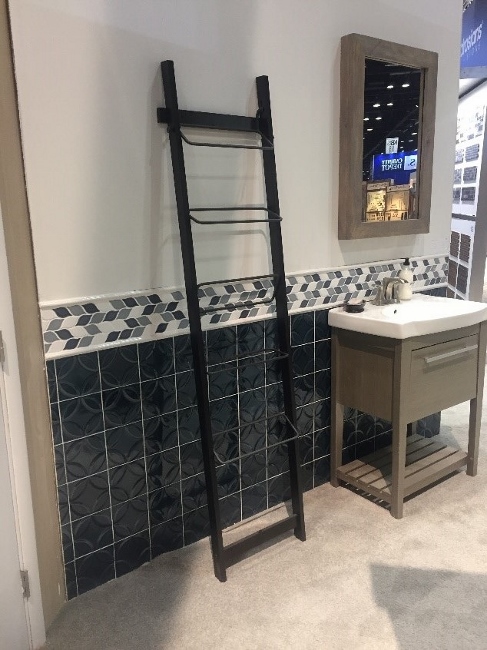 2. Wood Plank Tile Combined with Marble Mosaics
Wood plank tile looks continue strong! So strong, in fact, that I bring them up again in the Surprises section.
Meanwhile, what caught my eye was the combination of wood plank tile with marble.
The image below captures a stunning and very large shower display in a bath accessory booth. The space was such that you couldn't help but walk inside the shower to experience how big it was.
Notice how they used wood plank tiles on the bathroom floor and Cararra hexagon mosaics in the entire shower - both on the floors and walls. I fell in love with the clean and impressive look and feel of the overall effect.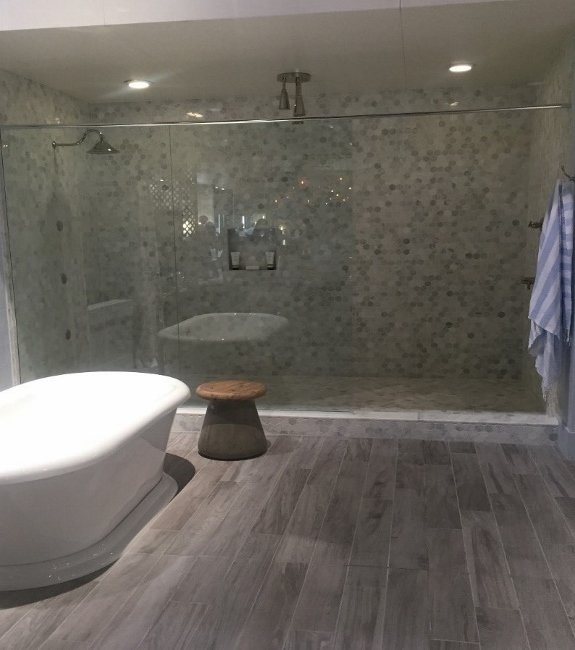 This blending of wood planks with marble is one I noticed in the Tampa Home of Distinction.
>> See How to Create a Contemporary Urban Look with Porcelain and Ceramic Tile
To create this same look in your home, use Pecan Taupe plank tile and Statuary Carrara White 2" Hex Mos Honed 12x12.
3. Striking Plank Patterns
This particular tile building trends builds off of the wood plank look combined with marble that I just described, with an added pattern twist based on a striking chevron pattern.
I discovered this floor installation in the Kohler booth. It consists of a mixed wood-marble-look porcelain plank tile installed in a chevron pattern which gives the impression of movement after a while.
To create this look, consider an item such as Deck Grigio Plank.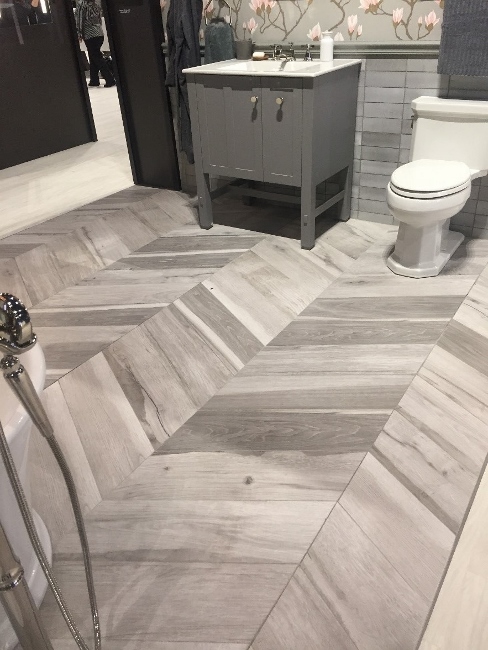 Chevron patterns are becoming very popular in the tile world and I predict that you will see more chevrons over the next few years.
4. Full Penny Round Wall Designs
We love the penny round look and it continues strong.
>> See How to Use Pebbles and Penny Mosaics, Patterns and Ledger Panels in Your Home
What I loved about this installation pictured below is that the penny rounds have been installed with black grout creating a strong visual effect. By simply changing the grout color, you can make a room pop.
Although this particular installation/display was meant to highlight the self closing toilet with the night light, the dramatic effect of the pennies with black grout completely caught my interest.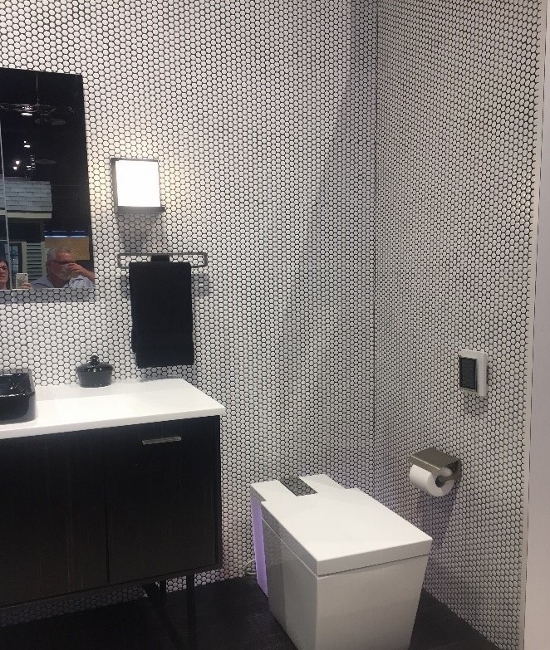 When you shop Tile Outlets of America, you will not only find penny rounds, but also multiple grout colors to combine them with.
For example, try White Penny Rounds with Merkrete Dura Black Sapphire 10lb Unsanded Grout – 414057.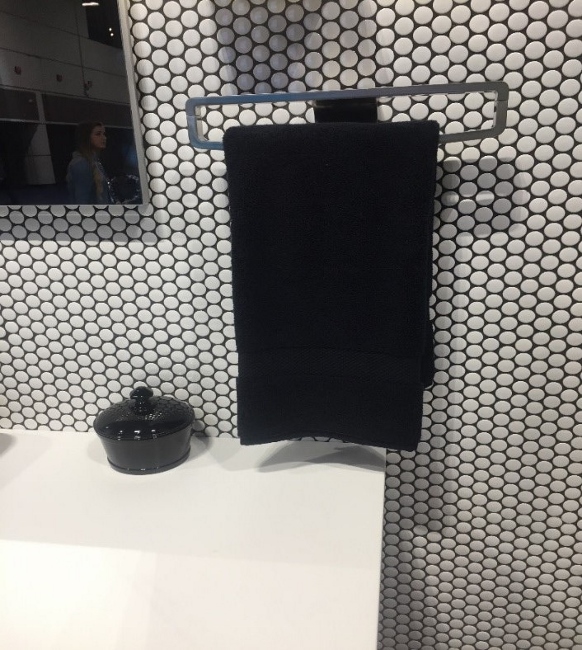 5. Marble Backsplashes
Marble definitely continues strong!
>> See Marble and Wood Look Tile: Top Tile Trends From Cevisama 2015 in Valencia, Spain
I particularly liked the look of a kitchen vignette which featured a solid marble backsplash. This is a look you can create with a large format porcelain tile that looks like marble. For example, check out the Venato Blanco Polished 15x30 Porcelain Tile.
To create a similar look using Travertine-like tile, look at Habana Blanco High Gloss 15x30.
Both of these porcelain options are polished products so the maintenance in the kitchen will be an easy clean up.
If you are prefer to use a stone or marble backsplash, you will need to seal this product and maintain it regularly to keep its beauty.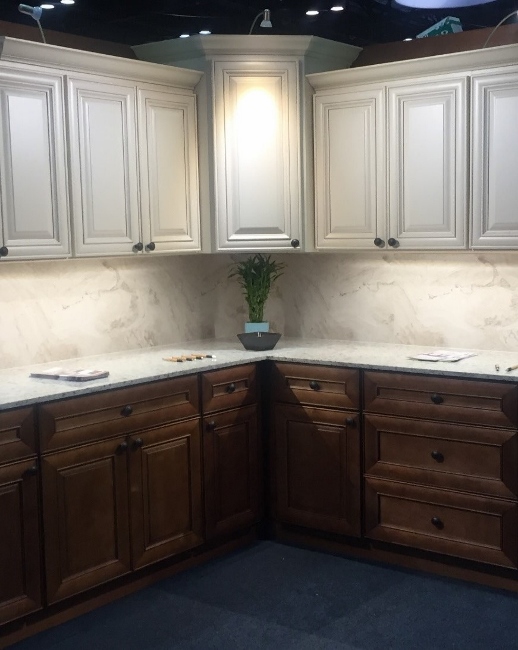 To create an all-over marble look for a space much bigger than a backsplash, consider this 60" x120" panels in 6 mm thickness from Mediterranea Tile and part of their Quantum Limitless Porcelain. Yes, this panel is big!!
Spence Spencer demonstrating how big this porcelain panel is.
Other Welcome Surprises
These next few trends are less specifically tile related and more about surprises I came across as I explored the show.
1. The Wood Plank Look is Big
Wood look plank tile continues strong, supporting the exciting new products just introduced at Tile Outlets of America.
>> See Five New Wood Looking Tile Planks To Transform Your Home!
In fact, it is so big that a company called Stikwood has developed the world's first peel & stick reclaimed and sustainable wood planking. These products are designed so you can easily add elements of the natural world into your environment. In just a few simple steps, the planks transform walls into works of art in less time and with less effort than ever before possible.
The company's motto is PEEL.STIK.PARTY.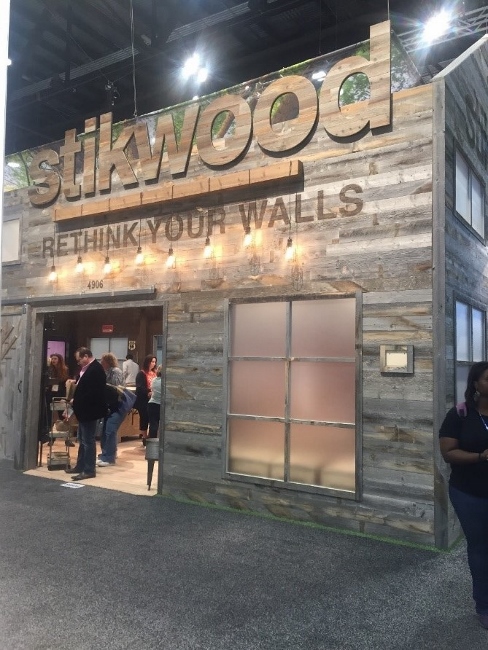 This was one of the busiest booths at the show, with really great ideas on how to use the products - from headboards, to wall features and more.
The planks were in barnwood-type colors and also featured decorative designs, as you can see in the image below.
Not too different in inspiration from the various inkjet print-type wood planks available.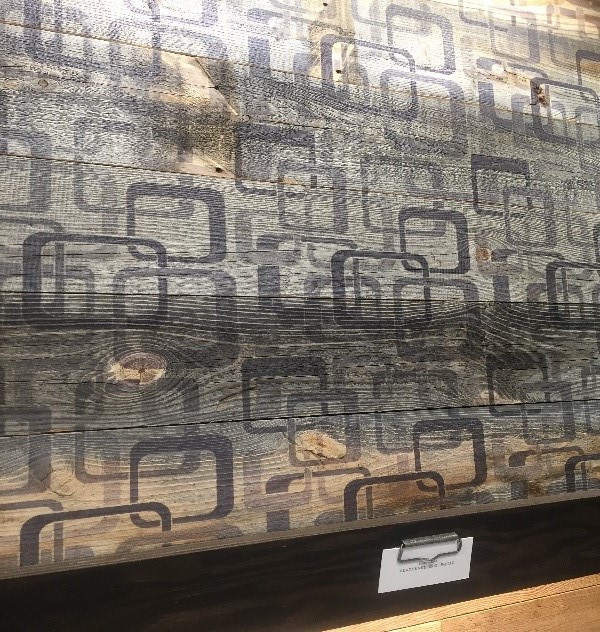 2. Rethinking Product Display Spaces
Another of my favorite booths, Rustica Hardware, created its exhibit space using a shipping container and the characteristics were such that you couldn't not go explore.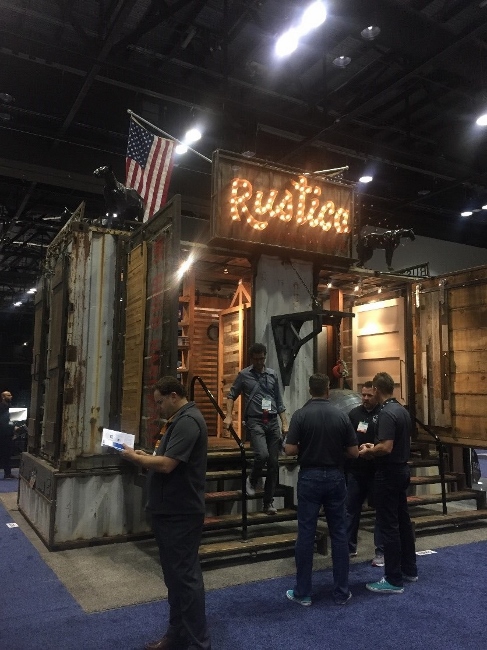 Since tile shipped from outside the United States comes in container ships, I thought this was a unique way to extend the usefulness of these containers.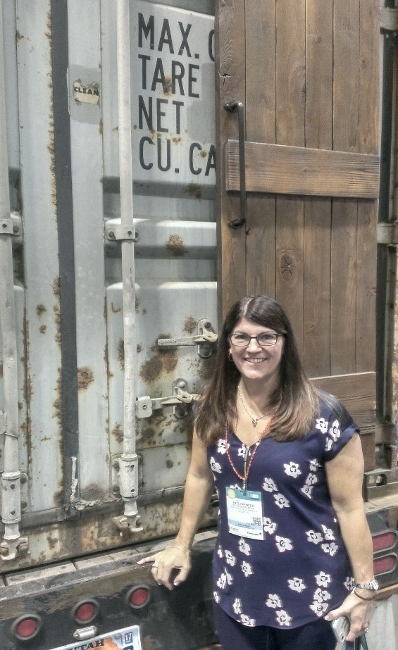 By the way, if you attended Coverings 2016, you could see the shipping container concept to exhibit a tile related space in action at the Installation Design Showcase.
>> See Thin Tile Installation Expertise Creates Clubhouse Bar & Lounge
3. Gym Equipment!
Gym equipment at a builder show you ask? Why not! Especially since you'll find gym spaces includes across the building industry. Gyms, hotels and resorts all have a need to fill their gym space with fine equipment.
I noticed many brands of gym equipment on display throughout the show. As a gym rat, I really enjoyed checking these booths out.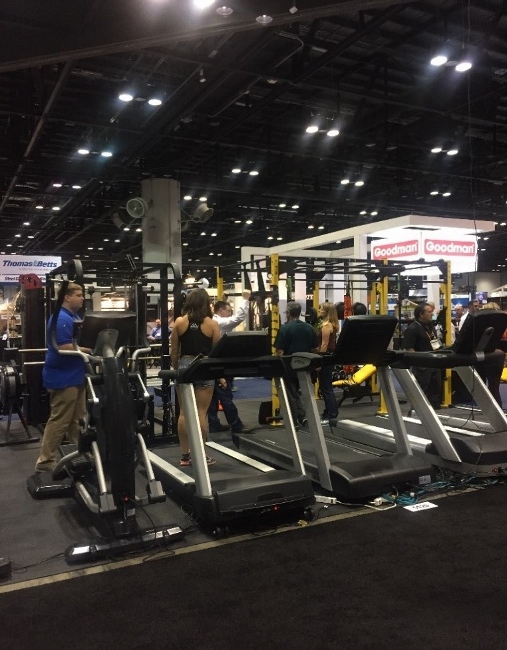 4. Rethinking Stoves, Cooking, Heating and Color
These really cool looking stoves caught my eye for several reasons. Yes, they look retro. The colors, though, say totally hip. What completely sold me, though, was how the AGA cooker rethinks not just the stove, but also cooking and heating.
The stove pictured below is a heat storage stove and cooker. It works on the principle that a heavy frame made from cast iron components can absorb heat from a relatively low-intensity but continuously-burning source, and the accumulated heat can then be used when needed for cooking. The company's motto is "The World's Best Cooking Experience." This red stove made me want to learn to cook.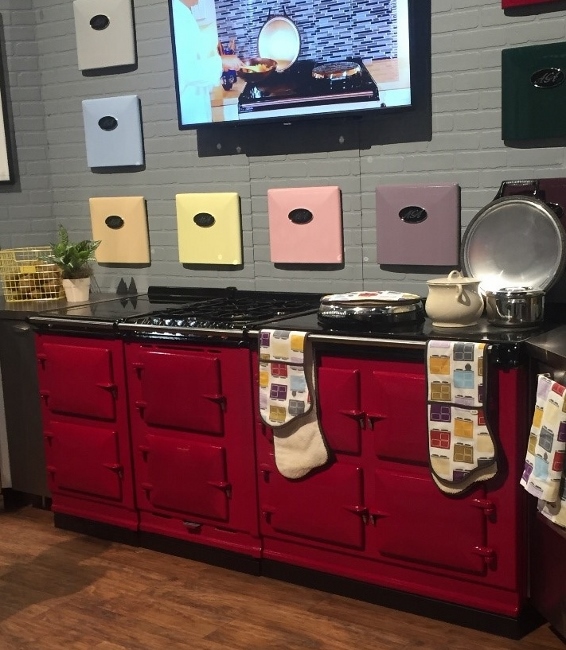 5. Don't Underestimate the Value of Grills in Homes
I can assure you that no builder show would be complete without grills! (This is also one of my husband's favorite spots at the show and I had to drag him away!)
Whenever you visit Tile Outlets of America, you'll find an outdoor grill space in the Inspiration Area. In other words, don't ever underestimate the value of a grill in a home. And realize that you can only make that space more appealing with tile or ledger stone to complete the look.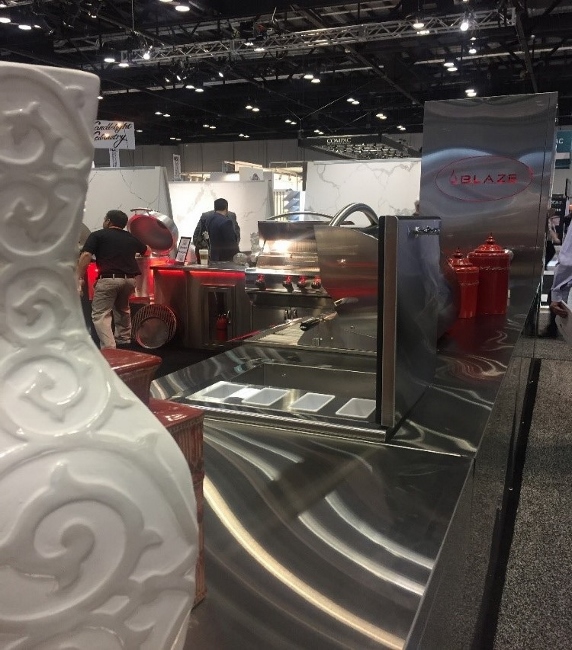 Which Are Your Favorite Tile Builder Trends?
Did you attend Design & Construction Week? Did you notice interesting trends that I didn't cover here? Let me know.
Thanks for reading!
Kate