Tile Outlets' Winners: Sunrise Remodeling and Bahama Construction in Fort Myers
Posted by TOA's Blog Team on Jun 2nd 2016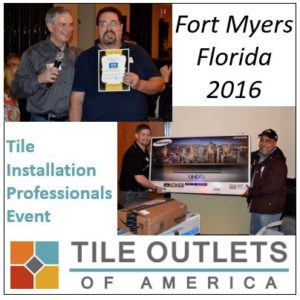 One of the best parts of celebrating tile installation professionals is highlighting the Tile Outlets' winners from each store location. These are valued customers and trade professionals who play a critical role ensuring that tile dreams become beautiful reality.
We enjoy these events because it's an opportunity to spend time getting to know our customers and their families outside of the store environment and we also get to introduce you to them.
At the Fort Myers, Florida event, Sunrise Remodeling and Bahama Construction each won one of two grand prizes: tickets to the Daytona 500 and a large screen TV.
(For additional perspective on the tile contractor events, you can read Tile Outlets Appreciates Tile Contractors! and Celebrating Tile Contractors in Fort Myers! from the 2015 event.)
Meet the Tile Outlets' Winners
Bill Towler from Sunrise Remodeling in Fort Myers
Sunrise Remodeling is based in Fort Myers and provides remodeling services not only in Fort Myers, buy also Cape Coral, Bonita Springs and throughout the Southwest Florida region. As the company describes on its website, it "is Southwest Florida's leading kitchen and bathroom remodeling company, with more than 14 years of experience and hundreds of happy clients."
For background on that statement, be sure to read about company owner Brian Dunn.
Bill Towler won tickets to the Daytona 500. He is the warehouse manager for Sunrise Remodeling and knows a thing or two about tile and stone. We caught up with him to ask him a few questions.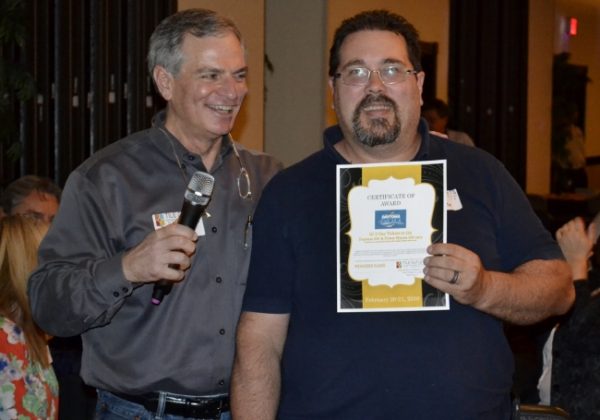 Don Aronin and Bill Towler, Sunrise Remodeling, who won the Daytona 500 tickets.
TOA: Bill, tell us about your business.
BT: My company is Sunrise Remodeling Inc. We have been in business for about 12 years and we specialize in interior home remodels, including bathroom, kitchens, flooring, and more.
We service Lee and Collier County in the Fort Myers, Florida area.
TOA: How did you first learn about Tile Outlets?
BT: We saw the building and how large it was and went in to check it out.
TOA: What do you like most about Tile Outlets?
BT: We like your location and your employees. Everyone is so helpful.
TOA: What are the most popular tile products customers want?
BT: Most of our clients prefer natural stone tiles. We use a lot of the Classic Travertine.
>> Be sure to check out the extensive gallery of images that Sunrise Remodeling features of projects done with Travertine stone.
TOA: What are your favorite tile products?
BT: We particularly like the 18x18 tile format, and Travertines as I mentioned.
TOA: Is there an installation you're particularly proud of?
BT: We love all of our installations. Each one is a new work of art for our tile installers. The image below is an example of the work we do.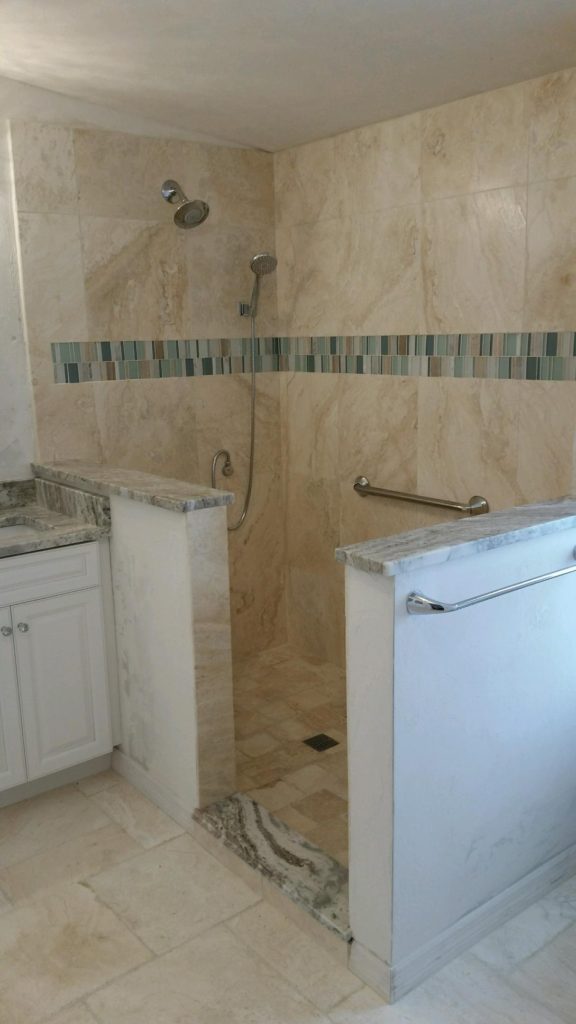 This shower installation by Sunrise Remodeling features 304751 Cascade White Country 18x18 Travertine and 150963 Vertical Glass Mosaic.
>> Here is a link to the Sunrise Remodeling kitchen image gallery.
>> Here is a link to the Sunrise Remodeling bathroom image gallery.
TOA: Bill, what is the best way for people to reach Sunrise Remodeling?
BT: They can call us at 239-246-9315, view our website at www.sunriseremodelingfl.com, interact with us at facebook.com/sunriseremodelinginc, or they can come by our showroom at 11220 Metro Pkwy #2 in Fort Myers, FL from Monday through Friday from 8:30am to 5:00pm.
TOA: Thank you, Bill!
Meet Luis Fernandez from Bahama Construction
The winner of the large screen TV was Luis Fernandez from Bahama Construction in Fort Myers whom you see pictured below on the right holding the TV with assistant manager Greg Didio.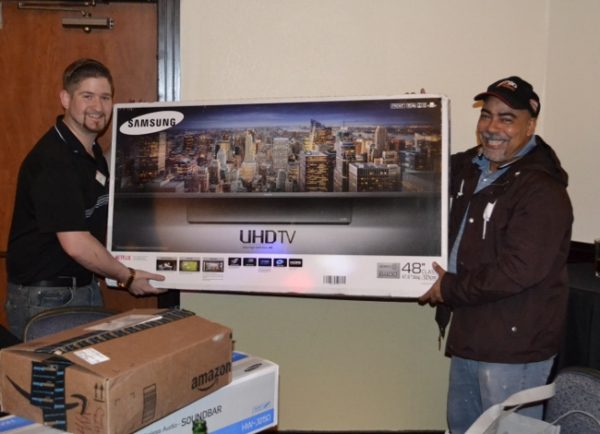 Luis Fernandez, Bahama Construction, on the right with Greg Didio on the left.
You can reach Luis Fernandez from Bahama Construction at 239-645-5444 or via email at Bahama.lf@gmail.com.
If you are a tile contractor in the Fort Myers area, we invite you to learn more about becoming a Tile Outlets of America Trade Pro!