Meet Greg DiDio, Assistant Store Manager, Tile Outlets in Fort Myers
Posted by TOA's Blog Team on Aug 27th 2015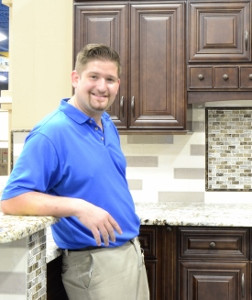 When you next visit Tile Outlets in Fort Myers, be sure to meet Greg DiDio, Assistant Store Manager. He's a member of the management team committed to helping you transform your home from dream to reality as you explore the beautiful tile and stone possibilities available at our stores.
He's also next in this blog series where we introduce you to the leadership team for each Tile Outlets store. So far, you have met:
From the Tile Outlets Fort Myers Store:
From the Tampa Store:
From the Sarasota Store:
Meet Greg Didio, Assistant Store Manager for Tile Outlets in Fort Myers
TOA: Greg, tell us about yourself and your background.
GD: I've been managing in the home improvement sector since the end of 2012 in the areas of appliances, kitchen countertops and cabinetry, and flooring including tile, stone, laminate, vinyl, carpet, and hardwood.
From that experience, I've gained a valuable skill set that includes multitasking and adapting to changes in both consumer and employee needs. I pride myself in leading by example and keeping a positive attitude under pressure. I've developed others who desired managerial roles and have several years of sales experience in home improvement which helps me address the needs of the sales crew and support the culture at Tile Outlets.
TOA: What is your role with Tile Outlets?
GD: I was hired into Tile Outlets of America as assistant store manager in June 2015.
I look forward to helping further develop our rapidly expanding business so we continue to separate ourselves from the competition thanks to our strong customer service commitment.
TOA: How did you get started with tile?
GD: At my previous employer, I was challenged to learn a new line of the business - flooring - after working in several different areas of home improvement. We noticed a rapidly growing trend in home improvement indicating that flooring was becoming one of the first areas that shoppers were looking to improve and remodel. I educated myself on the benefits of several types of flooring and became knowledgeable about their process of installation.
That new knowledge became an opportunity to help grow the business and I was transferred between store locations. I quickly became the top salesmen in the southeast region which includes over 170 stores.
I look back and appreciate every day the challenge I was offered and the support I received which gave me the knowledge I have now.
TOA: Greg, what do you love most about tile and stone?
GD: It looks great and it's extremely easy to maintain. You can define a space with a great installation of either tile or stone, making a house a home.
TOA: Which are your favorite tile products and why?
GD: As far as product selection, what I like most takes me back to my childhood in the northeast in New York. I like the look of wood with the ease of maintenance and reminder of the trees in my backyard that I used to climb and build treehouses in.
That being said, the light colored greys, whites, and various shades of brown featured at Tile Outlets are my absolute favorite to recommend to customers. They give your home a great feel and are extremely safe to have in your home.
TOA: What product or installation trends are most interesting for the Fort Myers market?
GD: The trend now is certainly purchasing stone and tile over carpet, vinyl or hardwood. For many reasons it is the most economic, easy to maintain and suitable for the area in either a home or business.
TOA: What tips do you have for someone getting ready for a tile or stone project? Where should they go for ideas and advice?
GD: I'd obviously recommend coming into Tile Outlets and speaking to one of our experienced sales staff!
Definitely, review the TileOutlets.com website and this blog.
And simply looking on YouTube or a home improvement magazine will help to familiarize yourself with what's available out there and what's possible given all the great tile and stone products you'll find in the Fort Myers store.
>> See How to Transform a Bathroom With Tile: Fort Myers Bathroom Makeover
>> See Tile Design Inspiration from Tile Outlets Fort Myers
>> See How To Design With White Tile: Inspiration From Fort Myers
TOA: What's the best way to prepare for a visit to the store?
GD: Have information ready to help us identify what's best for you. Know the size of the area you want to install tile or stone in. Know if you want to do it yourself or have us give you a reference for installation services.
Try to have a budget set in mind and know the maintenance required for these products post installation.
The more you know the more likely you are to be satisfied with your purchase.
However, always know we are all prepared to fully educate you on anything you might need to know to help make yourself comfortable with your buying experience.
>> Download the Tile Outlets of America "Dream Sheet" Project Checklist.
TOA: What do you do when you're not immersed in tile?
GD: I love sports and watching reality television.
I'm very much a family man and love traveling and making memories that last a lifetime. I like to relax by sitting around a fireplace in the fall and working on improving my home.
TOA: What Fort Myers community organizations or charities are you involved in?
GD: I've participated in the March of Dimes, Autism Speaks, and various school charities and fundraisers to help fund such things as children's sports protective equipment to fire department gear and food drives for my local church.
As Assistant Manager of the Fort Myers store, I looking forward to getting involved in Fort Myers organizations that matter to our customers and helping Tile Outlets express its appreciation for this beautiful community.
TOA: Any parting words of advice?
GD: I'm extremely excited to join the TOA team and look forward to helping our community and increasing the impact of our customer service which helps set us apart from the competition.
TOA: Thanks, Greg!
We invite you to visit Tile Outlets of America in Fort Myers, FL to experience first hand how we help your dreams become reality with the beautiful selection of in-stock and first quality porcelain and ceramic tile, stone, mosaics and more that you'll find available for a whole lot less!
And be sure to say hi to Greg!