Tile Trends and Insights From Coverings 2015
Posted by TOA's Blog Team on Jul 2nd 2015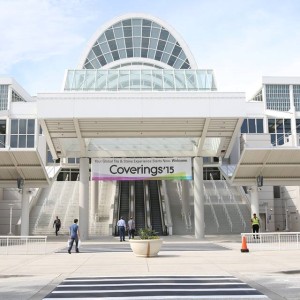 As we mentioned in Alena Capra, Interior Designer, Talks Tile and Design, we love Coverings. It's unlike any other ceramic and stone show in the U.S.. We inevitably come away from it with valuable perspective on the latest tile trends and industry insights.
Not only do those observations allow us to offer customers beautiful tile selections, but they also make for strong relationships and valuable conversation with the suppliers who come from around the world to attend the show.
We Love Attending Coverings in Orlando, FL!
Coverings 2015 was held in Orlando, FL in April. This event brings together vendors from all over the world to showcase what's new in the floor covering business. What struck all of us was seeing how floor tiles are getting bigger and decorative pieces are popping with unique features.
We attend Coverings as a management team to meet with tile suppliers and observe the latest tile trends. Given the Orlando location, we also invited staff from each Tile Outlets store in Fort Myers, Sarasota and Tampa to spend a day to explore the booths and learn more about the products they sell.
Tile Outlets Store Staff Perspectives On Coverings 2015
Here are perspectives from the store team on Coverings:
"Coverings is an amazing experience. You have a myriad of vendors from all over the world in one huge convention center and they have one thing in common, the love & creation of the Tile Industry. I went with a group of designers from Sarasota and they were overwhelmed with excitement to come home and tell their clientele about selections that will work in their environment. A few of us loved the New York Brick on Nanda Tiles exhibit floor. Loved the mixture of glass and stone textures with metals and woods. The large format porcelain tile, wood plank floors with incredible texture." Donna Kern (see Meet the Sarasota Tile Outlets Team)
"Coverings was an eye opening experience, I knew the tile industry was huge but I wasn't aware of the diversity of products or sizes. It was also nice to meet some of our vendors face to face. I learned a lot too. Custom building products (Aquamix) and Merkrete both have free apps in the google play store and the apple store for their products." Jeremy Sisson
"Attending Coverings this year enlightened me on not only the many new and different tiles available but also the different setting products and tools that are being developed. The detail on the tile is amazing. The communication and support from the different vendors was surprisingly positive. It was a positive feeling that not only was feedback asked for on the purchasing decisions, it was heavily considered." Rickey Williams who was interviewed by TalkFloor at Coverings.
"I really enjoyed Coverings. It was very exciting to see all the different products in the tile industry. I was able to see what was trending in the tile industry as well. Most of my favorite tile products I saw there were from Italy. I noticed that large format, wood planks and geometric styled tiles were very popular at the show. I also enjoyed seeing how the product gets selected and purchased to bring in our store for our customers. There is a lot of thought put into what our customers want to see and use in their homes. I think that truly makes us a great store!" Vanessa Starkweather
5 New Product Trends and Ideas From Coverings 2015
Five tile trends stood out at Coverings 2015: wood look planks, mosaics, bricks in tile, Calacatta looks and subway tiles. I hope you enjoy these trends and ideas as much as we did!
1. Wood Look Planks
The barn wood look is continuing as a strong trend show after show. Improvements in inkjet technology are making these pieces so life-like and the depth of image so convincing that you have to touch it.
This Barn Wood series is from Dom Ceramiche in Italy. This series is available in a 6 ½ x 4 and 9.9 x 40 lengths.
Notice in the photo above the hexagon mosaics that are part of the series. Hexagons in all sizes are still very hot.
This barn wood look below is called Hunter and is available in 8x40 from Eliane, Brazil.
By the way, notice that flooring isn't just for floors. Look at this wall feature created when the wood-look plank tiles are carried to the wall.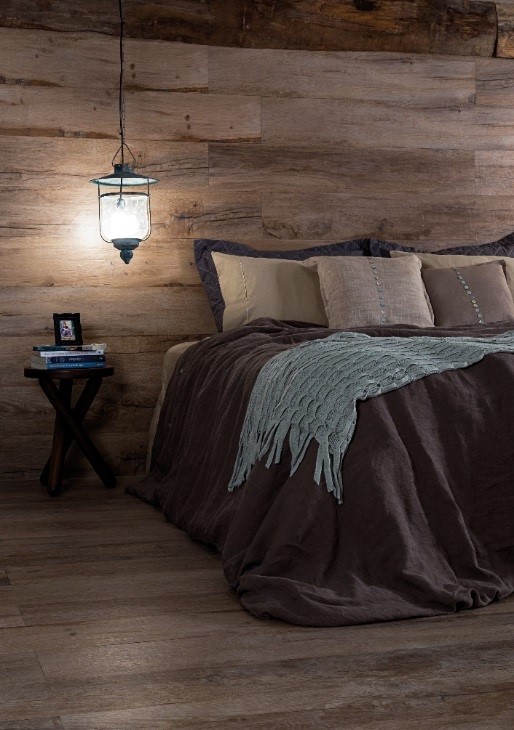 2. Mosaics Are Everywhere and Look Fabulous!
We are always fascinated with the newest mosaic looks and we saw many to get excited about.
Speaking of hexagons, look at how fresh, playful and visually interesting the hexagon backsplash looks!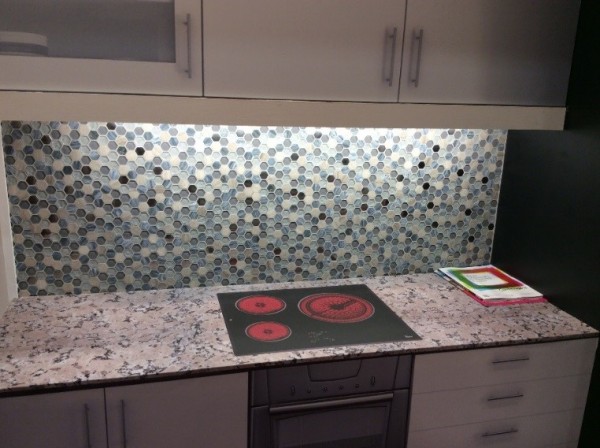 Pictured below are mosaics in hexagons, 2x2 and 1x4. Each one has a unique design element with textures, metals, glass and stones. These come from Intermatex in Spain.

We walked through a booth called Safari Thatch that used renewable, exotic building materials to create fascinating mosaics as you can see in the image below. Some were even made from petrified fruit. Talk about bringing nature inside in a good way.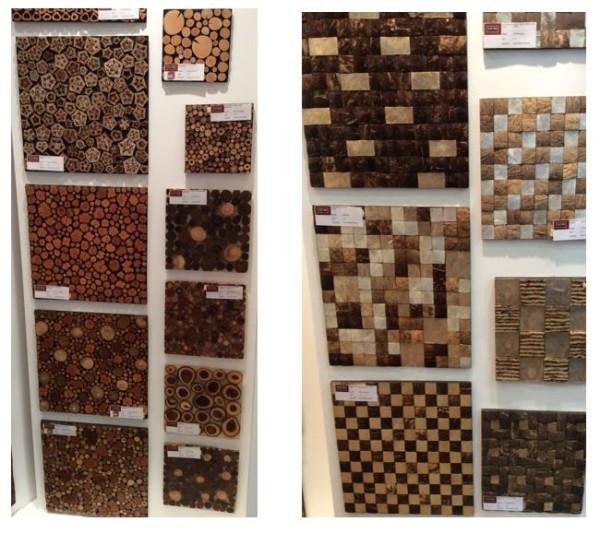 The booth below was fun to walk through. Yes -- this is all tile! If you have a picture, this company will make tile out of it. Just goes to show you all the possibilities this industry has created with inkjet technology.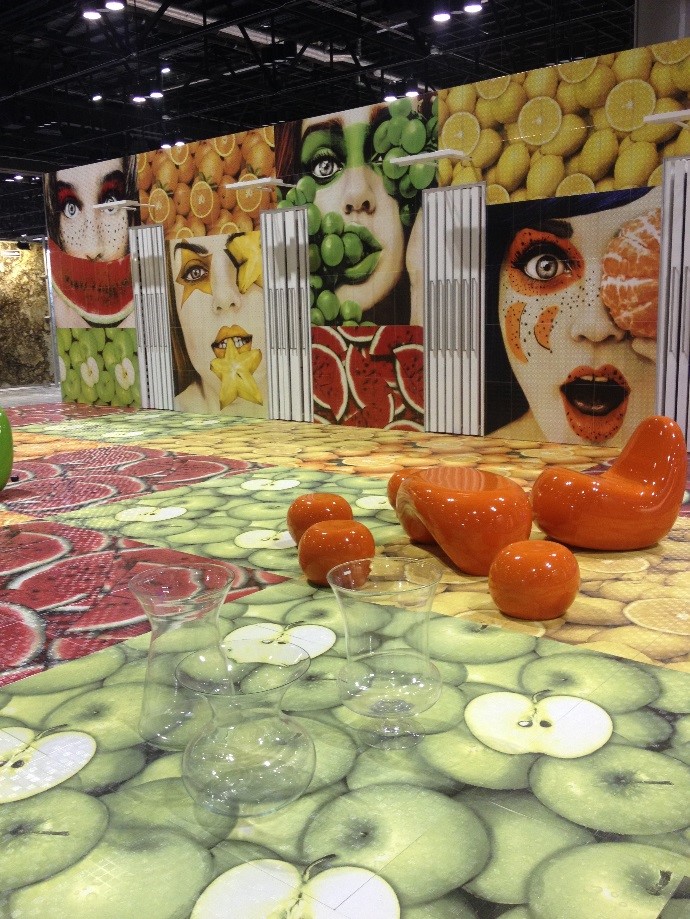 3. Bricks in Tile
Bricks made out of ceramic tile are trending in all sizes and shapes. They are being used on floors, walls and also outside facades.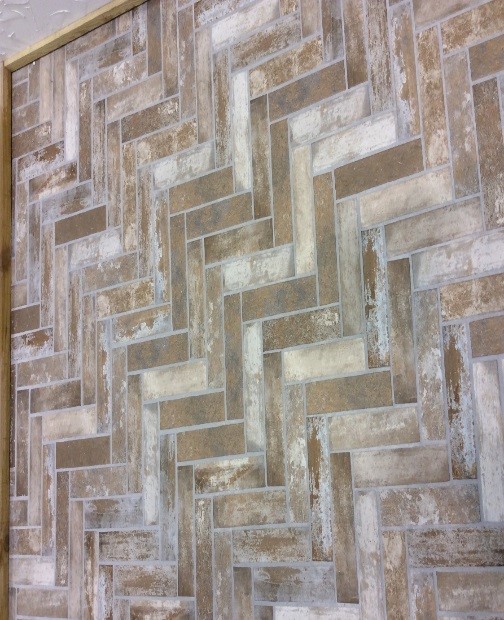 This really caught our attention: brick corner pieces to fully complete columns and corner features. This allows you to wrap bricks around a wall element while ensuring a smooth edge all around.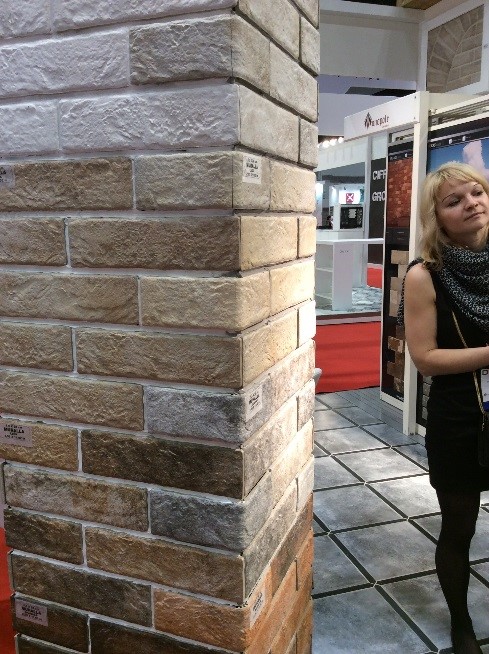 The brick tile line featured below is called London and is available in 2.4 x 10 and 5.2 x 10. Very rich looking, don't you think?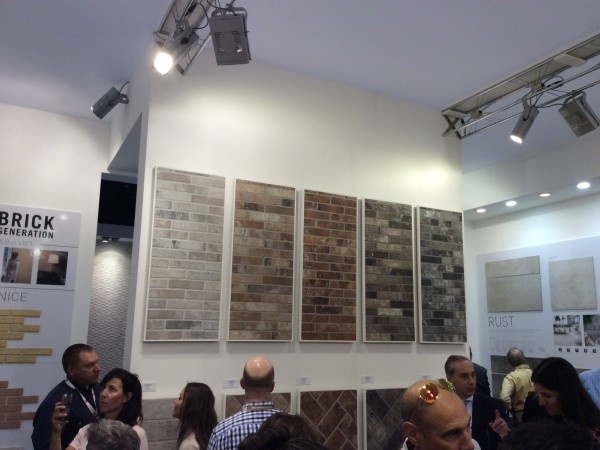 4. Calacatta Looks at Coverings 2015
Calacatta marble looks in tile looked fresh, classic and exciting - as they did at Cevisama. The image below features Emporium Calacatta 10x16 wall tile by Celima from Peru. We noticed this very classic look in many booths at Coverings 2015.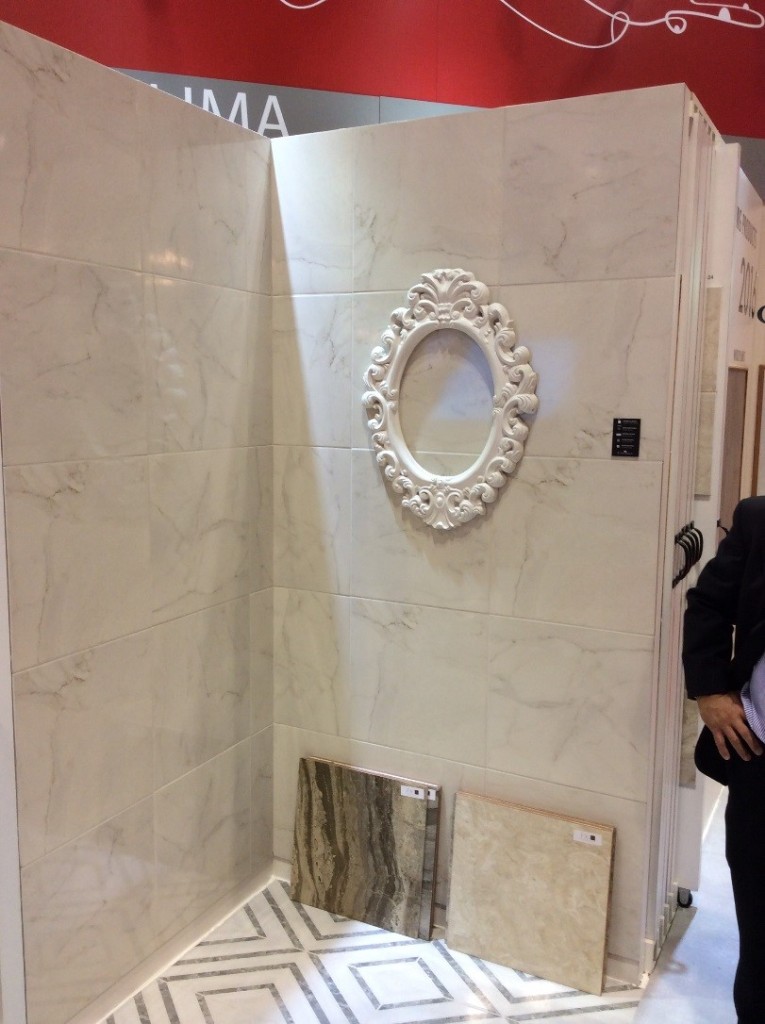 The product pictured below is is called Calacatta from Ege Seramik in Turkey. It's a wall tile featured with coordinating floor tiles.
This is a timeless tile trend and we'll continue to see these classic looks for time to come.
5. Subway Tiles
I'm excited about subway tiles and how the selections are getting better. We noticed a multitude of subway tile options made from ceramic, glass and stone. That means that you can truly take your imagination and design exactly the look and style you will love.
For example:
Nanda tiles in Spain offer this Stone Collection in a 3x12 and 3x6 stone look which come with decorative design elements to enhance your backsplash.
These flat hexagon glass subway tiles come in many colors. These items are featured by Keen Ocean in China.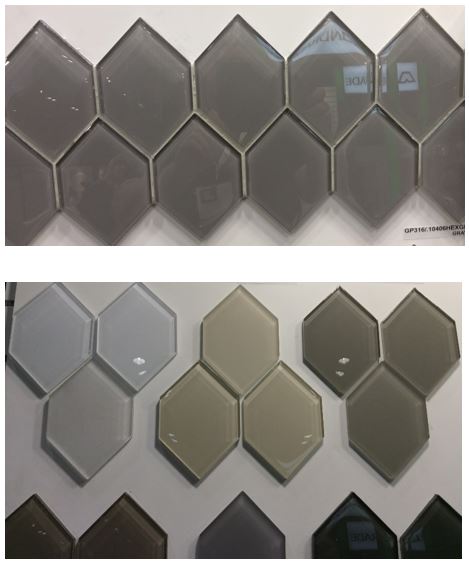 The Liverpool collection is a ceramic wall tile in a 3x12 format offered by Portobello, Brazil. You can combine multiple colors to create a subway backsplash to coordinate with any room.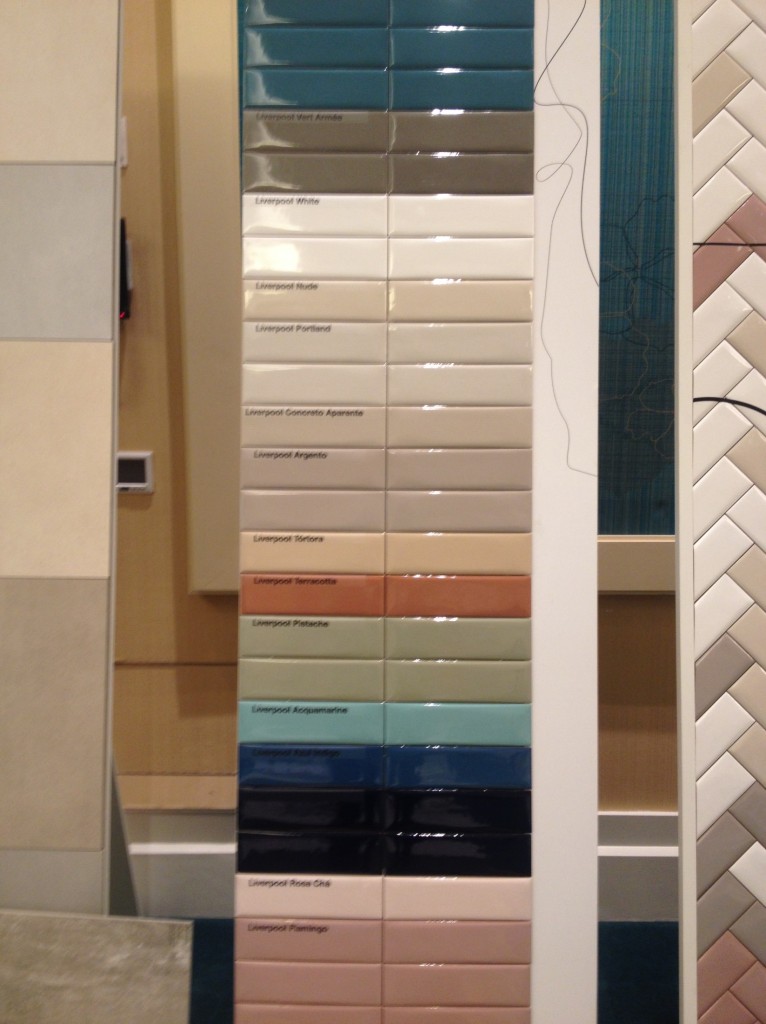 Did you attend Coverings 2015? What stood out for you? Which were your favorite tile trends? Let me know in the comments.
Additional Resources for Coverings 2015 Tile Trends
For additional perspective on Coverings 2015, here are some articles you'll enjoy:
Kate