The Top Myths About RTA Cabinets
Posted by TOA's Blog Team on Dec 14th 2022
Tile Outlets of America carries four lines of RTA cabinets for use in kitchens, pantries, bathrooms and more. In the process, we discovered several myths that we address here in this article thanks to cabinetry expert Michelle Slobodzian in Fort Myers.
Special thanks to Richard Demarest and Chris Nichols from C&R Design/Build, Inc. in Fort Myers for sharing images of their kitchen installation in this article.
All feature Forevermark's Signature Pearl RTA cabinets from Tile Outlets and showcase the versatility possible based on accessories and convenient features available to transform any kitchen space into a beautifully customized dream kitchen come true.
Debunking Myths About RTA Cabinets
TOA: What does 'RTA Cabinets' mean?
RTA stands for Ready to Assemble. This means that the cabinets come in pieces and have to be put together before they are installed in a kitchen or bathroom.
TOA: Do RTA cabinets contain formaldehyde and toxic chemicals?
Very few manufacturers still use these chemicals. Rest assured, all of Tile Outlets' cabinets are CARB Phase 2 compliant.
CARB Phase 1 and Phase 2 are a part of California's Composite Wood Products Regulation (CWP Regulation), which took effect in 2009 with Phase 1. The regulation has to do with reducing formaldehyde emissions from composite wood products, hardwood plywood, particleboard and medium density fiberboard (MDF). In the 2009 rollout of the CARB's Airborne Toxic Control Measure (ATCM), formaldehyde emissions were capped at .08 parts per million (ppm).
CARB Phase 2 went into effect in 2010 and has much lower formaldehyde emissions than the previous phase, set at .05 ppm. The main reason why the CARB ATCM is the strictest air quality measure is because it caps emissions levels. Other air quality standards are averages.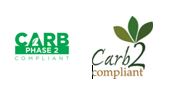 TOA: Does RTA mean cheap or flimsy? Why not?
Not all RTA cabinets are created the same. At Tile Outlets of America, we chose what we believe to be the best quality RTA cabinets at the best prices.
If you compare the specifications of the cabinetry brands we sell versus much higher priced, well-known brand names including assembled cabinets, you will find that ours are comparable and in some instances better.
Our RTA cabinets are all either ½" or ¾" thick, which ensures stability. They are held together by a metal lash and clip system, so there is no gluing or stapling is necessary. (BTW, Michelle Slobodzian prefers both gluing and screwing together with our clip system than to have a stapled together cabinet.)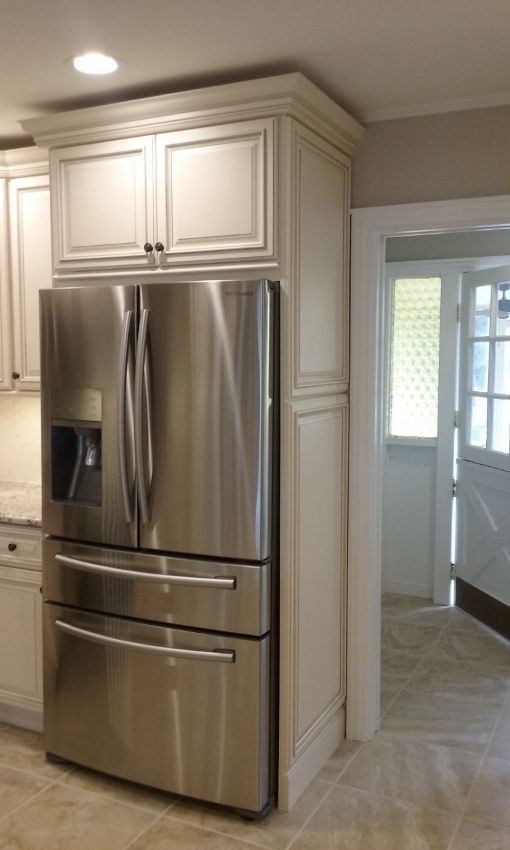 TOA: What makes the Tile Outlets kitchen and bath cabinetry such great quality products?
They are made with high grade, toxic free, plywood, and hardwood.
The face frame lines are a 1/2" plywood with a 3/4" solid wood face frame, 3/4" plywood shelves, and hardwood dovetail drawers with a 1/2" bottom.
Our frameless traditional line is a 3/4" plywood box, dovetail drawers with all solid wood doors.
Many competitors' brands have an upcharge for plywood construction, as well as an upcharge from 1/4" to a 1/2" drawer bottom. Ours are included.
The majority of the cabinets are completely painted or stained inside and out to match the finish of your chosen door style. This eliminates the need to skin the sides or add matching door panels unless you want to.
Most of the styles we offer include soft close full extension drawer slides and soft close hinges on the doors, although each vendor has a few doors in their lines for a lower price point which do not include soft close hinges or slides.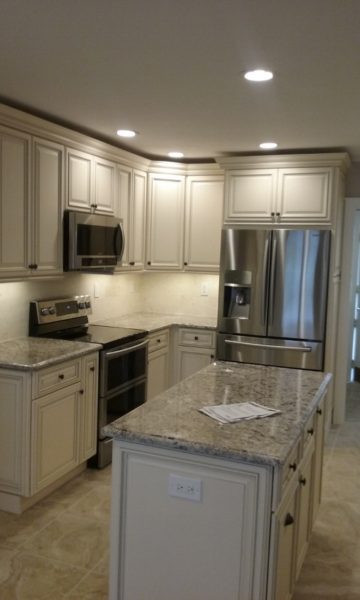 TOA: What are alternatives for new cabinets? How are RTA cabinets better?
The other alternatives for new cabinets are re-facing, semi-custom and custom cabinets.
Re-facing simply means you are getting a new door. You still have the same 20-year-old box to go with it.
We've had many customers come in with refacing bids costing much more than brand new RTA cabinets.
Semi-custom and custom cabinets can run you 3 to 5 times more than RTA cabinets!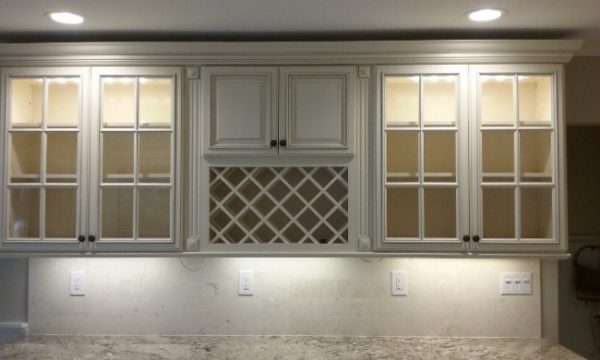 Wine rack, lighted cabinets and other accessories.
TOA: What is involved in assembling RTA cabinets?
Tile Outlets of America carries four different RTA cabinet lines. Each one has different assembly requirements. However, all of the lines are pre-drilled for assembly.
The face frame cabinets have doors that are already hinged and attached to the face frames. That makes them easier to assemble.
The drawer fronts are already attached to the front of the dovetail drawers. That means that there is no measuring involved in order to have finished faces on your cabinets.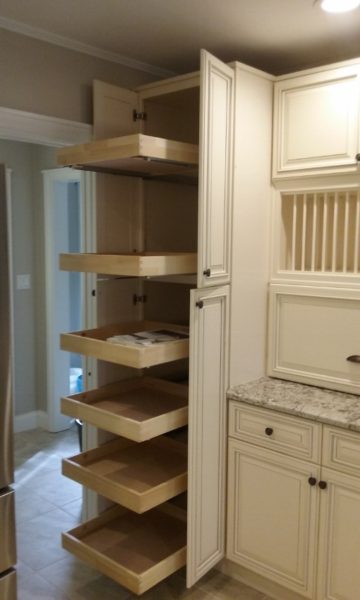 RTA cabinet pantry shelves
The frameless traditional line does require a higher skill level.
Because this is a frameless line, measuring is involved in attaching the doors and drawers onto the cabinets. Also, you will need to install all the hinges on the cabinet box and onto the doors. (Remember, though, all of the holes are pre-drilled at the factory.)
The frameless contemporary line has flat panel doors and offers two cabinet box options:
A European metal drawer and a gray cabinet. The drawer bases are shipped assembled because the drawers are too complex for the average person to put together; that means you are only assembling the cabinets which require doors.
A more traditional natural maple cabinet with dovetail drawers which would need to be assembled by the purchaser.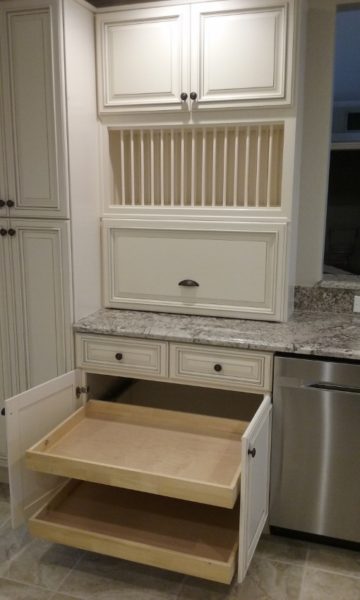 TOA: What knowledge do you need to assemble these cabinets?
Kendra assembled the cabinets in the Fort Myers store herself. That was before she became a cabinet design expert. And Millie assembled some of the cabinets at the Tampa store. She says it takes a little bit of patience but is very easy. Once you do one, the rest go rather quickly.
Generally, it's easier to assemble face frame style cabinets than frameless styles. We've included links to assembly videos and instruction sheets we recommend most below.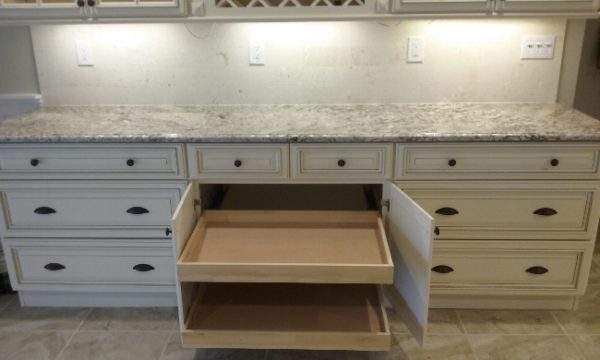 TOA: What kinds of tools do you need to assemble?
Assembly requires a Phillips screwdriver or drill with a Phillips bit. (A drill is always the easiest and quickest way to screw cabinets together.)
A rubber mallet is very helpful to put the dovetail together without damaging the surface of the wood. We recommend wood glue in the joints of the face frame cabinets and dovetails in addition to the metal clip system.
Have a tape measure handy for frameless cabinets.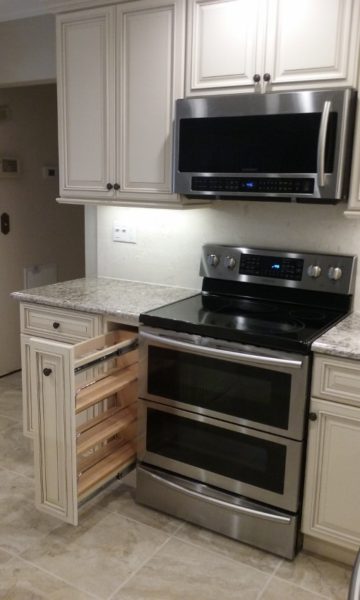 Notice the spice pull out cabinet accessory.
TOA: How long does a kitchen remodel take?
Demolition and haul away of the existing kitchen usually take less than a day.
Every kitchen is different, and everyone's concept of kitchen size is different. A seasoned installer can assemble cabinets for a kitchen with 10 to 15 cabinets in a day's time. For the DIY customer, it may take two days to assemble.
Installing the cabinets is about a week on average.
Once the base cabinets are set, you will be ready for the templating of your countertop. From the time of templating, it could be 1-2 weeks before installation of the top. Most times, people will set up a temporary sink in their kitchen so they can function for those 1-2 weeks. It is usually made up of plywood, or scrap wood, and the existing sink.
Notice the double tiered cutlery divider in this drawer.
TOA: What kinds of instructions do RTA cabinets come with?
Although the cabinets come with assembly instructions, we find that customers prefer the process we take them through:
We explain what to expect by reviewing how the cabinetry elements they have selected work together. Sometimes, that's a matter of pulling out a drawer and explaining while they are in the store - especially if they are a do-it-yourselfer.
If they are working with a contractor, we encourage them to confirm that their contractor has experience with RTAs.
We provide them with links to assembly videos and instruction sheets.
Videos for framed cabinets include: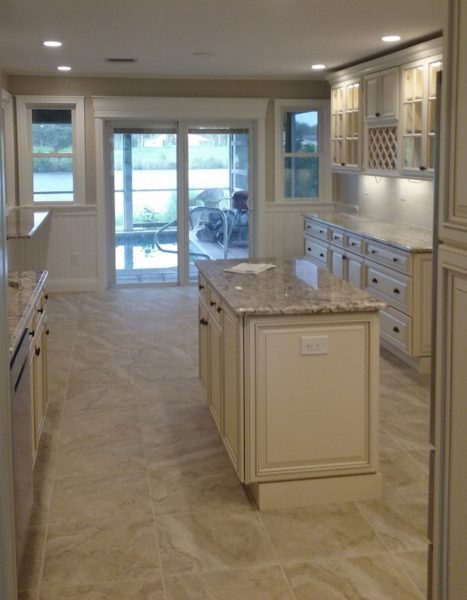 TOA: What's the hardest part about installing RTA cabinets?
We usually tell customers that they can put their cabinets together, but to get help with installation if they haven't done so before. It's very important to make sure the cabinets are perfectly level and attached to the wall studs for stability.
Someone is always available at the store level in Tampa and Fort Myers to answer any cabinet installation questions.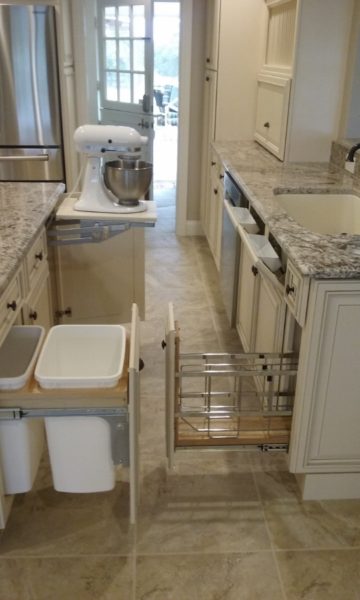 Note all of the accessories including a cabinet with an appliance lift for the Kitchen Aid mixer, pull outs for the garbage and recycle bin, and tray divider pull out.
TOA: What's the process for selecting/buying new cabinets?
The first step is to measure your wall space. Tile Outlets offers a kitchen planning guide that you can download. There you will find all the information required to give you an accurate drawing or plan for your cabinet installation. An accurate floor plan is always essential so the overall installation works. RTA cabinets have set sizes and are sold in 3-inch increments. Every fraction of an inch must be taken into consideration.
>> Download the Tile Outlets Cabinet Planner design guide.
Then, pick your door style and any accessories important for you to have (i.e., trash pull out, spice rack, roll out trays, crown molding, etc.).
>> See 10 Kitchen Cabinet Accessories Worth Considering For Your Home
Call to speak with one of our cabinet designers to set up an appointment for an in-store design session.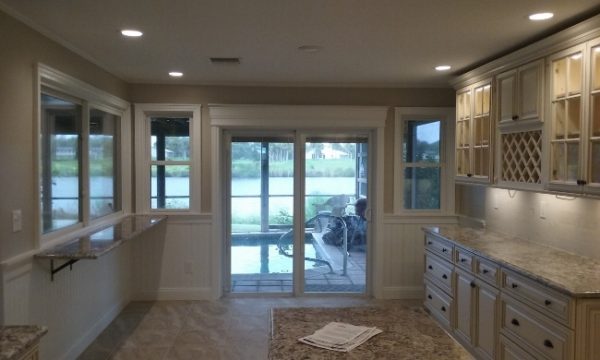 An ideal kitchen thanks to RTA cabinets from Tile Outlets of America.
TOA: What are the biggest surprises?
Most people are surprised by the value and quality of the RTA cabinets available at Tile Outlets. RTAs get a bad rap for being of a lesser quality. We shopped high and low to ensure that we provide high-quality products for the best prices for our customers.
TOA: What other questions do people have?
The most common question is how long does delivery take. The answer is 2-3 weeks on most of our products.
Our frameless contemporary line takes 4-6 weeks for delivery.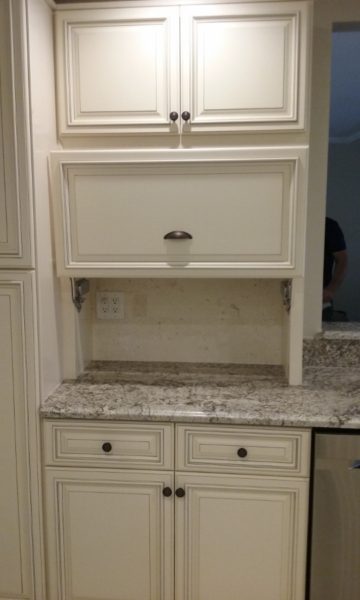 The installer modified a wall cabinet to remove the bottom and have the cabinet sit on the counter for appliances. He applied a mechanism so the door lifts up and out of the way.
The Top Myths About RTA Cabinets Debunked!
Do you have questions about RTA cabinets? Let us know in the comments. We would love to show you what's possible with the lines available at Tile Outlets of America.
Note: You can reach C&R Design/Build Inc. via email at richard.candrdesignbuild@yahoo.com.