We Invite You to Come See Us at Tile Outlets of America!
Posted by TOA's Blog Team on Aug 24th 2023
Have you seen advertisements from Tile Outlets of America inviting you to "Come See Us!"
These ads feature Tile Outlets employee-owners as well as our wonderful customers, and here's what they have to say.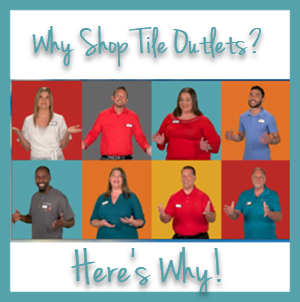 Come See Us and Meet the Employee-Owners of Tile Outlets of America!
We are so fortunate to have talented people on staff to help customers! They have energy, enthusiasm, passion, and patience. They realize that the stores can be overwhelming to first-time visitors given the breadth of products available in tile, stone, LVT, Mosaics, bathroom and kitchen cabinetry, vanities, and installation materials and products.
>> SHOP Tile Outlets of America
Some of the Employee-Owners you'll meet include:
Maria Font
Bill Granger
Ray Hampton
Kendra Weaver
Bianca Mangan-Murphy
Gary Tuhro
Bob Stangs (who has retired)
Chavi - aka Joshua Chaviano (who's now at the Sarasota store)
Javier Garcia
>> Learn about the Employee-Owners of Tile Outlets
They get excited about feature products such as marble and marble-look porcelain, and pool tile and mosaics.
What You Can Expect When You Come to See Us at Tile Outlets
When you come see us, you'll discover a spacious, comfortable and customer-friendly warehouse environment where all products are readily accessible and available in job lot quantities for you to take home today.
As mentioned earlier, you'll find a tremendous in-stock selection of first quality ceramic and porcelain tile, granite, marble, travertine, tumbled stone, mosaics, medallions and decorative liners along with all the materials and tools you will need to complete an installation project.
You can count on incredibly low prices with everyday savings of up to 50% backed by our Peace of Mind Commitment - also known as our Low Price Guarantee. Here's what that states:
Tile Outlets of America guarantees you will not receive a lower retail price from any competitor.
Although we regularly price shop our competitors to ensure you receive the lowest possible prices if you happen to find the desired quantity of an identical in-stock item for less at another local retail competitor let us know and, upon verification, we will beat it by 5%.
Our guarantee does not apply to competitor special order purchases, clearance, liquidation or damaged items, or to online purchases. We will match the price on any competitor sale item that otherwise qualifies.
Finally, expect superb customer service delivered by experts who are passionate about their mission to help make your home more beautiful.
Hear From Tile Outlets' Customers
In addition to the Tile Outlets' staff, you will hear from customers in those ads. They explain why they value doing business with us and we're honored that they participated! More specifically,
>> Custom Creations of Sarasota
>> J&J Tile Construction
>> Craig Sires LLC
Imagine, based on the variety and selection, they say that Tile Outlets is like a shoe store for tile! What fun! They love the quality and the prices and value the assistance they receive in-store.
Downloadable Resources to Help You When You Shop for Tile
If you need ideas, here are two resources:
>> Explore the Tile & More Blog
>> Browse through Design Ideas on the website
When you're ready to start shopping, here are several resources to assist you:
>> The Dream Sheet Tile Project Checklist
If you're looking for installation patterns, try these options:
>> Download 15 Tile Design Patterns
>> Need more patterns? Here are three additional sheets with ideas!
Come See Us on Video and In-Store!
Watch for yourself! It's only 30-seconds.
And here's one of the advertisements in Spanish.
We are committed to providing you with an exceptional, pleasurable shopping experience every single time you visit us. We look forward to seeing you soon at Tile Outlets of America in Fort Myers, Sarasota, and Tampa.
Thanks for reading and watching. We hope you'll come see us!