Lynn McDermott from Master Tile and Design Explains Why He Buys From Tile Outlets of America
Posted by TOA's Blog Team on Oct 20th 2016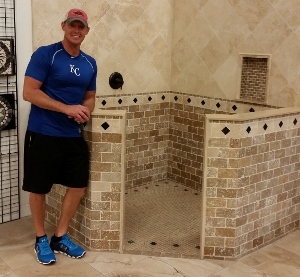 Thanks to talented tile contractors like Lynn McDermott from Master Tile and Design in the Sarasota market, tile and stone dreams can become gorgeous reality.
That's what Lulu discovered when she went through her #TileRemodel project; Lynn McDermott ensured her dream came to life!
>> See Recapping Lulu's #TileRemodel With Wood Look Tile Planks
Meet Lynn McDermott from Master Tile and Design in Sarasota, Florida
TOA: Lynn, tell us about yourself and your background installing tile and stone.
LM: I was living in Virginia Beach, Virginia, going to college and realized I needed a job. I met a General Contractor, who had started out a tile installer. He offered me a position as an apprentice in the tile trade.
After a two-year apprenticeship, I began setting tile.
I am so grateful for the opportunity to learn from such a meticulous contractor. He believed in doing things the right way for each customer from the start. That high standard of workmanship that I had to live by during my early years of installation is why my business is successful today.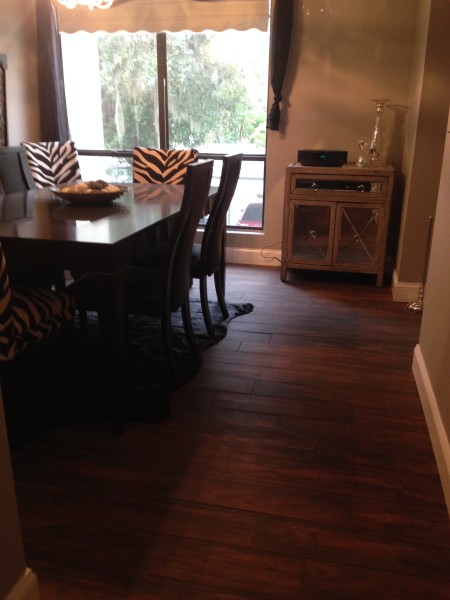 Lynn McDermott from Master Tile and Design handled the installation for Lulu's #TileRemodel.
TOA: How did you get started with Master Tile and Design?
LM: After moving to the Sarasota, Florida area from Kansas City in 2012, I started setting tile. As word got out about the quality and meticulousness of my work, Master Tile and Design got established.
TOA: Do you specialize in specific types of tile installation?
LM: I do all types of tile and stone installation.
I take my craft seriously and am always looking for ways to perfect it and learn more about new products available to provide the best installation possible for my customers.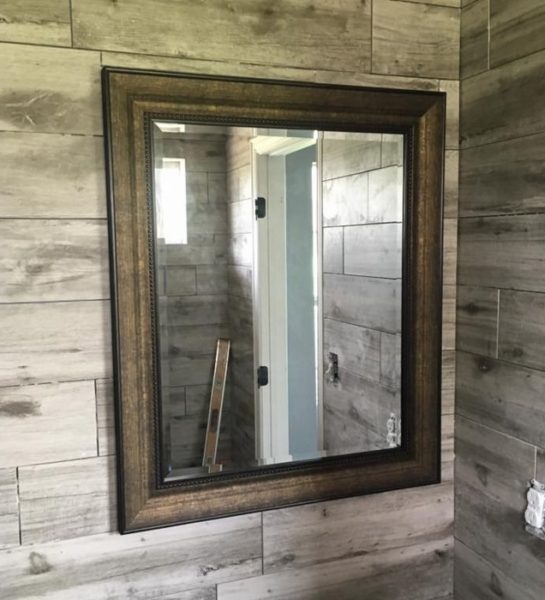 A Master Tile and Design bathroom installation featuring wood plank tile on the walls.
TOA: What geographic area do you focus on for your business?
LM: I typically work in both Sarasota and Manatee counties, but I will travel further if needed.
TOA: How long have you shopped at Tile Outlets of America?
LM: I have shopped at Tile Outlets since the store opened in 2014.
I met Yoanni Soria, the Sarasota store General Manager at the yearly contractor event, and we have established a great relationship that has been beneficial in growing my business in the Sarasota area.
>> See Tile Outlets Appreciates Tile Contractors!
TOA: What do you like most about Tile Outlets of America?
LM: I love the "family atmosphere," and the professional customer service I receive when I come into Tile Outlets of America.
I really feel appreciated by the entire staff.
TOA: What are some of the current product and installation trends you are seeing?
LM: Large format tile for both wall and floor are much more in demand than ever.
Wood plank tile is really popular, too, as you can see from some of the images here from installation projects Master Tile and Design has completed.
I continue to learn about the new types of mortars and leveling systems that are essential to providing high quality installation and necessary to keeping up with current industry trends.
>> See How To Set Large Format Wall and Floor Tile: Merkrete Demonstration
>> See Learn How to Use the Tuscan Leveling System When Installing Tile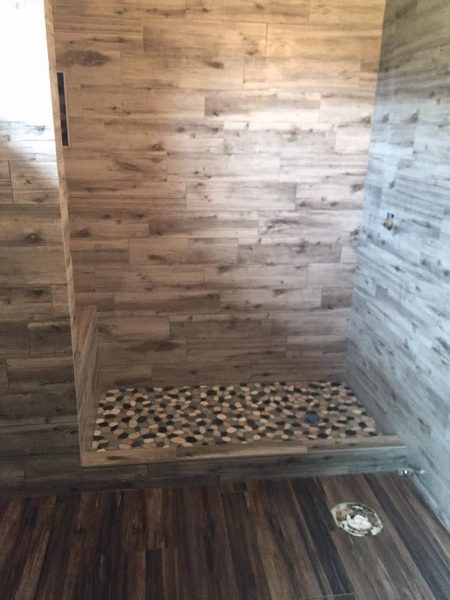 Wood plank tile on the walls and floors; mosaics on the shower floor. Installation by Master Tile and Design.
TOA: What is a favorite tile and stone installation project?
LM: I really like the Cascade Blend Versailles pattern. It is a sharp and good quality natural stone.
Simply by word-of-mouth, I had four customers in one year who liked it, too, and asked me to install it for them.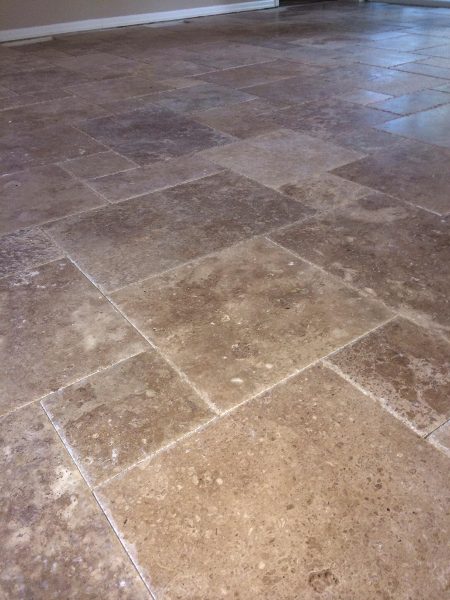 Cascade Blend Versailles Pattern installed by Master Tile and Design
TOA: Lynn, how do you prepare your clients for an installation project?
LM: I think it's really important to sit down with customers and go over a "game plan" so they understand the installation process.
In most cases, installation may include some dust and debris in the air so informing the customer before the work begins allows an opportunity to remove valuables from the area(s) being worked in.
However as a courtesy, my crew and I always use exhaust fans. We also cover belongings left in the workspace to minimize dust as much as possible.
TOA: What can a homeowner do to make the tile or stone project selection and installation process as easy as possible?
LM: In regards to product selection, I recommend doing research on what to expect from certain items (ceramic, porcelain, stone) and the maintenance involved. This helps from "having too many choices" which ultimately simplifies the selection process.
TOA: What should a homeowner consider when selecting a tile installer?
LM: Get a list of referrals and references and check them.
Look for an experienced installer who understands what the current market value(s) is for the scope of work being performed.
>> See How To Select a Tile Installation Contractor?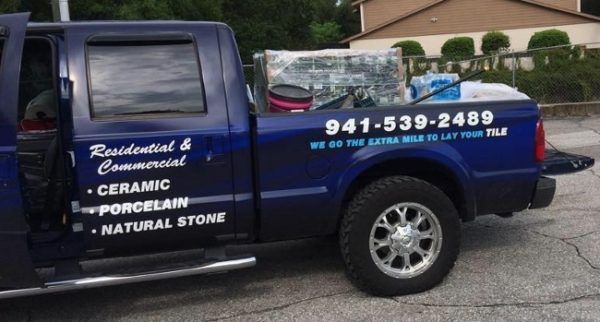 Reach Master Tile and Design via phone or text at 941-539-2489, email at mcdermottlynn66@gmail.com or Facebook.
TOA: How can readers reach you?
LM: They can reach me via phone or text at 941-539-2489, via email at mcdermottlynn66@gmail.com and also on the Master Tile and Design Facebook page.
TOA: Thank you, Lynn!
If you're looking to make your dreams become reality, be sure to stop by Tile Outlets of America in Sarasota so you can find the perfect tile and stone!
Special thanks to Gary Tuhro, Tile Outlets of America Pro Service Trade Manager, for conducting the interview with Lynn McDermott.