What's New in Kitchen and Bath Cabinets from KBIS 2017
Posted by TOA's Blog Team on Feb 16th 2017
If you're curious about what's new in kitchen and bath cabinets, then the Kitchen and Bath Industry Show (KBIS) is the event to attend.
It, too, took place in Orlando during Design & Construction Week and saw record attendance according to KBIS 2017 Sees Stellar Growth, Estimated 15% Increase in Attendance.
>> See Tile Builder Trends from Design & Construction Week 2017 for highlights that Kate Spencer identified.
Why KBIS Matters to Kitchen and Bath Cabinets
KBIS is a magnet for professionals in the kitchen and bath industry - from designers, builders, and dealers, to suppliers and exhibitors.
To put into perspective why so many attend, realize that homeowners take very seriously having kitchens and baths that meet their dreams and needs. NKBA CEO Bill Darcy referring to a study titled "Estimated Market Value for the Kitchen & Bath Remodeling and New Residential Construction Markets," explained that,
"...each year homeowners remodel upwards of 10.2 million kitchens — roughly one in 10 of all households — and 14.2 million bathrooms, two of the most important rooms in a home."
No surprise that Tile Outlets of America's Michelle Slobodzian, Kitchen and Bath Designer, came away with many valuable kitchen and bath cabinet design ideas. Here are her highlights.
Kitchen and Bath Cabinets Highlights from KBIS 2017
In Michelle's estimation, KBIS 2017 was a fantastic show! Not only did she identify new cabinetry trends and selections to add, she also found new vendors and discovered new accessories for Tile Outlets of America.
Michelle was particularly impressed with the booth of Adornus, a kitchen and bath cabinetry manufacturer whose products you will find at Tile Outlets. You'll notice several images from their booth in this article.
New Cabinetry Door Styles
What's hot in kitchen and bath cabinet door styles? Shaker is definitely in. Michelle noticed many Shaker-inspired door looks, including ones with beadboard.
Below are close up pictures of some of the Adornus new sample doors and new colors that will soon be available at Tile Outlets.

Close ups of Adornus new cabinetry doors and colors
These pictures below represent the Adornus wood look laminate line. Rather than their typical flat panel, they have made the doors shaker panels.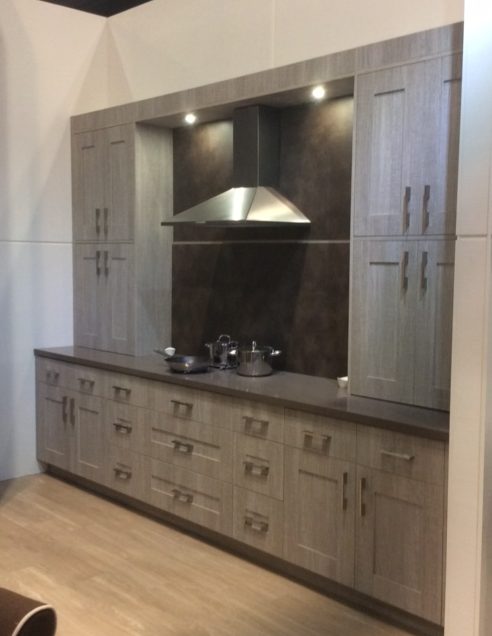 Here's a close up of that shaker door panel.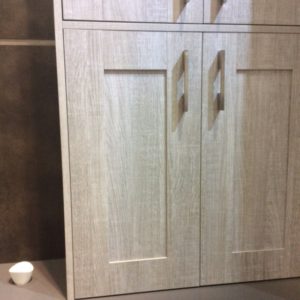 Close up of Adornus Shaker cabinetry door style
These next images below show you one of the Adornus displays, showcasing a new doorstyle, and new really soft gray/linen type color.
A display at the Adornus booth at KBIS17
Notice this interesting hearth-like niche.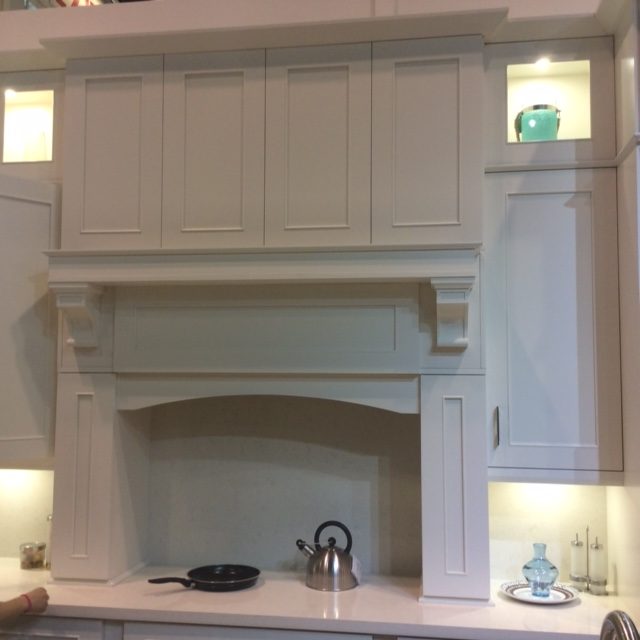 In the Adornus booth, an interesting hearth-like niche included in the cabinetry display.
This door style is a shaker style with a beaded detail around the inside edge. Michelle is very excited about having this available in-store.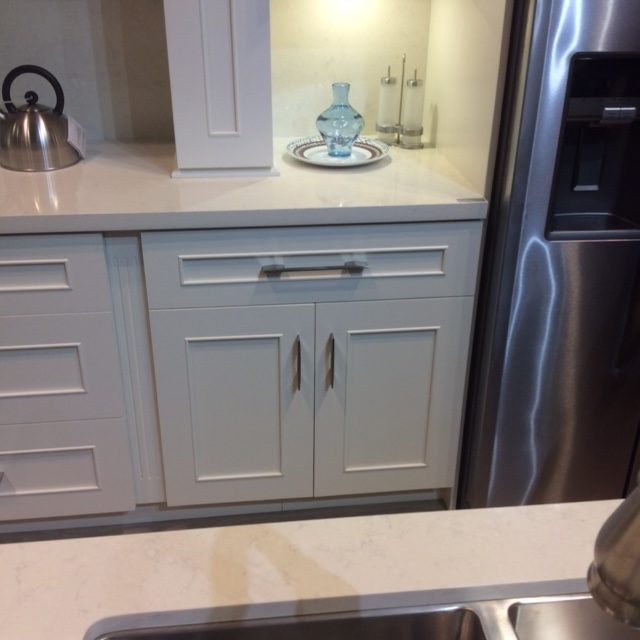 A shaker style cabinet with a beaded detail around the inside edge
Notice the interesting glass-front and lit-up curio display area above the cabinets in the images below.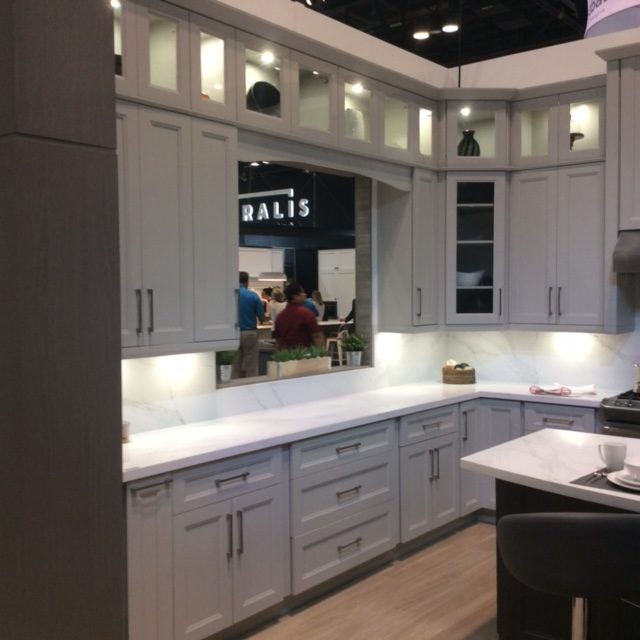 Notice the interesting glass-front and lit-up curio display area above the cabinets.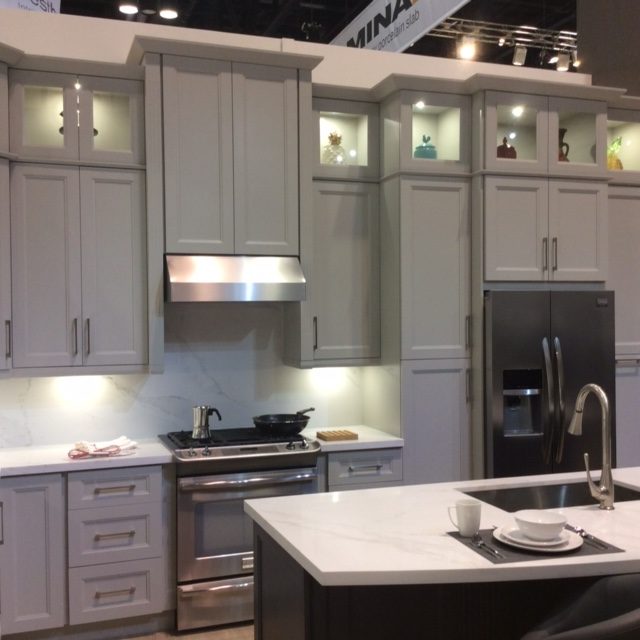 Another view of the glass-front and lit-up curio display area above the cabinets.
This other door style pictured below has a beveled edge detail around a center panel. It, too, with be available in March.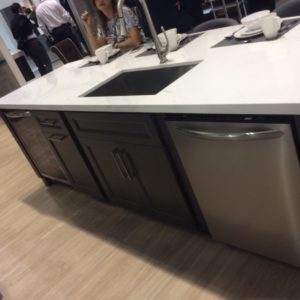 Kitchen and bath cabinets with beveled edge detail around a center panel
The next two images below capture a display that Adornus featured with a flat wood panel door mixed with a white gloss center island.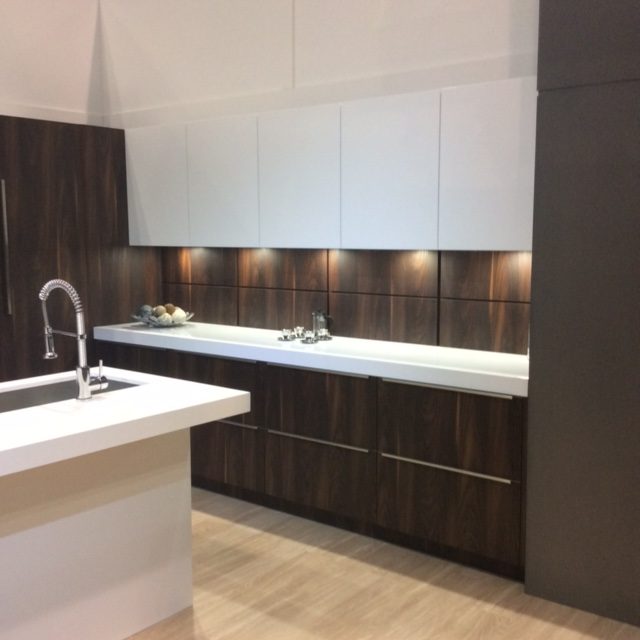 Adornus display with a flat wood panel door mixed with a white gloss center island.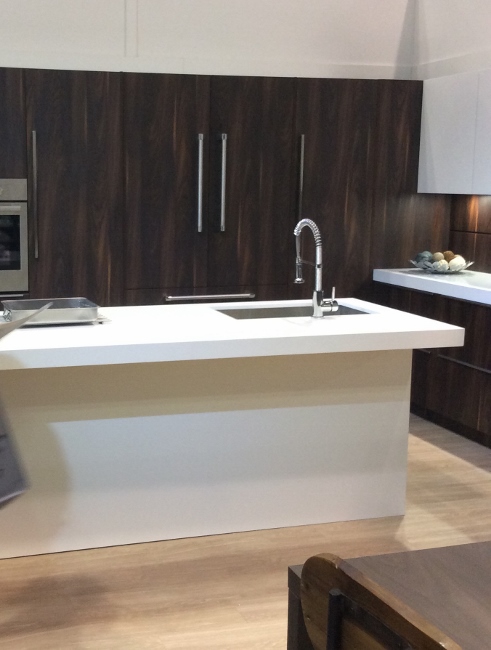 Another view of the Adornus display with a flat wood panel door mixed with a white gloss center island.
Bathroom Vanities: Floating and Furniture-Inspired
Michelle discovered a vast array of vanity vendors.
Floating Vanities
Adornus featured several floating vanities that are equally beautiful and practical.

Floating vanities
From a practical perspective, here's an inside look of the vanity drawer.
View inside the floating vanity drawer.
Furniture Inspired Vanities
Michelle noticed many furniture inspired vanities that caught her attention in terms of design style and also quality of construction.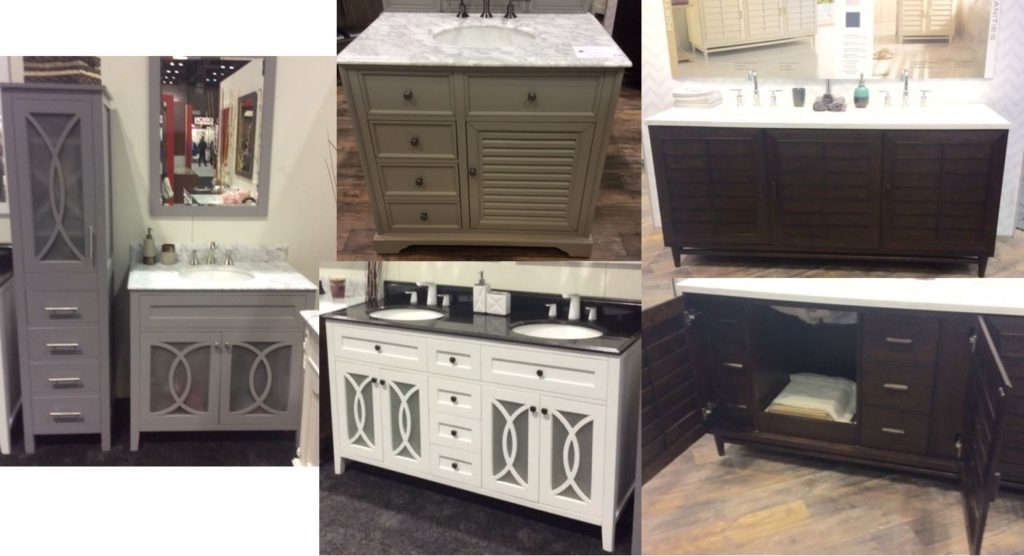 You can select different furniture styles with coordinating cabinet doors.
Styles range from traditional, shaker to contemporary and more.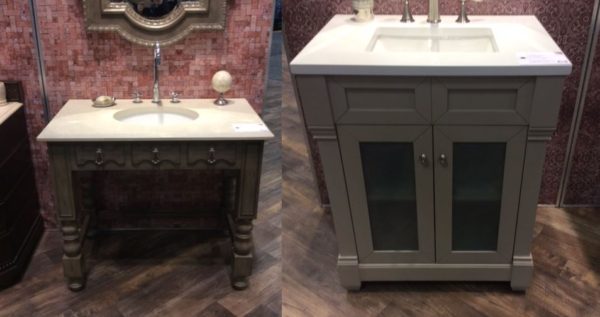 Gray: On Trend for Kitchen and Bath Cabinets
Perhaps you've already noticed from the images above that gray is popular. Well, the trend in cabinetry definitely seems to be gray, with the majority of booths showcasing a variety of shades in both kitchens and bathrooms.
Here's an example of the Adornus laminate shaker drawerfronts - in gray - pulled out to show that they now offer a more traditional wood cabinet, with dovetail drawer as an option for the interiors.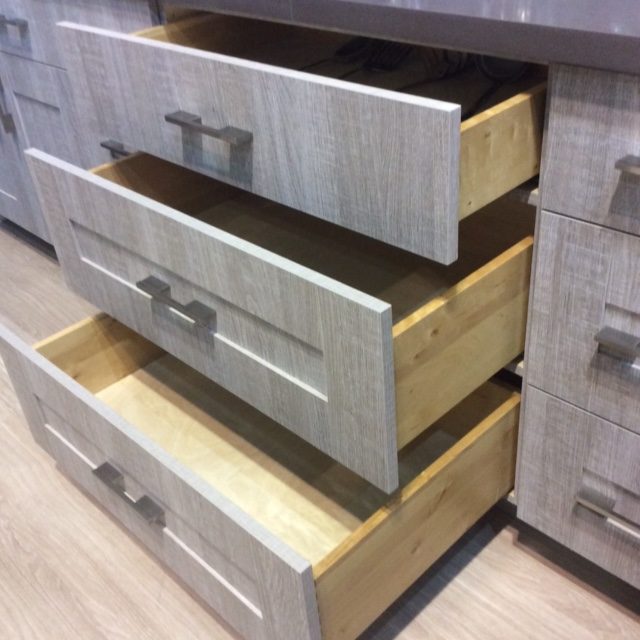 Retrofit a Plain Bathroom Mirror with Decorative Molding
Here's a great concept: decorative molding, with an easy install application for an existing mirror. It is the perfect solution for an existing mirror in a bathroom remodel that is too large or too expensive to remove.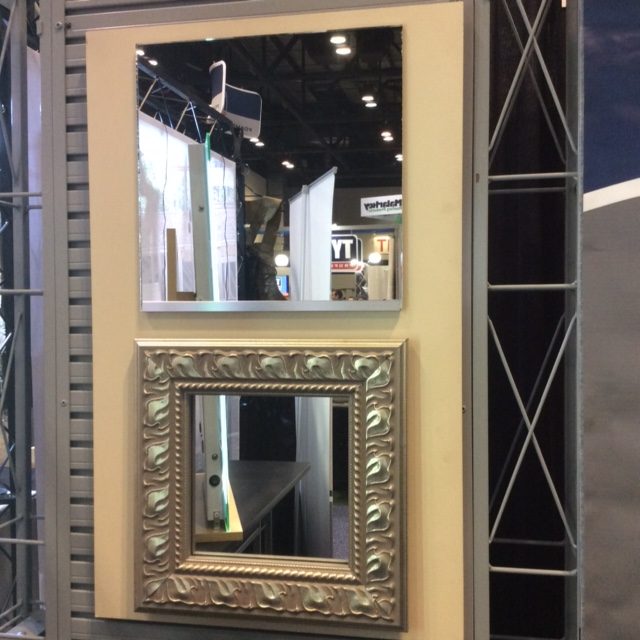 Retrofit a Plain Bathroom Mirror with Decorative Molding
This company sells molding to trim existing mirrors. This example shows the plain mirror and how it is transformed with the addition of the decorative molding.
All the company requires is the mirror measurement. From that, they miter four pieces to fit, with glue and wood corner joiners to put it together for install.
Farm Style Sinks
With so many requests for farm style sinks, Michelle had to explore possibilities.
As you can see from the images, farm style sinks are in!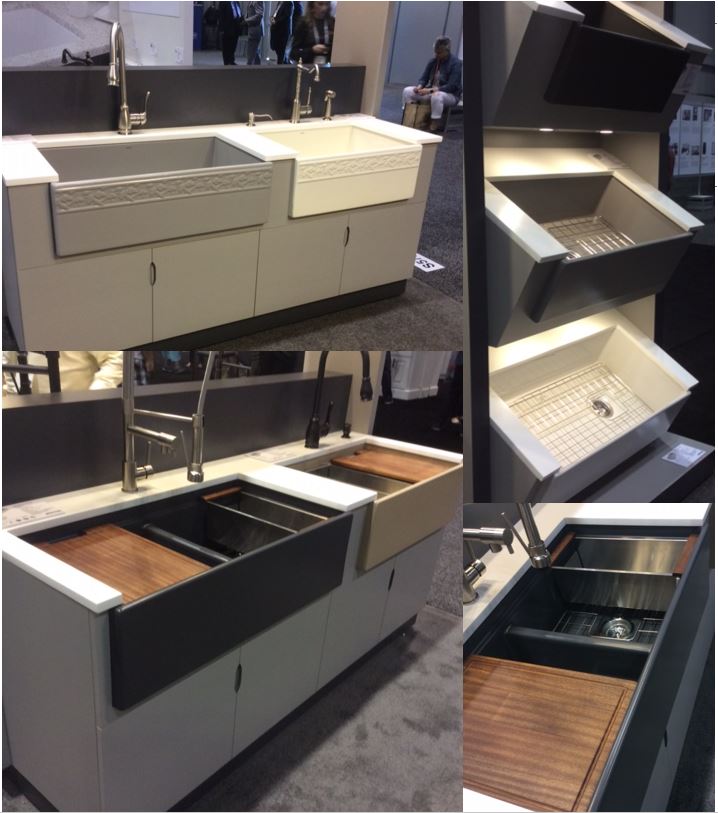 Here's a closeup showing two types of farm sinks.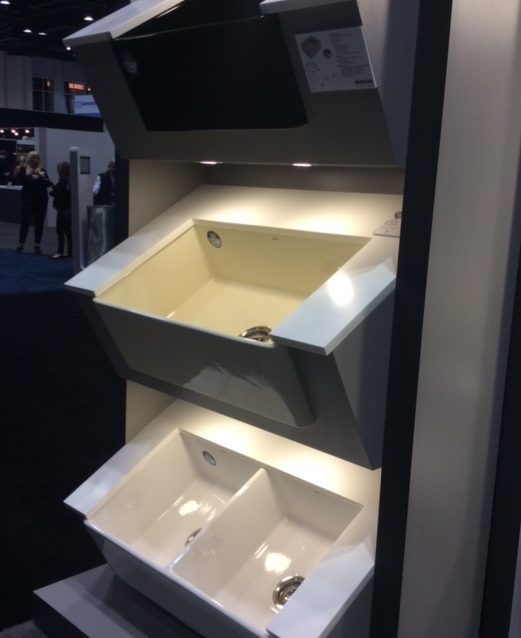 Don't Forget Kitchen Cabinetry for Outdoors
Given how important the outdoor grill area is (that's something Kate brought up), why not have outdoor kitchen cabinetry?
This vendor offered several different stainless steel door styles, including a shaker style. Everything from this company is custom made to your specifications. They also offered frosted glass.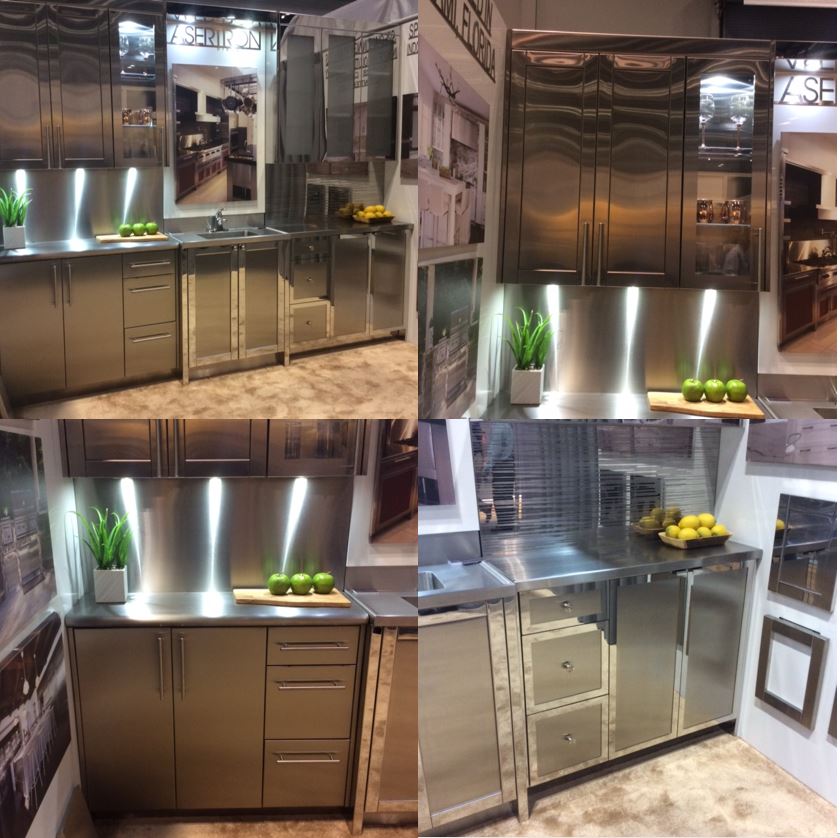 Kitchen cabinetry goes outdoors with stainless steel.
Here are the door styles available.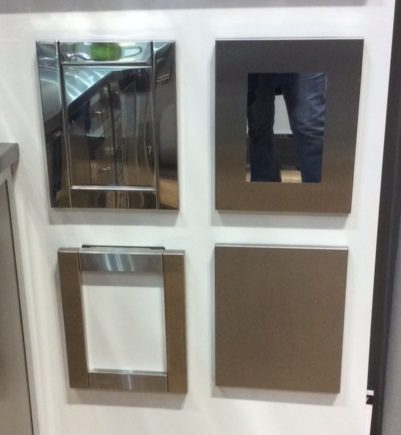 For the stainless finish, you can choose fingerprint proof, standard, or a mirror polished finish.
Other Welcome Surprises and Ideas from KBIS 2017
Just as Kate came across unexpected surprises, so did Michelle.
Recycled Countertops
The most interesting thing Michelle saw were recycled countertops made with paper. They looked very much like other man-made products, such as quartz. It will be interesting to see if that is a trend that catches on with people being more environmentally focused.
Floating Shelves with Simple Bracket System
Michelle was intrigued with floating shelves with a simple bracket system that you hang on the wall and slide the shelf itself onto. It is the easiest way she has seen a floating shelf installed for any DIYer to tackle.
This particular vendor offered a few species of wood, with different finishes, in several different lengths.
RTA Custom Finished Cabinets
Another vendor offered an RTA cabinetry line that is custom finished so that any color is an option. What a great way to offer colors and even different shades of white or different glazing on the doors.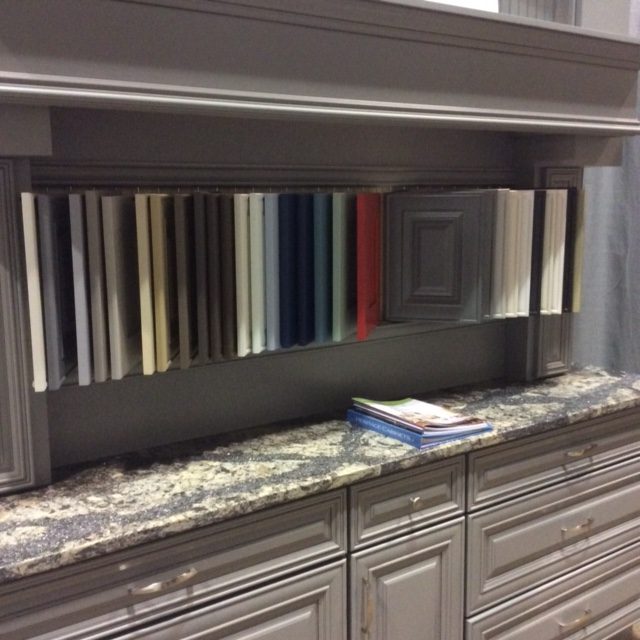 RTA Custom Finished Cabinets Color Options
Here are examples of some of the custom finishes available.
It's an interesting option as it's an easy way to say anything goes and still be at a reasonable price point.

Examples of custom RTA cabinetry finishes available.
What's Your Reaction to What's New in Kitchen and Bath Cabinets?
What's your reaction to what Michelle discovered at KIBIS 2017? Which cabinetry looks and styles do you like most?
Can you imagine some of these looks in your home? Be sure to visit Tile Outlets of America to see some of these new items firsthand.