Why Shop Tile Outlets of America?
Posted by TOA's Blog Team on May 4th 2023
Are you wondering why shop Tile Outlets of America?
Rather than read our take on why we think you would be crazy not to come to visit us, we're going to share with you perspective from customers who've shopped our stores and published online reviews about their experience. Ready?
Why Shop Tile Outlets? For the Product Selection and the Prices!
When you check out our reviews on Yelp, you'll find statements like,
"This place is HUGE! I highly recommend perusing their online store to get a sense of the style/size of tile you're looking for."

"Massive warehouse holding an array of tiles to choose from. Between bathroom, kitchen (with back splashes to boot), bedrooms and hallway choices, it's a real hard decision of what you really like."
(These are from the Fort Myers Yelp Page.)
And, from the Tampa Yelp Page,
This place is great if you're looking for tile. The prices are much better than Home Depot, and there is so much more selection. Imagine a Home Depot full of nothing but tile and tile-related accessories.
For the record, we have Inspiration Areas in all Tile Outlets stores. You won't find those at Home Depot!
For example, see Looking for Tile Design Inspiration? Check Out Tile Outlets in Fort Myers
We were really excited about this blog article titled Field Trip.
It includes a 2:17 minute video about doing "Tilewood Research" at Tile Outlets of America in Tampa. Watch for yourself!
This Yelp review includes 11 photos of the Fort Myers store!
Shop Tile Outlets For Beautiful, High-Quality Tile & Stone Products!
Pulling from those Yelp reviews:
"VERY good prices and the quality of tile I received is great :)"
"Small squares, big squares, accent pieces that tell you where that floor may end... Definitely a place in the top five to check out for designs and patterns."
"They don't have slate, but they have a wide range of marble, travertine, granite, porcellin and ceramic tiles."
"Price, selection, value and no games is what you will find at this location. For half the price, I can count on them to have the quality I need."
"Thanks for a great value and a beautiful product."
Be sure to check out the photos that customers have posted to Google My Business for all three stores.
You'll Love Tile Outlets' Helpful Staff!
We're particularly proud of our staff and their commitment to delivering great service to our customers. Ultimately, though, it's not what we think.
"They have an abundance of 'tile experts' waiting to assist you throughout the store. I had visited before when they took notes & orders on paper pads; now their employees are equipped with iPads that communicate with the checkout system. Pretty cool! ... The guys who loaded the tile into my vehicle were very well-tempered and quick."
And,
"There are quite the few tile experts waiting to help the customer, so questions can be answered in a reasonable fashion. Willingness to work with a customer and not automatically go for the most expensive model is key."
Perspective on Shopping Tile Outlets from Google My Business
On Google My Business for Fort Myers, Caylee G says,
"The staff is welcoming and every question we have they always answers back so knowledgeable. They definitely help you out with whatever you need, even if it's decision making about what type of flooring you should have done, or what type of tiling would match your bathroom. Great product and great service!"
On Google My Business for Sarasota, Trajana Thomas explains,
"Lidia was so helpful and efficient. She has a pleasant personality and was willing to quickly help me find what I requested. She went out of her way to allow me to contact her and promptly responded. Lidia also provided several referrals for companies who provide tiling --- Custom Creations with owner Jesse Jones thus far has helped me plan home projects with ease. Thank you as I have had negative experiences with other 'stores'...."
Here's a powerful testimonial from the Tile Outlets Facebook Page:
"I can't say enough about my experience with this place in Fort Myers. The Management team saw me shopping and immediately helped me pick out this tile I'm obsessed with and didn't even know she was the mgr. Then Broderick loaded all my tile in such an awesome manner and helped me with all the heavy lifting. I shopped around in Fort Myers, Naples, Estero, all over and nobody could come close to the prices at Tile Outlets. I normally don't write reviews like this unless I'm blown away from the service and prices and will never even waste my time going anywhere else."
The Hours For Shopping at Tile Outlets Are Great!
A recent Yelp review for the Tampa store states,
"Great selection, prices and service. Great return policy and flexible hours too."
You can learn about the Tile Outlets return policy here.
We are open 7 days per week and only close on the following holidays:
January 1
Easter Sunday
Thanksgiving
December 24 & 25
For specific details on individual store hours, check out Tile Outlets in Fort Myers, Tampa, and Sarasota.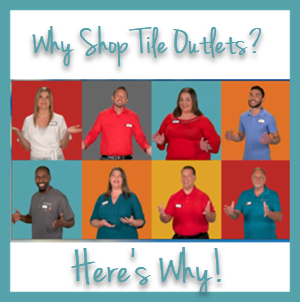 Come Shop Tile Outlets!
Have you read We Invite You to Come See Us at Tile Outlets of America!?
Finally, if you need more reasons, then check out 99 Reasons to Shop Tile Outlets of America... :)
We hope to see you soon!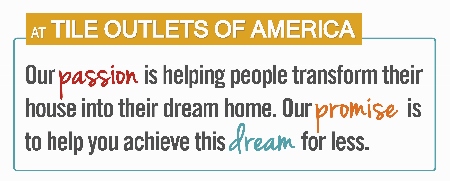 Note: We originally published this article on October 15, 2015, and have updated it.