Why You Need Grout When You Install Tile and Stone
Posted by TOA's Blog Team on Aug 10th 2022
When you install tile or stone, you need grout and you need the right grout. Don't let anyone convince you otherwise.
Grout is an essential part of your tile installation and choosing the right grout can make all the difference between an installation that looks and performs beautifully over time and one that rapidly deteriorates into a dangerous eye-sore.
There are several different types of grout on the market today and we'd like to tell you about three common ones used for tile and stone installations.
We'll also discuss grout colors.
First, What Is Grout?
What is grout and why do you need it? Grout is used as a filler for the joints between tiles once the tile you are installing has been set. Most grouts are a powdered mix of cement, lime, color pigment and sometimes sand that hardens when mixed with water and left to cure.
Grout offers a number of valuable benefits:
It gives your floor or wall a crisp finished appearance.
it helps keep dirt and debris from getting in between and under your tile.
It adds rigidity and strength to the tile installation.
It is important that you select the right grout for your application. Start by measuring the space between the tiles.
If the space is larger than 1/8 of an inch, use a sanded grout. Unsanded grout will shrink as it cures and not fill the joint properly.
If the width is 1/8 of an inch or smaller, use an unsanded, acrylic latex or epoxy grout so you can completely fill those joints with grout material.
Another option for grout joints measuring between 1/16" up to 1/2" is a product representing new grout technology: TEC Power Grout.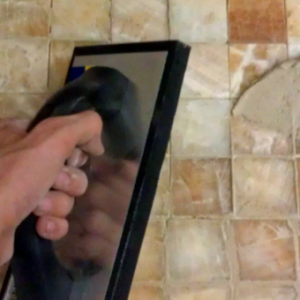 Four Different Types of Grout
Here are three types of grout to choose from:
1. Sanded Grout
Sanded grout is for large grout joints - anything 1/8" of an inch or greater. The sand mixed in the grout helps to hold the grout in the joints. Sanded grout should be mixed to a consistency comparable to that of peanut butter; it will have a sand-like texture after its cured. It is important to note that any excess grout left on your tile should be removed before it's allowed to cure.
Sanded Portland based cement grout is the most common type of grout used and it is recommended for grout joints larger than 1/8" of an inch. It is available in dry or pre-mixed forms and should only be applied after your floor has had ample time to cure.
This type of grout may be used inside or outside, on floors, walls and ceilings. It needs to be sealed to protect it from dirt, spills, and discoloration from wear and UV lighting.
Note: Never use sanded grout with marble tiles. The sand will scratch the marble. Instead, use an unsanded grout, as Retailers' guide to tile & stone: Grout does more than fill voids explains:
"Unsanded grout is primarily used for walls, tub enclosures and countertops. In cases where sanded grout could scratch delicate tile surfaces, such as marble or other natural stones, unsanded grout is recommended."
2. Unsanded Grout
Unsanded grout is used for smaller grout joints that measure 1/8" of an inch or less. Using sanded grout in smaller grout joints will result in too much sand and not enough grout in your grout joints. Un-sanded grout may require a little extra pressure to work it into those smaller joints. It is important to fill the joints completely, otherwise your grout may collapse. Un-sanded grout should also be mixed to a peanut butter like consistency and should not be allowed to cure on the surface of the tile.
Unsanded grout is cement based and very similar to sanded grout except that it lacks sand for strength and filler. Unsanded grout is stickier than the sanded variety and is commonly used on walls, floors, and counter tops for joints 1/8" of an inch or smaller.
Unsanded grout needs to be similarly sealed to protect it from spills, stains, discoloration, and UV lighting.
3. Epoxy Grout
Epoxy grout is very different from the more common cement type that we've been talking about. Epoxy grout never needs to be sealed and is not porous. It also prevents the growth of bacteria and is less likely to crack over time.
Epoxy grout is ideal for counter tops, outdoor patios, pool deck and water line pool tile. It is also much more expensive than traditional grout and is subject to a very short 'open time' (i.e., the time you have to work with the material before it becomes to hard to use). The open time is manufacturer specific; be sure to find out how much open time your epoxy grout will have before you mix it.
4. TEC Power Grout
TEC Power Grout embodies new grout technology that can be used on grout joints from 1/16" up to ½".
You simply mix the product with water. Make sure the water is clean, and follow directions regarding ideal water temperature.
Power Grout is a fast setting grout that offers significant benefits. For example, you will have color consistent grout joints free of efflorescence. It's stain proof, mold and mildew resistant, and can be used on wet and dry areas.
You'll find more more details when you visit the TEC Specialty Products website to learn more about Power Grout
>> Also, TEC Specialty Products are available at Tile Outlets of America!
Choosing a Grout Color
Grouts come in different colors. When choosing a grout color, there is basically two schools of thought: monochromatic and dichromatic.
Monochromatic is a grout color that blends with the tile so the tile stands out and the grout does not become the focal point. Many people choose a monochromatic grout color. A good example of this would be white tile with white grout.
Dichromatic is a grout color that contrasts with the tile. It can be either lighter or darker and usually makes the tile pattern grid work pop up and catch the eye more than the actual tile pattern. A good example would be white tile with black grout.
Grout color really is a personal choice as well as a design preference. There is no right or wrong answer. Your local flooring or hardware store should have a grout color chart or grout samples available to assist you when choosing your grout color. A helpful tip is to have two pieces of your tile with you when you choose your grout color so you can evaluate different grout samples between the tiles. This will help you better visualize what your tile will look like when it's grouted.
Why You Need Grout: Additional Resources
Here are a few resources in case you'd like more information about grout in anticipation of your tile or stone installation project.
Also check out this article titled Use Grout Release Before Grouting Textured Tile for Easier Clean Up to help you when you are done with your project and ready to clean up.
Ready to Install Tile and Stone and Comfortable with Grout?
Are you ready to tackle a tile or stone installation project? Which grout will you use? We look forward to seeing you in-store and answering your questions.