Be Cabinetry-Inspired With Kendra Weaver, Cabinet Designer at Tile Outlets in Fort Myers
Posted by TOA's Blog Team on Jan 21st 2016
The perfect complement to tile and stone is cabinetry which you can find at Tile Outlets of America in Fort Myers and Tampa, along with expert cabinet design help. In this article, we introduce you to Kendra M. Weaver, Cabinet Designer in the Fort Myers store.
Meet Kendra Weaver, Cabinet Designer, Tile Outlets of America in Fort Myers
TOA: Kendra, tell us about yourself and your background. Have you been in Fort Myers long?
KW: I grew up in Naples, Florida and moved to Fort Myers in 1994.
I have been working at Tile Outlets of America now for just over 10 years!! Wow, the time sure flies. I met my husband here; he worked at TIle Outlets for 6 years. So yeah, it's a pretty great place to work.
We just got married in October and half of the store was in attendance.
TOA: What is your role/history at Tile Outlets of America?
KW: I have done most everything here in the store.
I started out as a cashier, then moved in tile sales, shortly after. I also assisted with the outside sales department and for a brief time was the Contractor Liaison.
Last year I was moved in my new home in the cabinet sales department, and I couldn't be happier.
I have pulled orders, loaded them, stocked shelves, hung signs, cleaned out trash, remodeled, painted…..Anything that needs to be done. Just about the only thing I haven't done is drive a fork lift.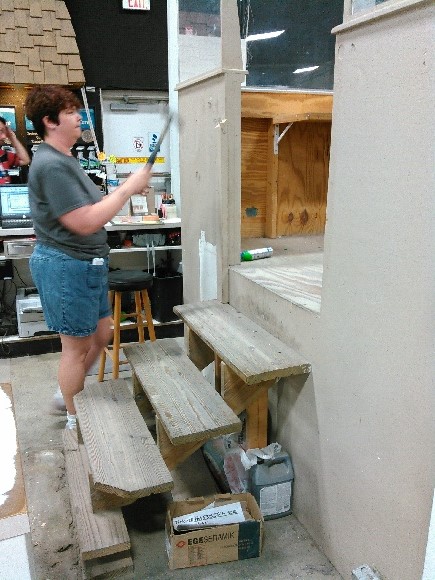 Kendra helping out with demolition of the Managers' Box in the Fort Myers store to make way for the redesigned Trade Pro Checkout Area.
TOA: How did you get started with tile and with kitchen and bath cabinets?
KW: I was working a thankless job at a gas station. Someone mentioned Tile Outlets of America to me, so I stopped in.
Before I started here I didn't know a thing about tile, or cabinets at all. I would always listen to the answers the sales staff would give customers. I'd ask questions and try to retain as much information as possible. I'd rather know the answer myself than have to ask for help.
The one-on-one customer service aspect of Tile Outlets is what I've always loved about this job.
When the cabinet sales department came up, I jumped at the chance to learn something new, again. I've been doing this now for a little over a year and I love it. New knowledge, new challenges and even more tools at my disposal to make my clients' remodel dreams come true.
TOA: What do you love most about tile and stone?
KW: I love all the textures and patterns that natural stone provides. You can have the same product throughout your whole house, but every room looks completely different.
Tile is ever changing. The trends shift every year, which gives us the ability to keep reinventing the wheel so to speak. With each new product, new designs can be created by mixing existing product and new.
>> See Tile Design Inspiration from Tile Outlets Fort Myers
TOA: What do you love most about the cabinetry lines carried at Tile Outlets?
KW: I love all the colors and door styles. We have over 50 styles of cabinets to choose from. There are endless possibilities.
By mixing colors and textures within the same kitchen, you can create 100s of different looks, using all the same products. If you want a regal, ornate kitchen, we can do that. If your taste falls more the minimal contemporary style, we can do that, too!
TOA: Which are your favorite tile/stone products and why?
KW: I love any and all Travertine patterns. I love how different every piece is and the way it all flows together once it's all down and Enrich-N-Sealed.
My personal favorites would be SKU#304436 Silver Travertine Roman Pattern,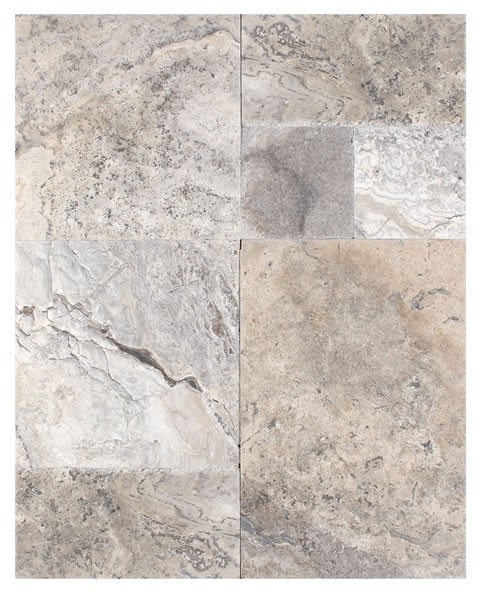 and SKU#305350 Cascade Blend Travertine Versailles Pattern.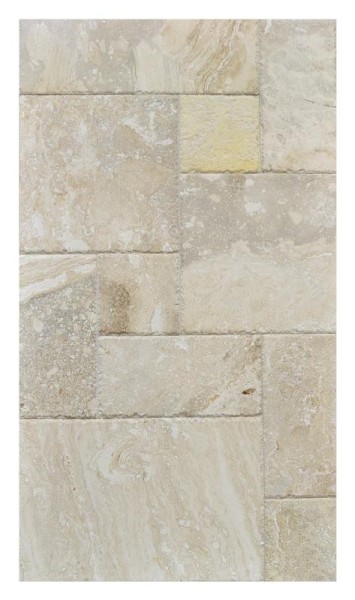 >> See How To Design With White Tile: Inspiration From Fort Myers
TOA: What are your favorite cabinetry trends?
KW: I'm a personal fan of maximizing the space with accessories. You can get a pull out in almost any cabinet.
We can get all kinds of organization inserts for your drawers. Blind corner inserts make cabinets much more user friendly. No more "Black Hole" cabinets and drawers where things go in, but they don't come out!!
>> See 10 Kitchen Cabinet Accessories Worth Considering For Your Home
TOA: Are there interesting cabinet + tile installations you've come across that you like to recommend to clients?
KW: I really like it when people opt to tile the back of the island or bar areas, places you sit at. It's a great way to add some more design to your kitchen. You always end up with shoe marks from people sitting at the bar, with tile, cleaning is easy.
You can use larger medallions or make your own design the focal point.
TOA: What tips do you have for someone getting ready for a cabinetry project?
KW: Here are my tips:
Do some exploratory looking first. Go into it with an open mind. You may think you like one certain look, but another may grow on you.
Don't worry about what the "Jones" are doing, Unless you're the Jones!!
Go online and look at Houzz or other home-focused sites. Get a feel for what's out there.
Bring in pictures of what you have found that you like.
Create a wish list for all the items you would really like to add to your kitchen. For example, more drawers, fridge panels, trash can pull out, etc.
TOA: What's the best way to prepare for a visit to the store?
KW: Make sure you bring detailed measurements from wall to wall. Measure any windows or doors (frames included) and where they are located on the walls. Note where your appliances are currently located.
Take a floor to ceiling measurement, so you know what size upper cabinets you can use.
Pictures of the kitchen help to explain some tricking spots as well. We've created a Kitchen Planner that I recommend downloading.
>> Download the Tile Outlets Cabinet Planner design guide.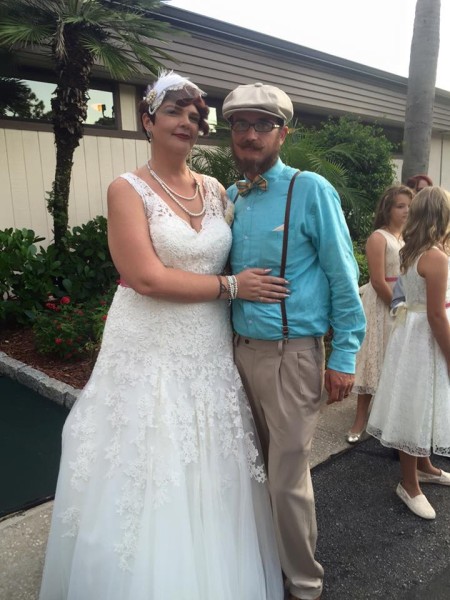 Kendra Weaver and her husband at their wedding
TOA: What do you do when you're not immersed in cabinets?
KW: As newlyweds of 3 months, my husband and I are trying to start our family as soon as possible. We're looking forward to hopefully buying our first house in 2016.
I am also heavily involved at The Laboratory Theatre, a community theater here in downtown Fort Myers. I have been in several plays and staged readings; I've helped put together fundraisers; I volunteer at the Front of House, and currently I am stage managing a play "Art." It will be running the month of February.
TOA: Congratulations and thank you, Kendra!
Are you ready to explore kitchen and bath cabinets and include them in your tile and stone design? Be sure to visit Tile Outlets of America in Fort Myers where you can be inspired by the installations there and guided by Kendra Weaver, Cabinet Designer.
Be sure to meet the rest of the Tile Outlets of America cabinetry team in Fort Myers, Tile Outlets' Kitchen and Bath Cabinet Expert: Michelle Slobodzian.