Furniture Inspired Vanities Available at Tile Outlets of America
Posted by TOA's Blog Team on May 11th 2017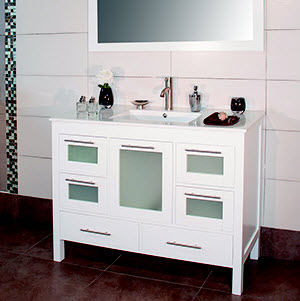 Did you know that furniture inspired vanities are available at Tile Outlets of America?
After seeing many exciting styles at KBIS 2017, we selected several to sell in Fort Myers, Sarasota, and Tampa.
>> See What's New in Kitchen and Bath Cabinets from KBIS 2017
Here are details.
First, a vanity overview
To put into perspective the furniture inspired vanities you can order from Tile Outlets in Tampa, Sarasota, and Fort Myers, we thought we would provide you with an overview of what you can expect if you're shopping for vanities.
1. What are vanities and where do they go?
Vanities are cabinets for the bathroom.
The only difference between the kitchen and bathroom cabinets that you'll find at Tile Outlets has to do with the front to back depth.
Vanity depth cabinets are 21" plus the door and countertop overhang.
Kitchen depth cabinets are 24" plus the door and countertop overhang.
They are both about 36" tall when the countertop is installed.
Since there's less size availability in the vanity depth cabinets, people often use the kitchen depth cabinets in their bathroom if they have the space.
2. What do people look for in vanities?
Most people are looking to maximize their storage space in their bathrooms.
Many want to eliminate their traditional medicine cabinets and have a cabinet that sits on their counter, either in the middle between the sinks or on each end of their vanity.
3. What information should people have available when purchasing a vanity?
If you are purchasing a vanity for your bathroom, please know the size of the space you have available for your vanity cabinets, including the wall width, and the depth of space.
That will help you determine which cabinets would fit best.
Also, if you do not want to move plumbing lines for your sinks, have the measurements for the approximate center location of the sink on the wall.
Keep in mind that most people will need to hire a plumber to disconnect and reconnect the plumbing for their sinks. They may need a countertop professional as well, unless they select a furniture inspired vanity (see below for more information).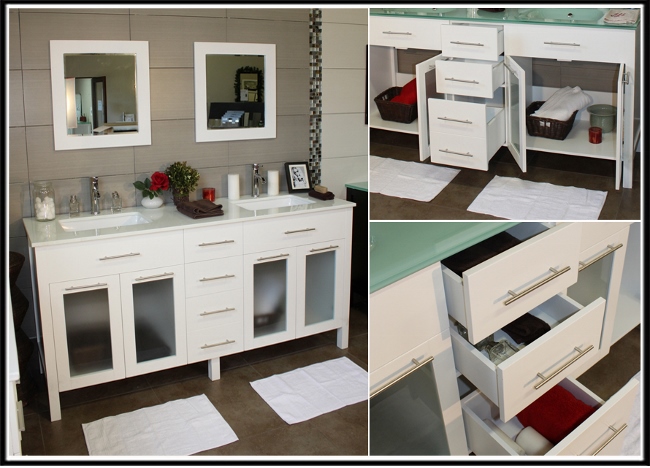 Cardiff furniture inspired vanity available at Tile Outlets
4. What vanity styles are available at Tile Outlets of America?
Any door style that we can get kitchen cabinetry in, we can also get bathroom cabinetry in. Most of our cabinets arrive in two to three weeks. The lead time can vary between the brands.
In terms of specific trends, white shaker cabinets continue to hold their popularity, as well as our other painted finishes.
>> Shop Cabinets to explore the range of vanity door styles available at Tile Outlets!
Next, learn about furniture inspired vanities and the Priele line from Adornus
We also have our Priele line that has furniture-style vanities with legs, and floating vanities that we can offer from Adornus. Here, we'll focus on the Priele line.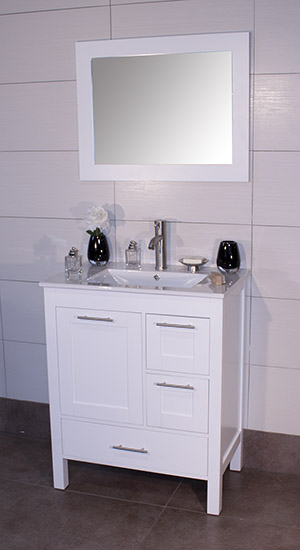 Positano furniture inspired vanity available at Tile Outlets
Priele Vanity Cabinets: an all-in-one unit
Priele cabinets are all wood and come with soft close doors and drawers. They are a complete all in one unit. This means they come with absolutely everything you need to give your bathroom a little facelift.
The product includes:
Vanity cabinet (in sizes from 24"-70"w)
Countertop
Knobs
Glass shelf
Faucet
Plumbing, and
Even a mirror (60" & 70" come with 2 smaller mirrors and 2 sinks)!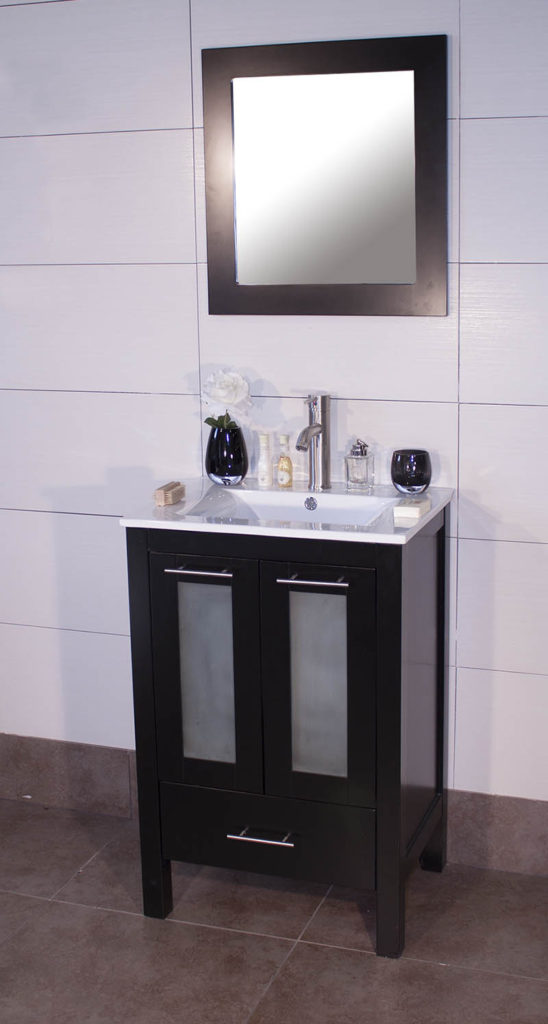 Asti furniture inspired vanity available at Tile Outlets
Priele vanity cabinets come in 3 different colors (White, Espresso, or Light Gray), and have several options to choose from so you can completely customize your look.
More specifically, choose between a white or tempered glass top, chrome or brushed satin nickel faucet and solid wood doors or frosted glass inserts.
How quickly do Priele vanity cabinets arrive in store?
Priele cabinets are shipped very quickly and only take 3-5 business days to arrive in store. They are also completely assembled and need very minimal tools to install.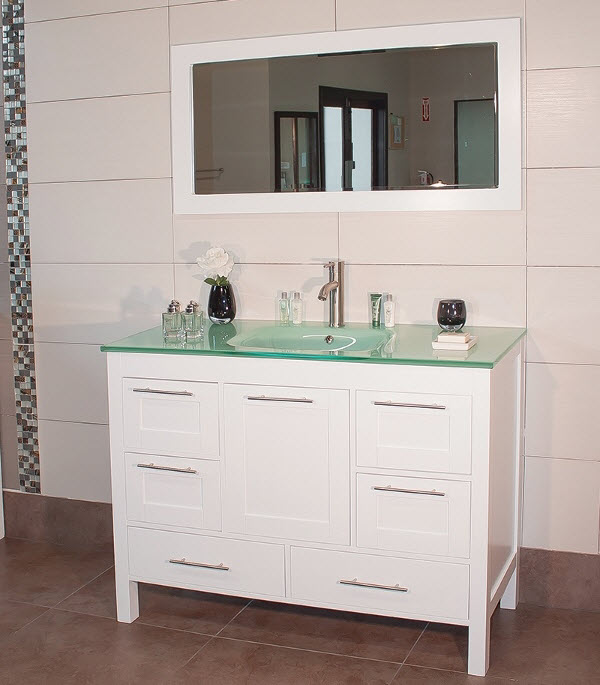 Positano furniture inspired vanity with glass counter available at Tile Outlets
Have we inspired you to consider furniture inspired vanities, and Priele more specifically?
We're very excited to bring you vanities in addition to kitchen cabinetry, tile, stone, mosaics and more, and hope you'll come to visit the Tampa, Sarasota and Fort Myers stores to learn more about furniture inspired vanities and Priele from Adornus more specifically.
Did you know that we can create a visual representation of your finished bathroom cabinetry using the design programs we have available? Be sure to contact your local cabinet specialist for more details: Kendra Weaver and Michelle Slobodzian at Tile Outlets of America Fort Myers. In Sarasota and Tampa, speak to any of the store associates.
Let us help make your dreams a reality for a whole lot less.