How to Combine Tile Patterns and Styles for Unique Design Ideas
Posted by Kate Spencer on Nov 4th 2021
Have you wondered how to combine tile patterns and styles in your home? That's what I'll focus on in this article, based on ideas from Cevisama in Spain.
Consider this your very own glimpse into a ceramic tile runway show.
Why Combine Tile Patterns and Styles?
There are plenty of reasons, first being - why not? Design ideas have a lot in common with fashion. Just as you might combine jeans with a patterned top, boots and a scarf, why not mix a wood plank tile, with a bold geometric pattern and a solid color rectangular tile as you see in this display from Pamesa?
If you've been reading our blog articles, you're aware that tile has evolved away from the boring-same-old-square-look to a multitude of shapes - bricks, planks, rectangles - and sizes - small, larger and larger.
With inkjet printing technology, the look and feel of tile have also morphed to include dimension, texture, grip, and patterns that range from intensely realistic to bold and colorful.
>> See How Inkjet Technology Has Transformed Ceramic and Porcelain Tile
>> See Decorative Graphic Tile Designs in Porcelain from Tile Outlets of America
All that to say that you truly have a wealth of possibilities for unique designs with tile for your home.
Let's Explore How to Combine Tile Patterns and Styles
In case you're not sure how different looks, sizes, and styles look together, here's your chance to explore with me.
The images you see here are from different booths at the Cevisama show that did a particularly good job showcasing a style. These pictures will show you how to combine different looks and textures to finish a space.
Let your imagination take you to Spain with me to see these great displays and gather inspiration for your own unique design ideas.
For example, look at how naturally the patchwork pattern comes together with the dark wood plank tile, the marble porcelain tile, and the bricks.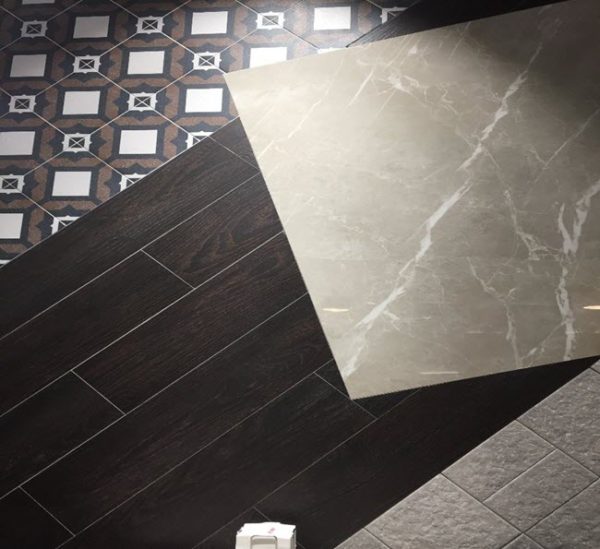 The ideas here explore the following:
Combining wood planks with cement looks,
Mixing brick shapes into different patterns,
Ledgerstone combinations,
What happens when you blend related tile products.
Be sure to let me know which ones you like most.
Wood Plank Tile Combined with Cement-Look Tile
Wood planks continue strong. In addition to realistic wood looks, we're seeing wood tile available in rustic, distressed and/or industrial interpretations.
The Myr Ceramics booth explored that trend, combining wood planks with cement looks as you see in the two images below.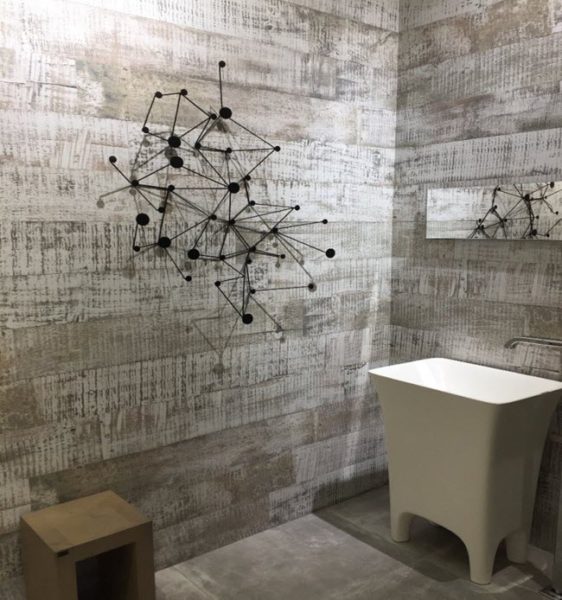 Notice in both how the walls are done in wood planks. The concrete porcelain floor tiles are large format rectangles.
I love the blue hints in the wood plank tile below.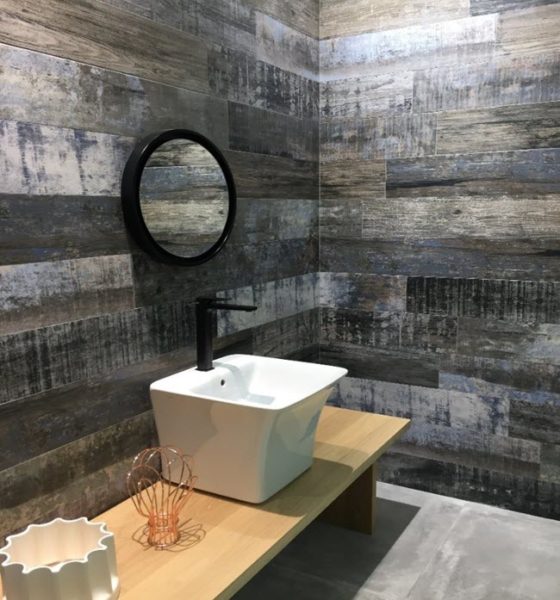 Combine Brick Shapes into Patterns
That brick shape and look is one we're familiar and comfortable with from seeing it on walls, buildings, paths...
>> See Three Brick Look Tile Designs for Your Home
Bricks looks are being created in porcelain tile which means plenty of new opportunities to use that look on walls as well as floors.
I love the charm of this combination of larger bricks on the floor and the smaller brick chevron pattern on the walls.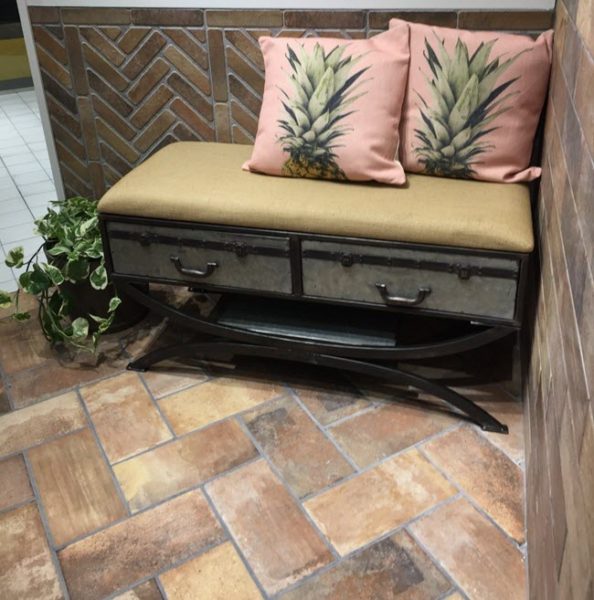 The image below features brick subway tiles standing tall with brick terracotta laid in a herringbone on the floor.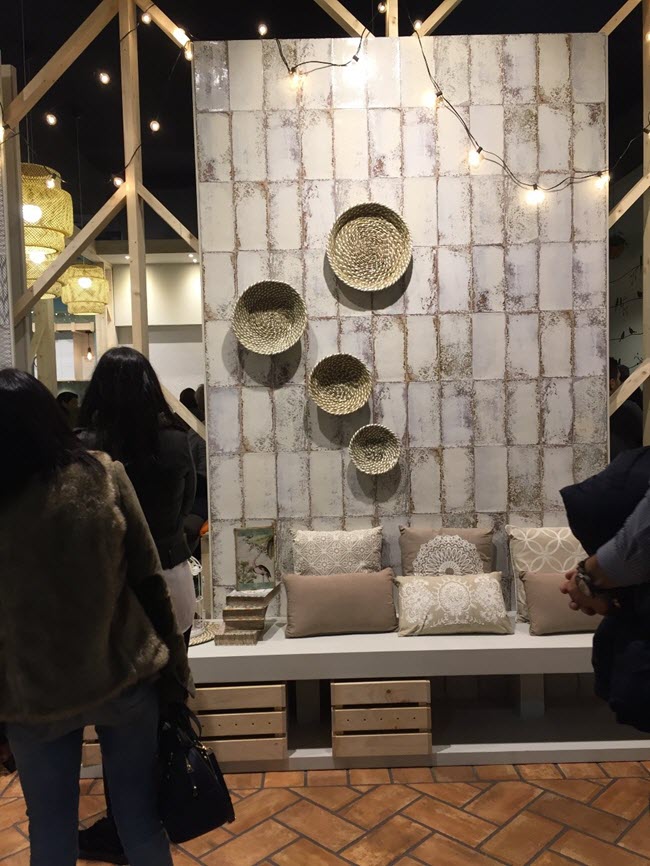 Ledgerstone Combinations
Ledger stone or ledger panels also continue to evolve. Whereas you'd most often see them used outdoors, they've come inside to add visual interest to walls.
>> See Consider Stacked Stone Ledger Panels For A Textural Wall Look
The image below combines large format marble tiles with a stunning grey splitface/ledger on the walls and a playful wood plank tile chevron pattern on the floor.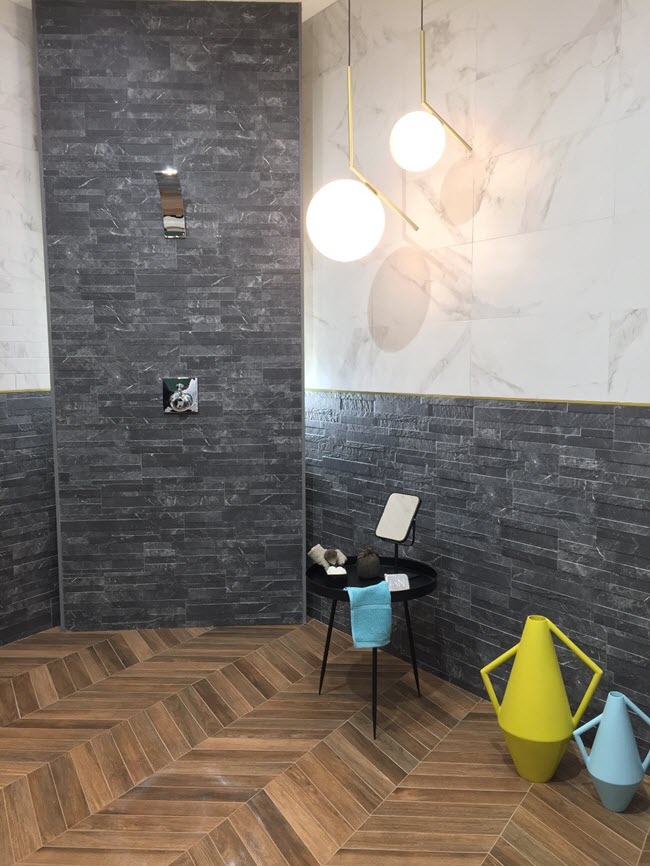 Or, consider combining two different types of contrasting split face ledger stone to create this dramatic back wall in a bathroom.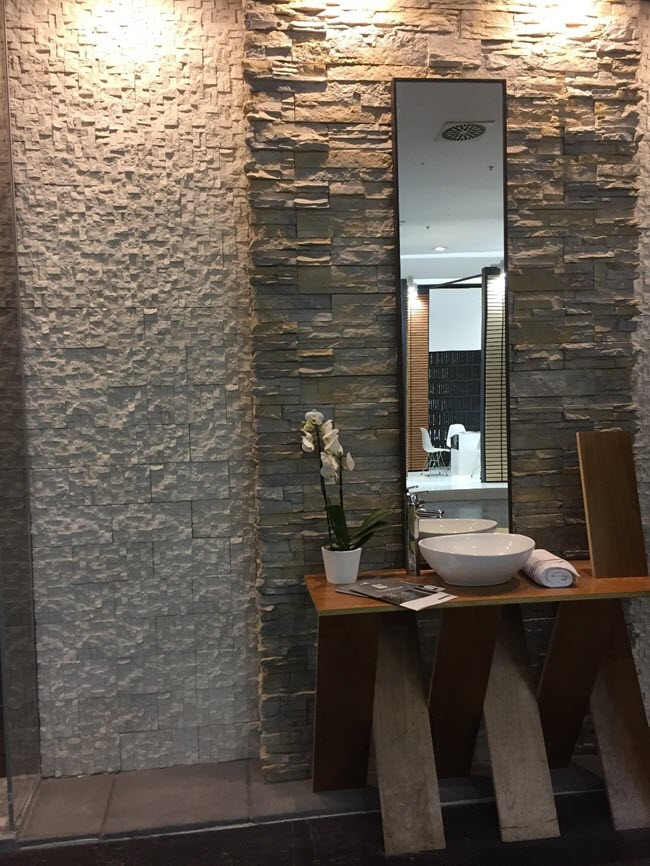 Combine Related Tile Products
You can also combine tile products that are more closely related.
The image below features a polished Carrara marble look in porcelain everywhere in this bathroom. On the walls, floors, even the sink is made from porcelain tiles. It is glamorous.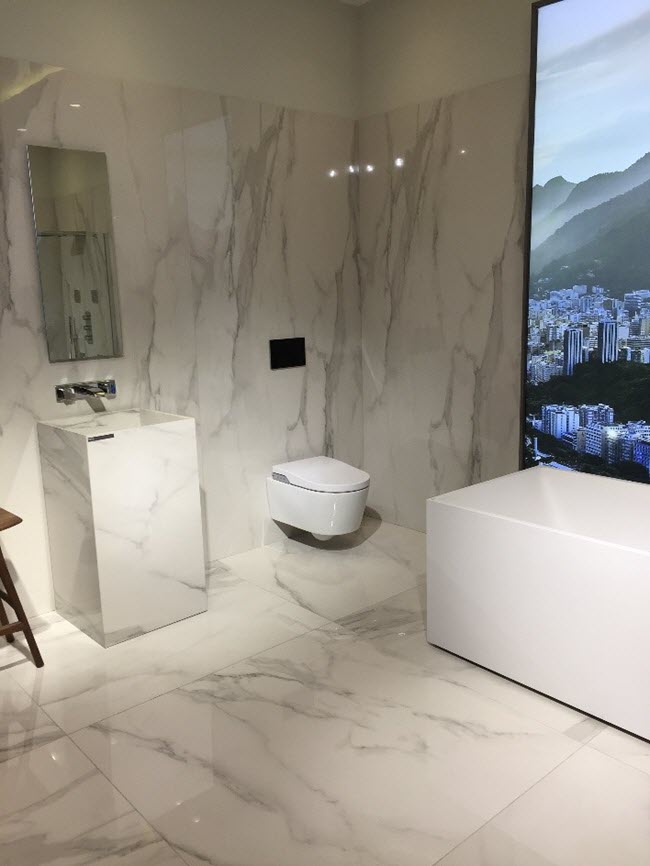 If you crave that clean crisp all-white tile look, consider combining a smooth, solid tile with a random textured tile in the same color as you see here. It adds dimension and visual interest.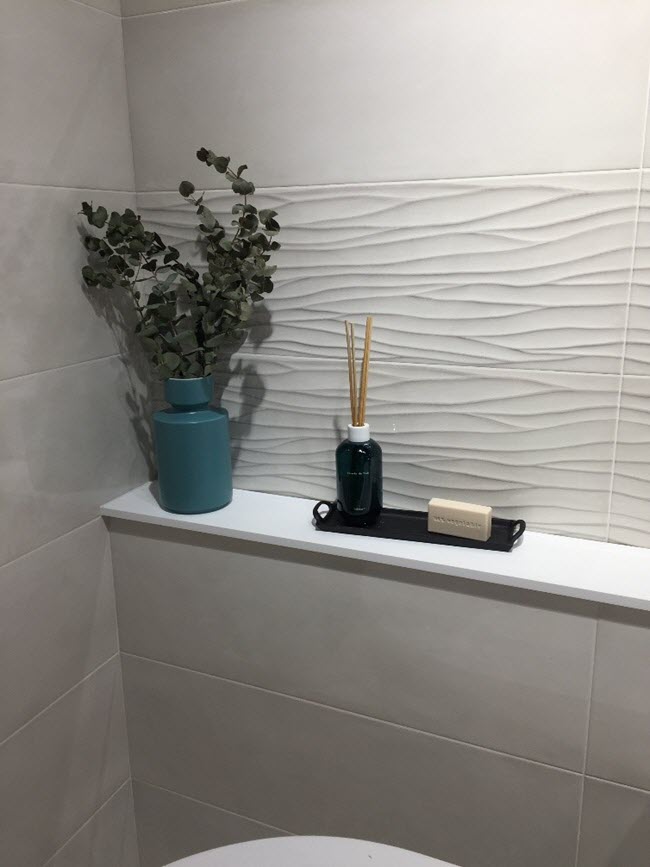 What you might do, too, is to take one look - for example, a Carrera-inspired pattern - and combine different styles in a color family into one design.
Here you see a wood plank pattern in the same color family as the Carrara chevron porcelain wall tile and the textured wall tile.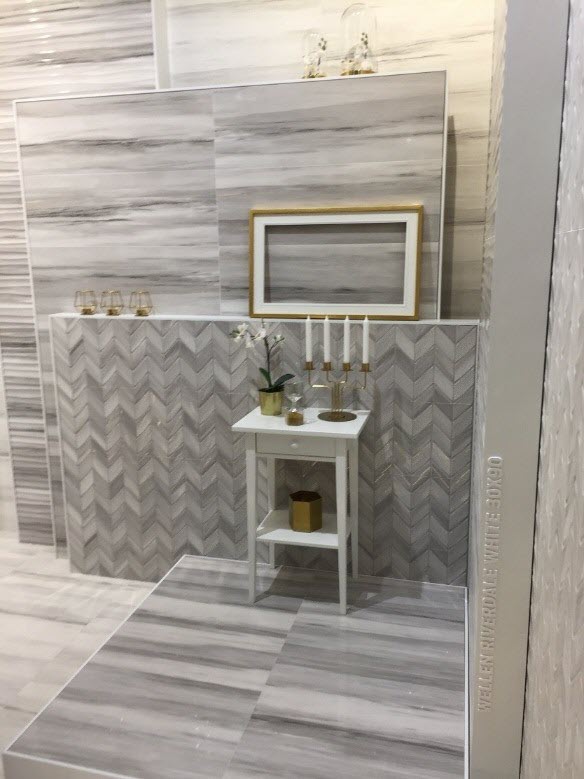 Inspired to Combine Patterns and Styles to Create Your Own Tile Designs?
Did these ideas inspire you to consider mixing tile patterns and styles? Let me know your reaction.
Be sure to explore what we have in-store at Tile Outlets of America. All of our associates are available to answer your questions.
Thanks for reading!
Kate