How to Deal with Shade Variation in Porcelain and Ceramic Tile | The TOA Blog About Tile & More
Posted by TOA's Blog Team on Mar 8th 2023
Did you know that you can expect to find shade variation in porcelain and ceramic tile?
It's not a defect. Rather, it's part of the porcelain and ceramic tile manufacturing process.
And, as printing on tile has gotten more sophisticated, you'll find greater ranges in patterns and shades incorporated into the design. That, in turn, better emulates what you find in natural stone or wood.
In other words, you should definitely expect to find shade variation.
>> See How Inkjet Technology Has Transformed Ceramic and Porcelain Tile
To help you find the right range, though, you'll want to look at shade variation ratings.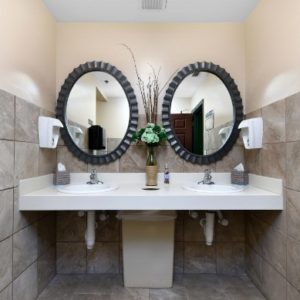 What Exactly is Shade Variation?
Shade variation has to do with the appearance of the porcelain or ceramic tile you are considering. It is only relevant for unpolished tile (i.e., polishing ensures that white, glossy, shiny porcelain bathroom tile shows no variation in shade.)
It happens because the tile production process takes natural clay elements, bakes them at very high heat and, depending on the materials and conditions, may generate slight changes from batch to batch and dye lot to dye lot.
Batch to batch - think of the variation you might notice between two cookie batches due to how hot the oven is, for example.
Dye lot to dye lot - think about the differences in cookies made from different dough made on another day...
>> See How Solid Is Your Porcelain vs. Ceramic Tile Knowledge?
It also happens on purpose as part of a specific tile design.
To help make sense of shade variation, the Ceramic Tile Distributors Association (CTDA) came up with a shade variation rating system in or around 2001 (see Putting Ceramic Tile Shade Variation Guidelines into Practice - registration required to read full article).
CTDA Rating System for Shade Variation in Porcelain and Ceramic Tile
As we explain on our FAQs for Tile, Stone, Mosaics...,
The shade variation rating of a tile indicates the degree to which its color, tone and texture vary among individual tiles. Virtually every ceramic and porcelain tile, other than pure black or white tiles, has some degree of shade variation even in the same production run.
The CTDA shade variation rating system for porcelain and ceramic tile consists of the following categories:
V1 = Uniform Appearance - Differences among pieces from the same production run are minimal.
V2 = Slight Variation – Clearly distinguishable differences in texture and/or pattern with similar colors.
V3 = Moderate Variation – While the colors present on a single piece of tile will be indicative of the colors to be expected on the other tiles, the number of colors on each piece will vary significantly.
V4 = Substantial Variation – Random color differences from tile to tile, so that one tile may have totally different colors from that on other tiles. Thus, the final installation will be unique.
You see each represented visually in the images below.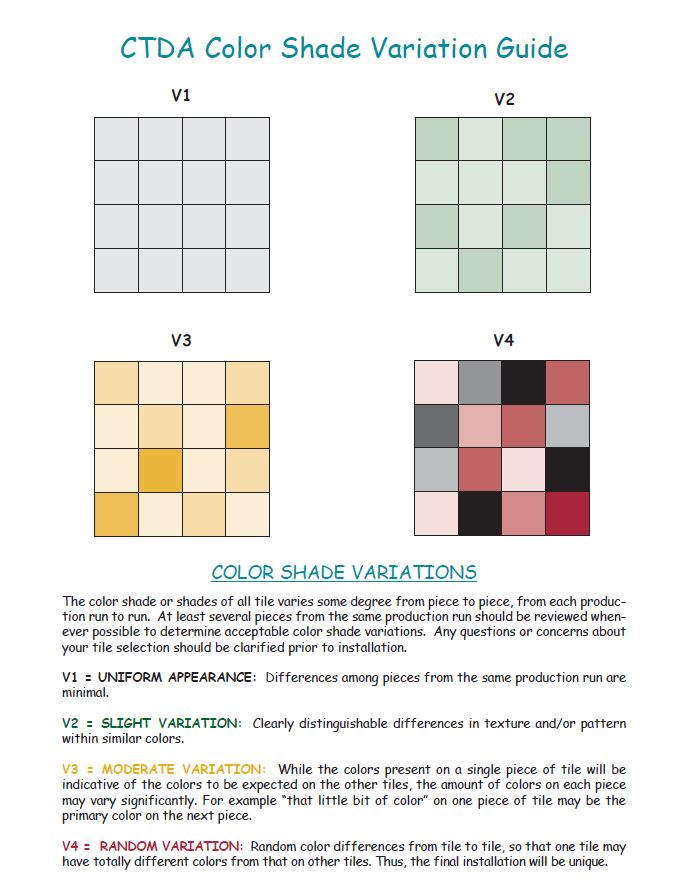 >> See Learn about Tile: Shade Variation
What Shade Variation Means When You Select Porcelain and Ceramic Tile from Tile Outlets of America
Shade variation can present challenges if you aren't aware of the ranges and the implications for your floor or wall. We want you to be thrilled with your purchase so in order to better ensure your happiness it is important that you understand a few things about tile and stone.
Expected Manufacturing Variation from Lot to Lot
As we mentioned above, ceramic and porcelain tiles are earthen products with a degree of expected variation in size, shade and texture from tile to tile within a single box or dye lot.
Furthermore, modern manufacturing techniques are so sophisticated that many tiles have been designed to have up to 40 or more different images within its production in order to better mimic the differences in color, shade, variation, and veining inherent to natural stone.
In the case of natural stone, mother nature has her own plans. You can't assume that one piece of stone will be exactly like another.
Variation as Part of the Tile Design
You'll even find specific tile styles that feature intense shade variation on purpose as you see in this image of Luxent Loft Grey 6x35 porcelain wood plank tile in the Fort Myers Inspiration Area.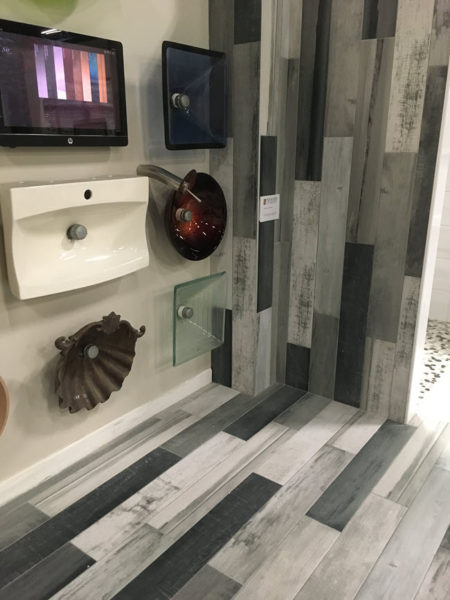 Notice the extreme variation with deep, dark planks and pure white ones.
>> See Looking for Tile Design Inspiration? Check Out Tile Outlets in Fort Myers
The Solution? Gain a Sense of the True Look of the Product
That's why, when you visit Tile Outlets of America to purchase tile, we will strongly encourage you to purchase a full box of tile or at least 4 pieces of natural stone. That enables you to gain a sense of the true look of the product. This is virtually impossible to do with a single piece of tile or stone much less a 6" by 6" sample piece.
And, on TileOutlets.com, we select four different tiles to photograph for each product detail page to better represent the shade variation in that specific tile style.
Here is a V1 product page:
Here is a V2 product page:
Although there's variation in the product below, it's minimal.
Here is a V3 product page:
In this next example, the variation is considerably stronger.
Here is a V4 product detail page.
It's even stronger in this next example.
Porcelain and Ceramic Tile Shade Variation Up Close
If you are looking for a uniform look with no variation, then you will want to consider only V1 products.
However, if variation appeals to you, then you should explore V2 through V4 products. Decide how much variation you prefer.
Let's look more closely at how that works.
Try a Dry Layout of Your Tile to Determine If You Like the Variation
The product below was featured in Before and After Floor Tile Design Ideas: Jason Padilla's Condo #TileRemodel; it has considerable variation from tile to tile. Before installing such a product, create a dry layout so you and your installer can see how the variation looks up close.
It's much easier to explore the look in this manner than to install it, be unhappy and then want to rip the installation out and start all over again.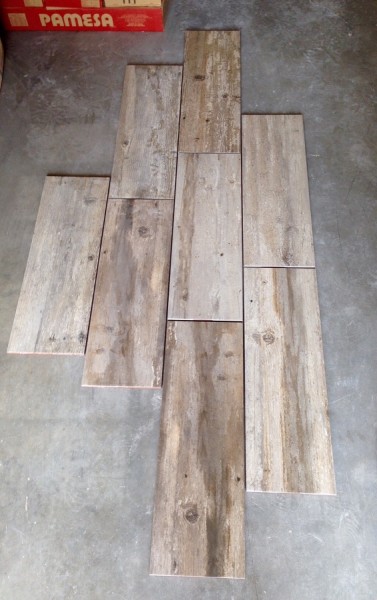 Do You Like Installed Examples of Tile with Considerable Variation?
The image below features an installation in the Fort Myers Tile Outlets of America store.
Notice the variation in the plank colors. The installation distributes the lighter shades in such a way as to create a harmonious look that pulls from the lighter stone-like tile at the forefront of the image.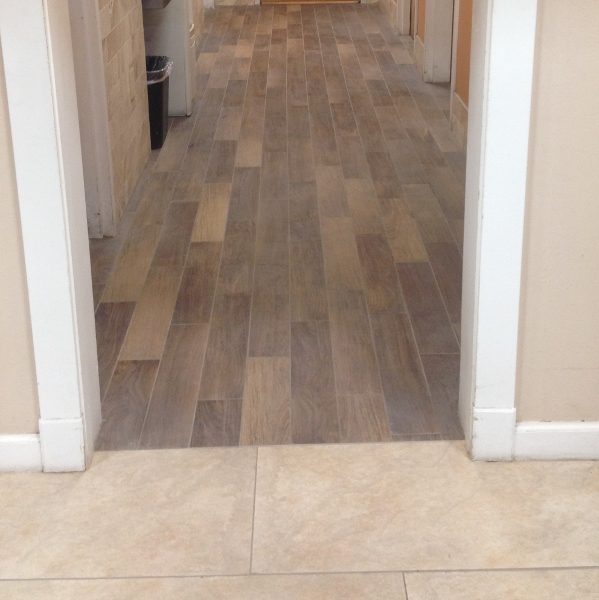 Below is an example of a porcelain tile with slight variation featured in How to Create a Contemporary Urban Look with Porcelain and Ceramic Tile.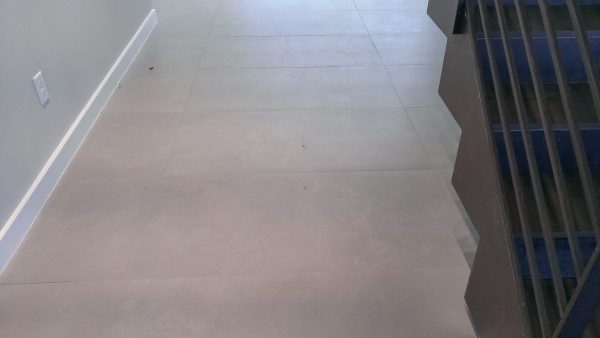 Titan Cemento 24x48 porcelain tile at the Tampa Home of Distinction
Extreme shade variation can create highly distinct and personal statements on a floor or a wall - assuming that is what you have in mind. The opposite extreme can help you create a completely uniform look.
Look at Shade Variation Ratings and Mockup Your Final Tile Choice So You Select the Right Product
To help you select the right product, we encourage you to look at shade variation ratings. And, then, when you are close to your final choice, be sure to take several tiles from one box so you can see them side-by-side and determine how the variation in pattern and shade appeals to you.
We look forward to seeing you in-store and helping you find the right tile so your dream becomes reality.
Thanks for reading!

Note: We originally published this article on September 29, 2016, and have updated it.