How to Design with Brick Porcelain Tile
Posted by Kate Spencer on Sep 9th 2021
If you're wondering about brick looks for your home, you'll enjoy learning how to design with brick porcelain tile. That's what Kate Spencer focuses on in this article.
Learn How to Design with Brick Porcelain Tile
Bricks are generally thought of as terracotta clay-colored. They've been used in building facades for centuries and have made a comeback as designers have rediscovered the warmth, character, and texture they add to spaces.
Exposed brick accent walls and floors are on-trend, with a modern twist. When interpreted in porcelain or even in ceramic, brick looks offer tremendous versatility. That's why this article will explore the following brick categories:
Different Uses for Bricks
Brick Wall Features
Brick Bathroom Looks
Individual Bricks versus Mosaic Bricks
Ready to Count Up the Different Uses for Bricks?
Let's start with walls and floors.
Brick Porcelain Tile Wall and Floor Designs
Bricks are versatile. They create unique environments. And, when interpreted in porcelain, they offer you even more options. Ready to visualize a few of those unique environments?
Unlike real brick, these porcelain floors will wear well over time.
Please explore the New York brick series below. This series is available in three colors and can be used on the floors and walls. The porcelain tiles are 4x8 in size and can be installed in multiple patterns as you will see in the pictures below.
The colors available are Broadway, Greenwich Village and Wall Street. This series is from Italy and is so versatile you can use it in any room.
Above you see New York Broadway 4x8 used for a feature wall installed in a brick pattern. This feature wall just outlines the wall and I like the unfinished ends.
Next, check out New York Wall Street 4x8 installed in a cube pattern.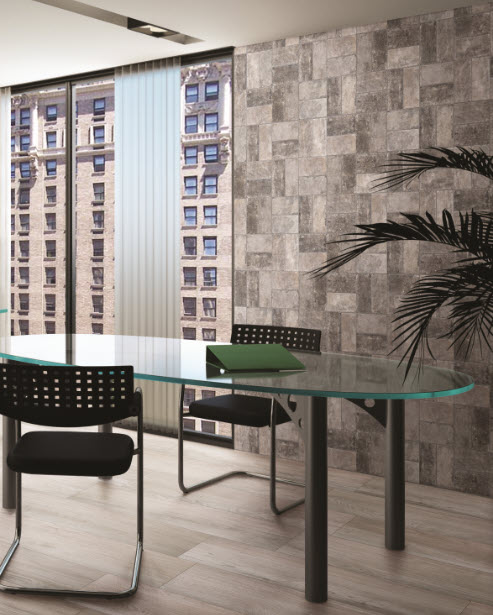 With two pieces put together and then alternating the direction creates squares. This brick feature will complement an office space and bring nice texture to the room.
We love this interpretation for New York Greenwich Village 4x8 installed using two different formats.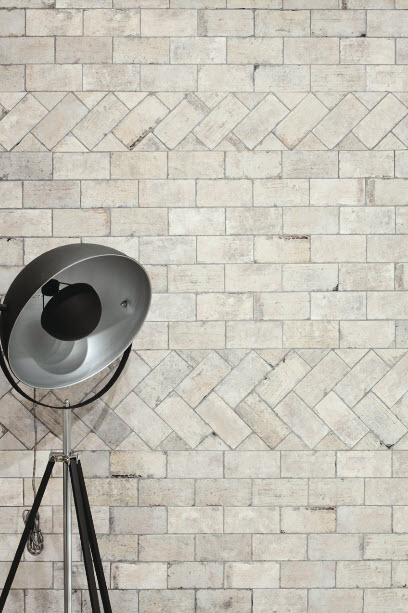 There is a herringbone design in the middle and offset installation on the top and bottom. This creates a design element in the room and breaks up the looks of bricks. With this nice cool color in a brick format it will coordinate with many other elements.
How about this stunning wall feature created with New York Greenwich Village 4x8?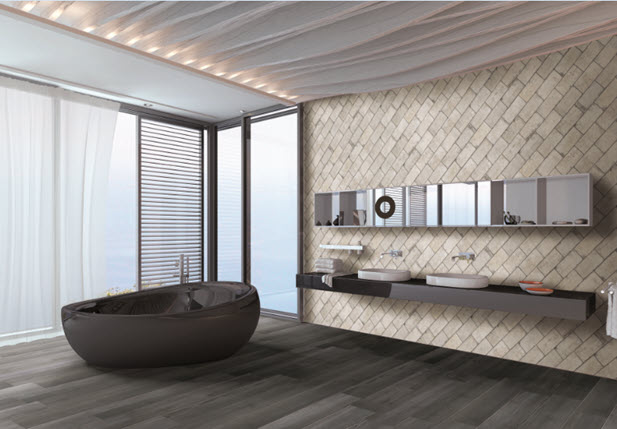 These bricks are installed in a diagonal installation. Along with the wood plank floors, the brick wall feature is both rustic and modern. Did you think about putting bricks in your bathroom? The nice warm color of the bricks softens the design.
Would you like to extend the brick look outdoors? No problem with porcelain bricks!
Above you see a closeup of New York Broadway 4x8 installed outside on a patio.
Below is another outside patio installation.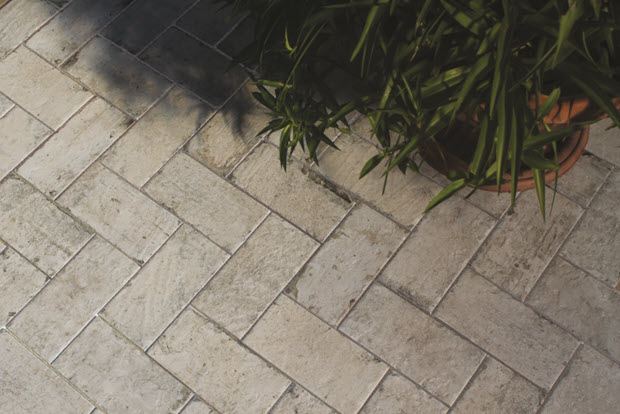 New York Greenwich Village 4x8 installed in a herringbone pattern looks fantastic outside on the patio.
Or, try New York Wal Street 4x8 in a square pattern.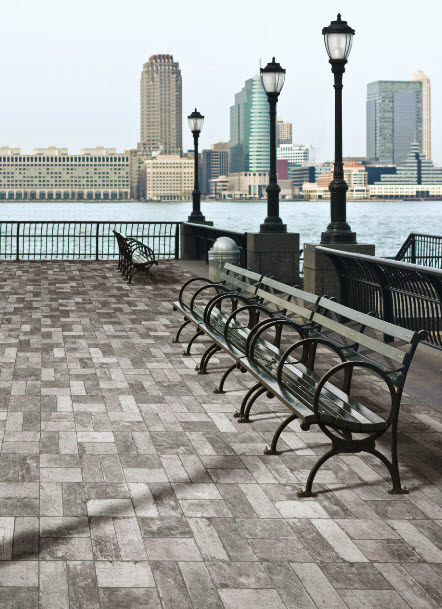 Talk about making a statement!
>> See Brick Floor Tile Collection Creates A Timeless Craftsman Look
Here's another interpretation for those of you who may have a wine cellar or a wine room (as we call them in Florida).
By adding these Georgian Blend 3x10 ceramic brick mosaics to the walls, you create an authentic-looking real clay brick wall in the room.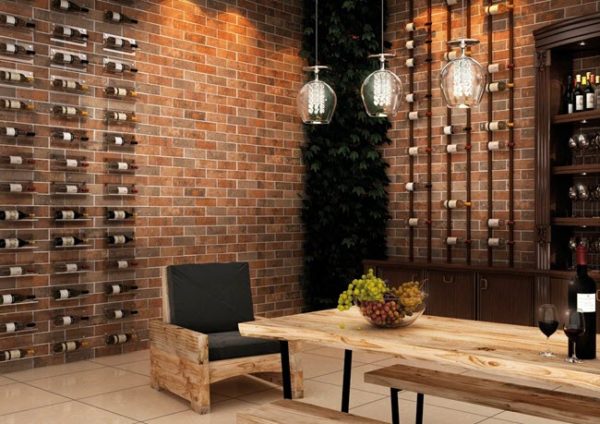 It's warm, inviting and a perfect backdrop for good food, wine, and company.
Want to find an unusual design idea for your pool area feature wall or along the sides of your yard? Try brick porcelain tile.
>> See Three Brick Look Tile Designs for Your Home
Brick Wall Features
Next, are porcelain brick tile wall designs.
Brick lends itself perfectly to feature walls especially given the many different colors of brick tile available. Here's how...
Try using brick mosaics or individual brick tile pieces to transform an otherwise bland wall into a feature wall.
(Note - the dog is not included.)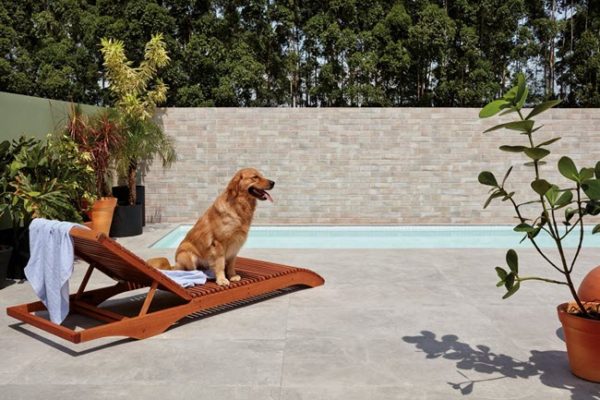 Start with traditional brick colors as you see in the image below. The darker orange tones pull from the hanging artwork, the frame as well as the room accessories.
The lighter sand tones coordinate with the sofa cushions and lampshade.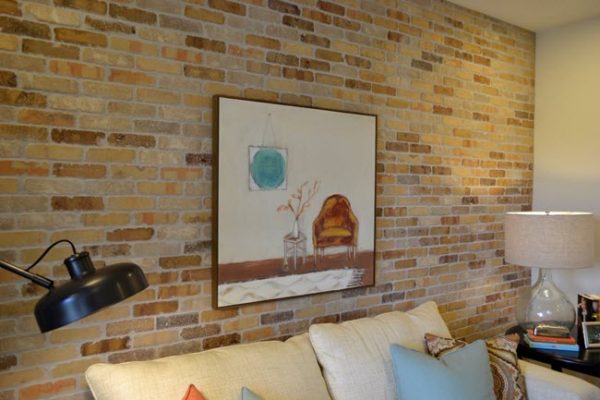 The brick feature wall in the image below draws attention to all of the marvelous orange-inspired touches: tulips, indoor and outdoor cushions, books and accessories. The floor tile coordinates with the lighter tones of the brick.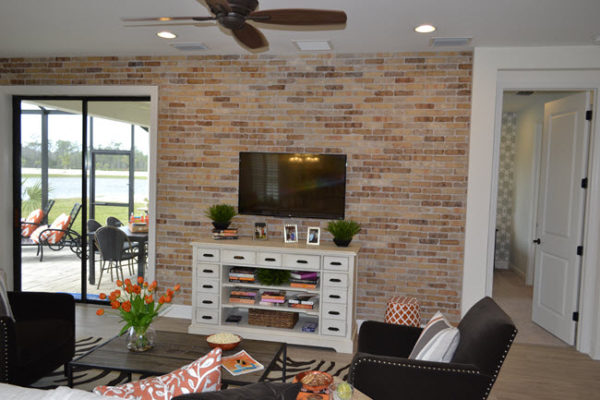 When using individual porcelain bricks, you have the option to design with patterns.
In this next image, you see Every Brick Stone 3x9 porcelain tiles installed in a herringbone design on the walls, adding warmth, and texture.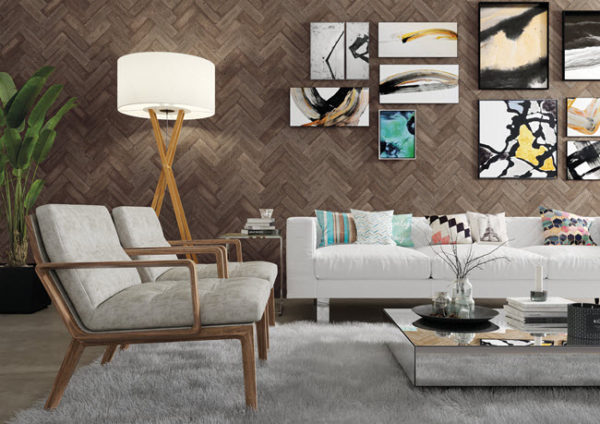 In fact, the crème tones in this next image work beautifully with glass hexagon mosaic tile...
And, you don't have to commit to large expanses of walls or floors when it comes to a design with brick porcelain tile.
For example, the below image takes a small feature wall in a kitchen space that comes to life when you add brick to it. Not only are the color tones neutral, but the brick doesn't overpower the space. The muted color tones coordinate with the countertops and the door frames.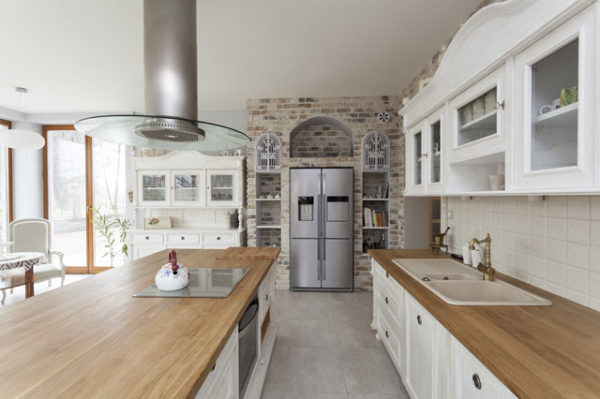 Brick Bathroom Features
No conversation about designing with brick porcelain tile can be complete without discussing bathrooms.
Remember that bricks aren't just brick-colored.
Take the Every Brick collection in a grey cement 3x9 individual brick that you can install in many different designs and patterns. It's perfect for a bathroom as you see in this next image where grey bricks even surround the tub feature.
Or go one step farther with the Every Brick White Cararra 3x9 bricks installed here as subway tiles on the walls. You could even use them on the shower floor, bathroom floors and feature walls.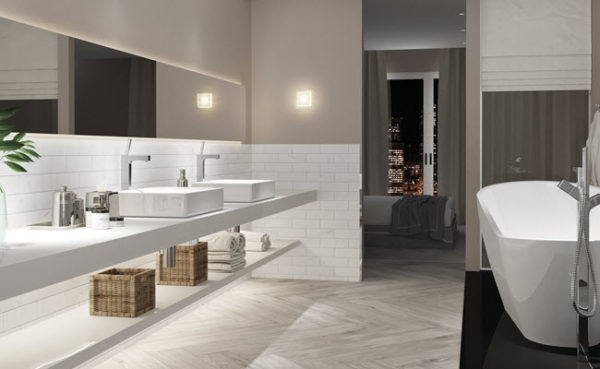 By the way, did you notice the large floor tile herringbone pattern?
Ready to Design with Bricks?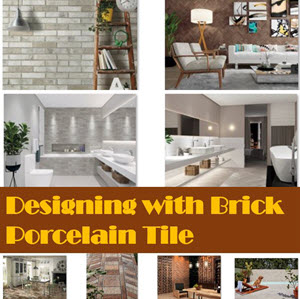 What's your reaction to these brick look tile products? Can you see yourself creating designs with bricks in your home?
As a reminder, these brick looks are available in individual pieces and interlocking mosaic pieces to make the installation a DIY project.
Thanks for exploring bricks with us!
Kate

Note: We originally published this article on September 13, 2018, and have refreshed it.