4 Ways to Create Incredible Accent Walls With Tile on Suncoast View
Posted by Kate Spencer on May 2nd 2019
Are you wondering how to create incredible accent walls with tile in your home? That's what Tile Outlets' Kate Spencer focuses on in this article.
Simple decorating ideas can make a huge difference in the look and feel of a room. Accent walls or feature walls are a perfect example. The idea isn't new, however, it has moved beyond just paint and wallpaper as Kate demonstrates with samples of four different types of tile that can be used to create incredible accent walls!

Kate Shares 4 Ways to Create Accent Walls with Tile
Kate describes accent walls created with these four types of products:
Brick Looks and Other Interesting Wall Tiles
Ledgers and Split Face
Decoratives and Mosaics
Wood Plank Looks
Although the idea of a feature wall isn't new, the interpretations are. Thanks to a variety of tile products, we are now seeing people make use of tile patterns and textures to create incredible accent walls.
Here are four product ideas to use on your next feature wall project.

1. Get Creative with Tile and Brick Look Accent Walls
You can find a wealth of creative tile options for your feature wall starting with brick looks and other wall tiles.
Transform one wall with brick
Another tile look that makes for an incredible accent wall is brick or brick-look porcelain tile.
Simply pick a nook in your kitchen and frame it in brick.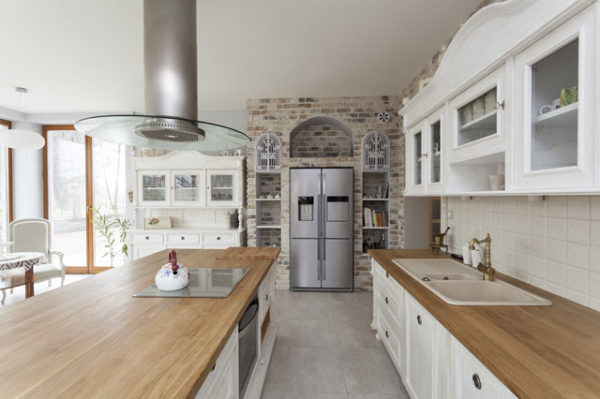 The colors and textures combine to really make this space pop; they draw your eyes to the feature wall.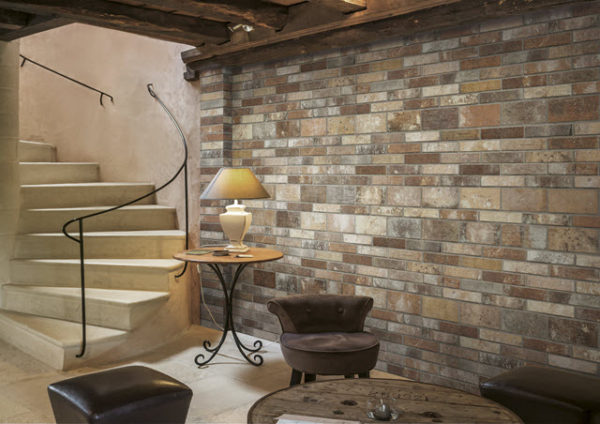 These porcelain bricks can be used on both the wall and floors, but we wanted to feature a brick wall installed with two different sizes.
>> See Three Brick Look Tile Designs for Your Home
>> See Brick Floor Tile Collection Creates A Timeless Craftsman Look since these products can be used on walls, too.
Stone and Other Types of Wall Tile Looks
When we talk Wall tiles these are made to only be installed on walls. The bisque is not suitable to be walked on. So explore the wall tile options to see where you can make a feature wall stand out in a room.
The example below shows you what's possible with a stone-inspired look on the walls.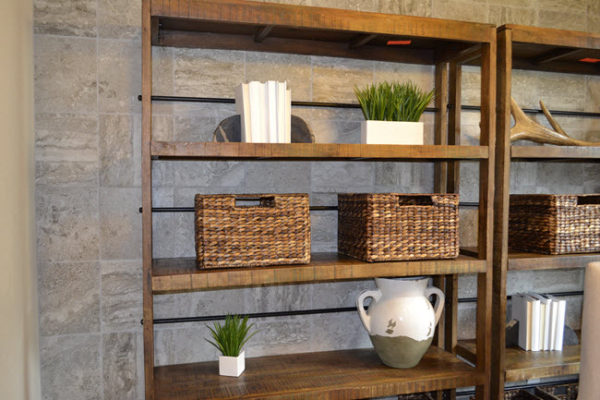 This stone look porcelain tile creates a dramatic backdrop for these shelves. The baskets and curios echo the stone pattern of the feature wall.
You can take a wall tile and extend the look all the way up the wall. These looks create a clean space in the room and depending on the look of the tile can be very warm.
Textured wall tiles are great and can bring that depth to a space. You will want to walk up and touch the tiles to feel the finish on it.
You can add color to a wall feature. For example, create a solid blue wall to bring brightness to the room. Did you notice the floors are in a really dark color, but yet the white and blue walls make the room look clean and inviting?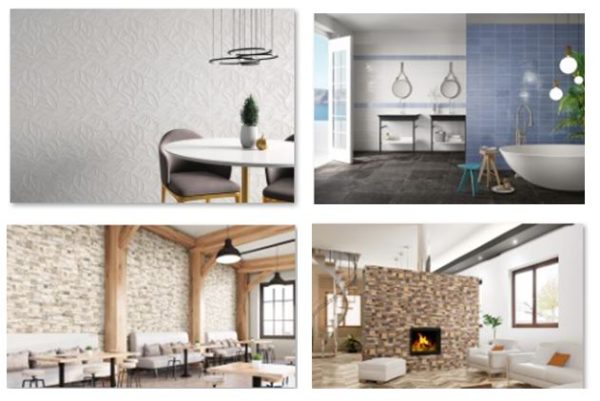 Dimensional wall tiles with a 3D look can complement a large wall space. Look how the multi-color tiles above add a strong design element to complement other colors. You can even take interlocking 3D wall tiles to create a fireplace that looks like it has ledgers on it. Did you notice the floor in Chevron pattern?

2. Ledgers and Split Face Feature Walls
Ledger Accent Walls
Ledgers come in multiple colors and thicknesses. Since they are sold in prefabricated panels, they are also easy to install.
You can find a perfect ledger stone to coordinate with your décor and create feature walls inside or outside. Consider customizing the stone look with several varieties.
Below you see an example of an accent wall behind a bed. It coordinates with the headboard design and draws the eye to that side of the bedroom.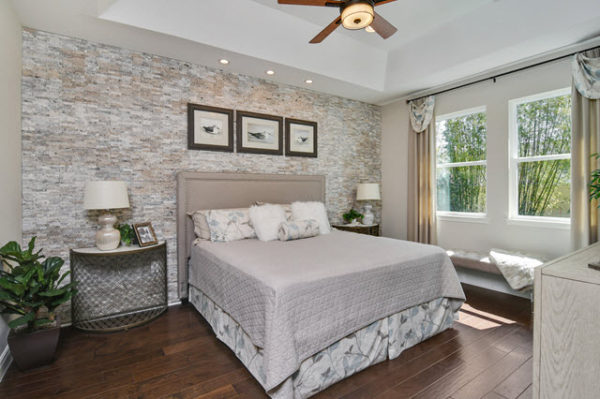 You can see how the depth of the ledger and the warmth of the wood floors combine these two textures together to make a nice warm cozy environment.
Here's a close up look at the Silver Travertine ledger panels.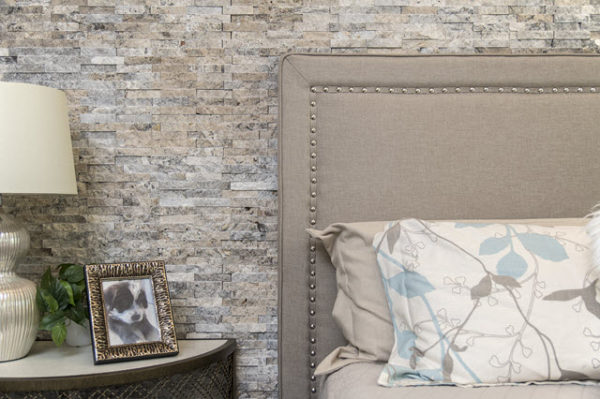 In this next example, the ledger accentuates the cut out in the wall.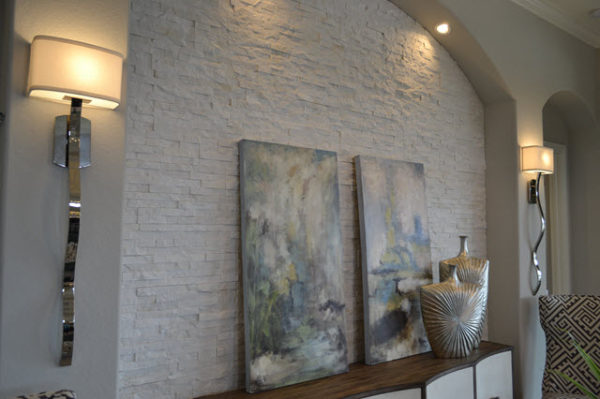 This is a white ledger panel which really stands out with the color pictures.
The look is very elegant and modern.
Similarly, in this kitchen image below, the grey ledger stone accentuates the long sleek modern lines of the cabinetry and the range hood.
These dark Silver Grey Ledgers look beautiful as a kitchen backsplash.
They also add drama and visual interest to a living space.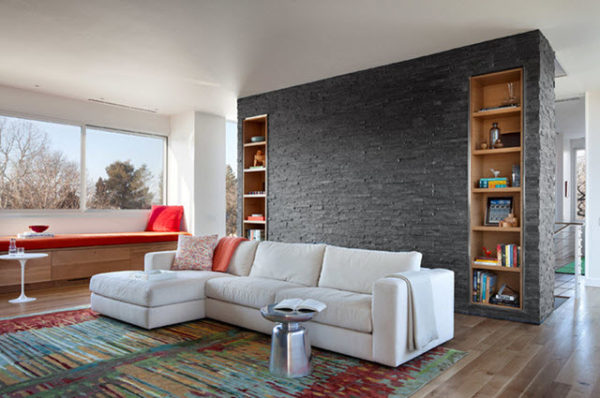 Don't be afraid of dark ledger colors. This Silver Stacked stone ledger feature wall echoes the texture of the rug while complementing the overall decor. The white sofa looks, even more, inviting with the dark wall behind it.
Try using ledger stones in a bathroom to add texture and dimension to a feature wall. Or, break the feature wall up with some moldings and add the ledgers to inside panels.
Porcelain Ledgers
Porcelain ledgers are a smoother option to a stone ledger. They have the 3D depth of a stone ledger without the texture and they're easy to clean! Because they are made of porcelain, they can be used inside or outside.
Below you see three examples.
On the left, Gioia Beige 6x24 installed as a backsplash in a bathroom.
In the middle, Gioia Blanco 6x24 gives the look of a Cararra with 3D depth. It is installed as a kitchen backsplash.

On the right, you see Tiffany Grey 6x24 porcelain ledger which creates a great feature wall for a pool or outside column. Again the texture is smooth but has the 3D dimension to give the look texture.
Use Ledger Panels Outdoors
Ledger panels can also be used outdoors.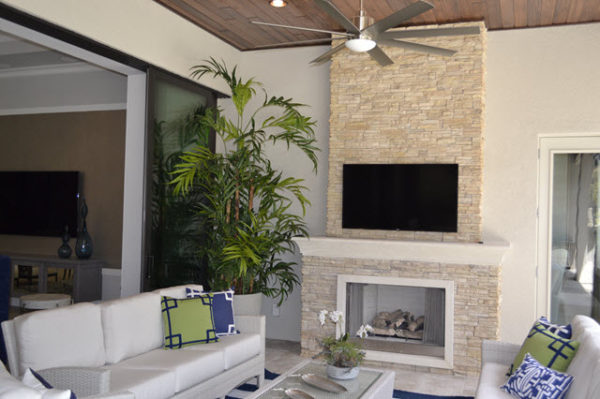 Consider using ledger stones to feature a fireplace on your outside patio.
For more information about ledger stone, read:
>> Consider Stacked Stone Ledger Panels For A Textural Wall Look
>> How to Use Pebbles and Penny Mosaics, Patterns and Ledger Panels in Your Home
Create Split Face Feature Walls
The next product to consider for an incredible accent wall is Split face product.
Split face is similar to a ledger but the stones are not as thick, the texture isn't as chunky, and it comes in a mosaic sheet. The end result makes for a great interior wall.
In the two examples below, the split face stone creates a dramatic backdrop for a flat screen TV and shelves.
Notice how the travertine split face mosaic below adds depth and texture to the wall.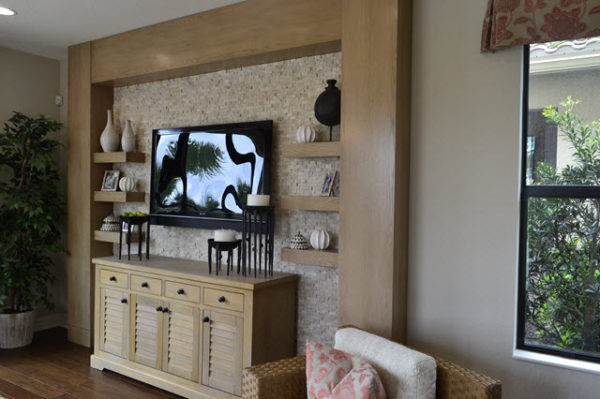 Split face mosaics come in many different colors.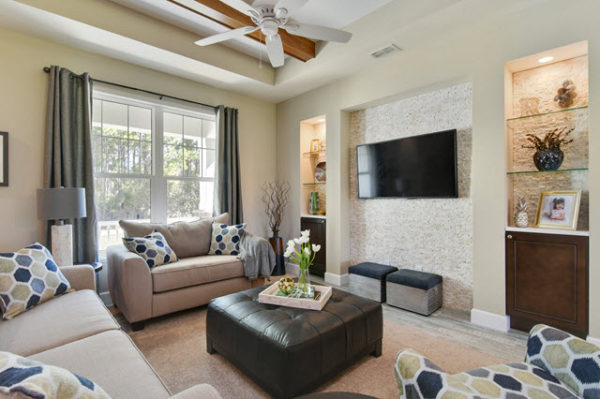 Look how effective the split face is behind the glass shelves in the cut-out. With the lights above, it really stands out in the space.

3. Feature Walls with Decorative Tile and Mosaics
Decorative Tile
Decorative tiles come in many different designs. They tend to be smaller format tiles but can add color and design to a wall or shower. This tile features an 8x8 decorative tile in black, grey and white with just enough color to make it stand out.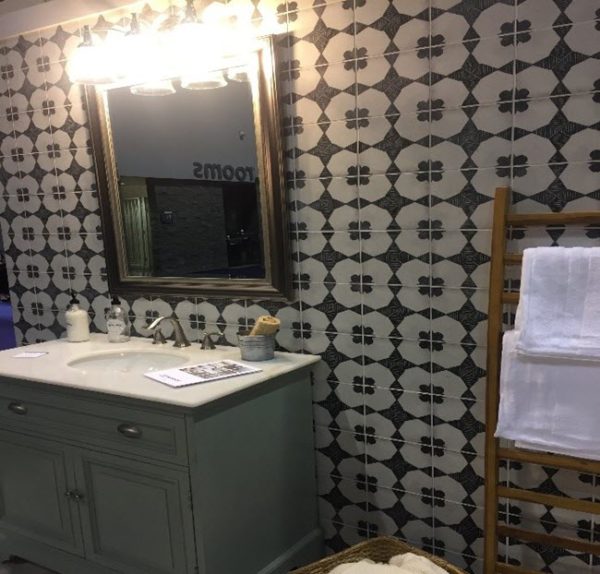 We also have decorative patio tiles to make your outdoor space stand out. Here we are looking at the Alsacia Arena 18x35 tile that has the decorative panel in the tile. The outside border creates the feature on the wall. Yes, you can use this on the floor, but it's perfect extended to the wall.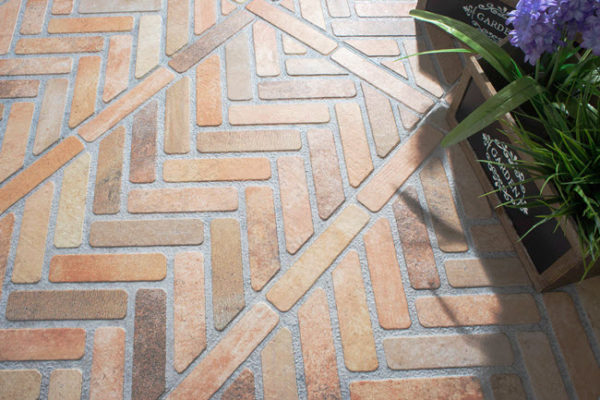 Mosaics
Using Mosaics as a feature wall is a fun way to play with color and textures especially given how many options you'll have available.
Take these wood mosaics.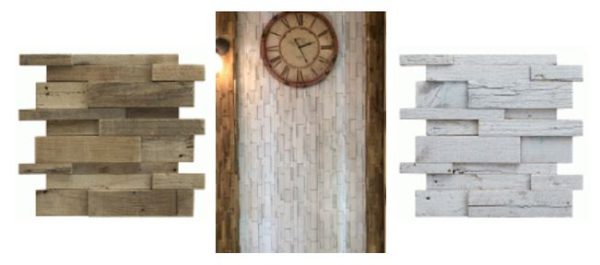 They are similar to a ledger, which gives depth to the feature wall. They can easily be glued or nailed to the wall for easy installation. Made out of old pallets, they create that warm real wood feel. This series is the Trend series and comes in two colors – Arizona Wood and Soho Wood.
Glass mosaics can be easily installed on a feature wall. This is a way to add color or shine to a space whether you are doing a feature wall in a bathroom, a kitchen or a living space.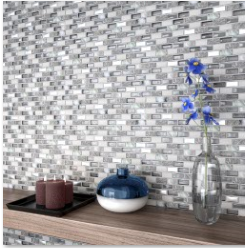 Ceramic mosaics are a great idea for doing a feature wall. With so many designs to choose from, you can do a brick pattern, herringbone, scales and harlequins. The design choices are endless.

Pebble mosaics are a great design choice for a feature wall. You'll find smooth, round and tumbled pebble options to name a few. Plus there are so many colors to select. Pebbles are true stones from the earth and will make a space feel like you are outside.
Porcelain or Ceramic mosaics with a linear design can be used on a fireplace as a feature wall. These mosaics come in many color designs and materials.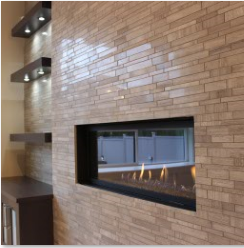 You can also find a stone linear mosaic that will work great in this space.

4. Wood Plank Tiles Look Incredible as Accent Walls
Our all-time favorite product to use in an accent wall has to be wood plank tile!
Wood plank tiles can be used on the floor as well as walls. We like the idea of having different textures on the walls. Given how many varieties of wood plank tiles available, you can imagine how many different design styles you have available to choose from.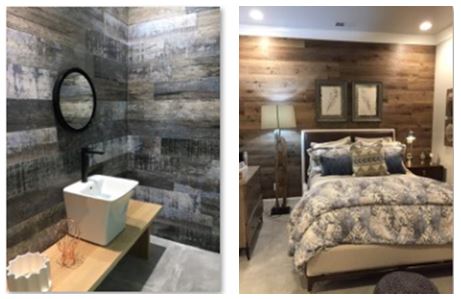 Try installing the same style wood planks on the walls and floors, with a similar installation pattern or even with a contrasting one - say a herringbone on the walls.
Rather than a rustic barn wood look, you might opt for a hand-scraped look on the walls, combined with an eye-catching wall fixture. The end result is cozy and conversation-friendly.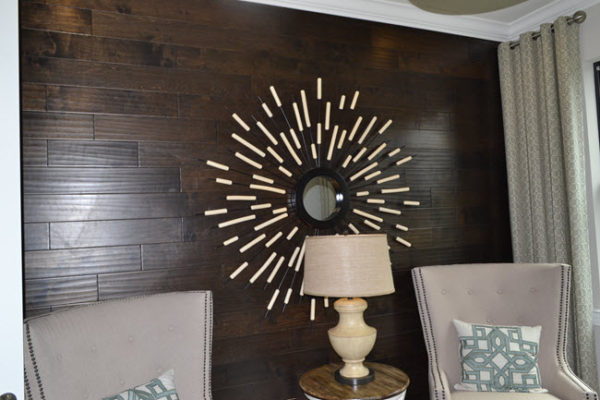 These dark wood plank tiles give this space a really rich warm feel.
Explore Two Feature Wall Videos!
Here are two videos that relate to feature accent walls.
The first is 1:12 minute and titled How to Create Feature Walls with Tile:
The second is of Kate's 5-minute Suncoast View segment All About Feature Walls with Tile Outlets of America! below:
What's Your Reaction to these Incredible Accent Walls?
We'd love to hear!
If you'd like to see more examples of accent walls, check out Creating a Feature Wall with Tile: Inspiration from the Parade of Homes.
When you visit Tile Outlets of America, you'll find the perfect tile selection to create the most eye-catching accent wall. We hope you'll come to visit.
Thanks for watching and learning about how to create your very own incredible focal wall.
Let us know of any questions.
Kate

Note: We originally published this article on March 1, 2018, and have just updated it.