Meet Mike Alcala, Tampa General Manager
Posted by TOA's Blog Team on Sep 20th 2018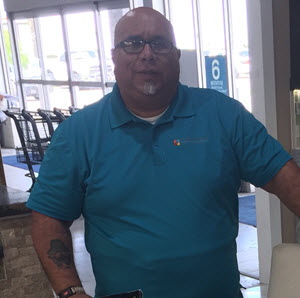 Have you met Mike Alcala, Tampa General Manager? He's new to Tile Outlets and comes with enthusiasm for customers and knowledge of tile.
We caught up with Mike to learn more about him. At the same time, we wanted to give you a feel for what makes our store management teams so committed to helping you transform your home from dream to reality.
Introducing Mike Alcala, Tampa General Manager
TOA: Mike, tell us about your background. Does it include tile?
MA: My background starts at the age of 17. I had just graduated high school and found out I'm becoming a father.
I went to work for a company by the name of Lowes Home Improvement. That's where I began my 27-year journey as a cart puller advancing myself to a store manager at the age of 19. I ran stores all over the country for them even advancing and running multi-units at one time for Lowes.
I come from a family where my entire family tree is in the tile marble and stone business to this day. My father has had his company for 48 years and just recently passed it to my brother to continue his legacy.
TOA: Are you from the Tampa area?
MA: I was born in San Antonio Texas in 1971 and was raised there my entire life until coming to Florida in 2004 and residing in Lakeland, FLorida after traveling the country running stores for Lowes.
TOA: What is your role at Tile Outlets of America?
MA: I am the General Manager at the Tile Outlets Of America in Tampa.
My role is to be a resource for my entire team and assist the Brand in ensuring great and repeat customer service along with the development of our team members and future leaders.
TOA: What appealed to you about the company and the Tampa store?
MA: What appealed to me about Tile Outlets was that it was a type of company that I had been a part of my entire life: a company that cared about its people and customers.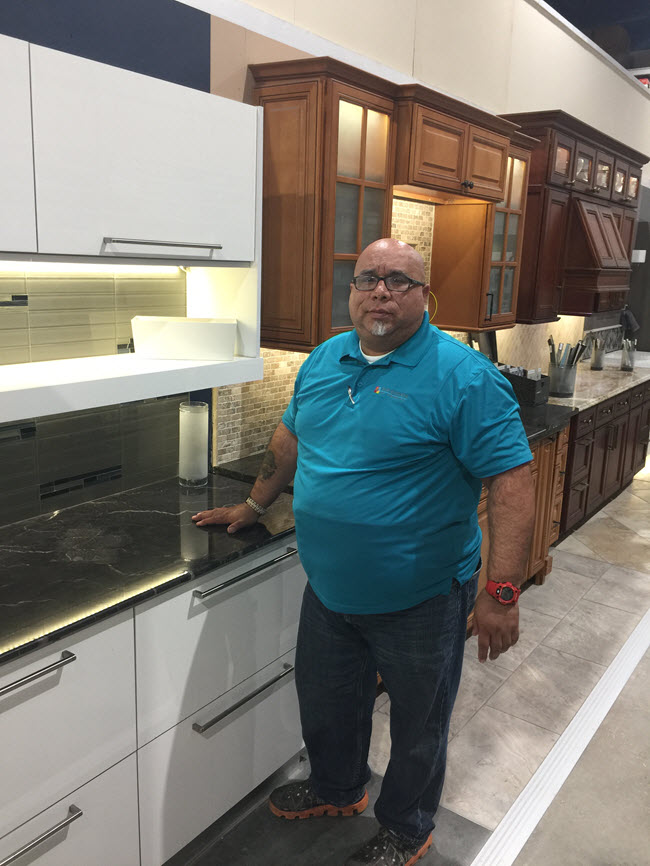 TOA: What are your biggest priorities as General Manager?
MA: I believe the biggest priorities of a GM is keeping morale up within the team and creating unity amongst management and the team. That assures the team that we are here for them, that we work for them.
TOA: Which are your favorite products?
MA: My favorite products here at Tile Outlets has to be mosaics.
>> Shop Mosaics
It just amazes me the selection we have to offer the customers in order to enhance their homes.
TOA: Which are your favorite Inspiration Area installations?
MA: My favorite inspiration area installation has to be the vanity displays that the team put together in order to promote the vanity line we have to offer.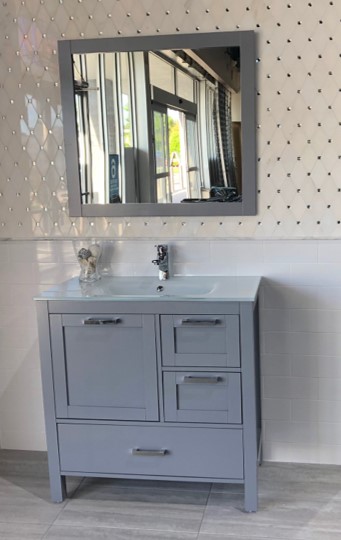 TOA: What are the biggest issues facing customers shopping for tile?
MA: I believe the biggest issues we have for our customers shopping for tile would be ensuring we have plenty of quantity at any given time.
TOA: What advice would you offer them?
MA: My advice to them would be simple:
"You can count on us to have whatever you need no matter what we got to do to get your job done".
>> Download the Dream Sheet aka Tile Outlet's Tile Project Checklist
TOA: What do you do when you aren't immersed in tile?
MA: When I'm not immersed in tile, I love to spend time with my kids and enjoying them every minute I can.
TOA: Thanks, Mike.
Have You Met the Other Members of the Store Leadership Teams?
In Tampa
Here are the other members of the store leadership teams starting with the Tile Outlets Tampa Store:
>> Bill Granger, Assistant Store Manager
>> Rickey Williams, Assistant Store Manager
In Fort Myers
Here is the team from the Fort Myers Store,
>> Mark Scott, Fort Myers General Manager
>> Dennis Vera, Assistant Store Manager
>> Anna Robinson, Assistant Store Manager
In Sarasota
And here is the team from the Sarasota Store:
>> Chris Martin, General Manager
>> Bob Stangs, Assistant Store Manager
Come Visit Tile Outlets of America!
We invite you to visit Tile Outlets of America in Tampa, Florida to experience first hand how we help your dreams become reality.
There, you will find a beautiful selection of in-stock and first quality porcelain and ceramic tile, stone, mosaics and more available for a whole lot less to select from!
And be sure to say hello to Mike Alcala.