Meet Anna Robinson, Fort Myers Assistant Manager
Posted by TOA's Blog Team on Jul 1st 2021
Anna Robinson has become Assistant Manager in the Fort Myers store. She was most recently the contact point for the Tile Outlets Pro Services program in Fort Myers.
We caught up with Anna to learn more about her and better understand her intense commitment to helping you transform your home from dream to reality. As you'll discover, she has a deep understanding of the business and the process customers go through to complete an installation project.
Introducing Anna Robinson, Assistant Manager in the Fort Myers Tile Outlets Store
TOA: Anna, tell us about yourself and your background. Are you from the Fort Myers area?
AR: I'm originally from Chicago, and have been around the trades most of my life as my grandfather was a General Contractor, and my father was a glazier. I've also worked in customer service, sales, receiving and production.
About 6 1/2 years ago, I moved to the Ft. Myers, FL area, and then started with Tile Outlets of America in April of 2015.
TOA: How did you get started with Tile Outlets of America?
AR: I came into Tile Outlets to purchase tile for a home repair job. I had never worked in the tile industry, but upon shopping at Tile Outlets, I noticed how busy the front end was. Given my past experiences, I thought this was a perfect opportunity for me.
TOA: What are the different roles you've held?
AR: I have held a variety of positions at Tile Outlets of America.
I started as a cashier and when the front-end was remodeled I was promoted to Customer Service.
Soon after, I took on the role of Online Sales Manager.
Roughly 3½ years ago I went on to become the Customer Relations Manager and worked very closely with the Trade Pro Professionals in the Ft. Myers store location.
TOA: What is your new role and what are your priorities?
AR: My new role at Tile Outlets of America is Assistant Store Manager in the Fort Myers store.
My priorities are providing excellent customer service. I honestly believe this is something that Tile Outlets of America does so fantastically well, and I want nothing more than to keep that momentum going.
I understand that remodeling can be overwhelming for some, and I want customers to feel at ease from start to finish.
Whether that is selecting tile or cabinets, picking a grout color, ensuring that they have what they need to complete their project, placing an order, or picking up their order...I want their experience to be as seamless as possible.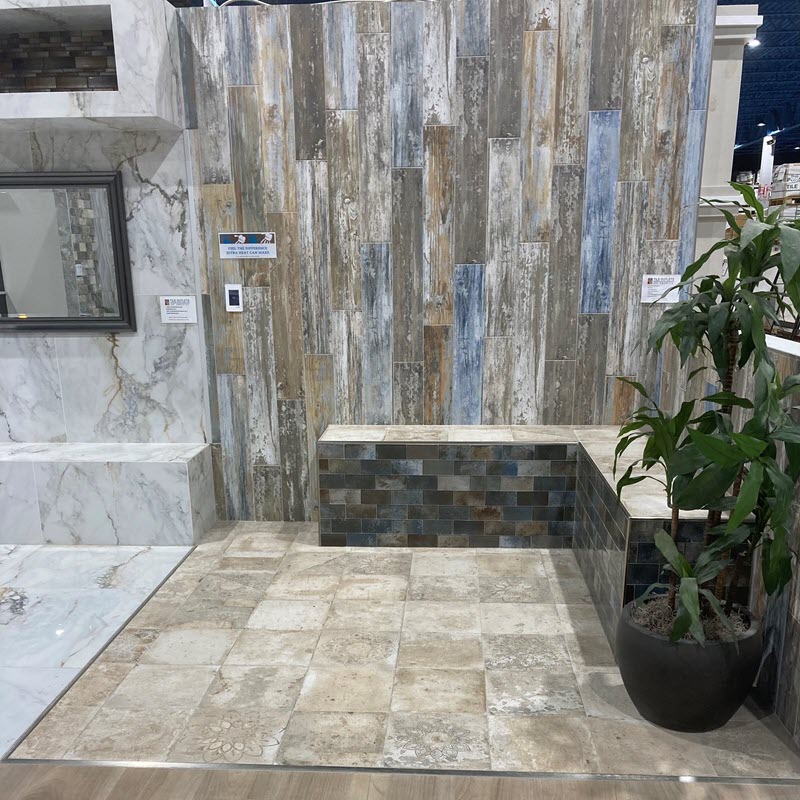 TOA: What do you love most about it?
AR: I love that my new position as Assistant Store Manager will allow me to work closely with the frontend and contractors.
Since this is where I started at Tile Outlets of America, I believe I can offer a unique point of view and continue to provide superb customer service.
I also really enjoy working closely with customers and seeing their completed projects. It is always great when we can assist in navigating a customer through the install process and turn their dreams into reality.
TOA: Which are your favorite products available at TOA?
AR: My favorite products at Tile Outlets of America are the InOut planks. These consist of the Bengala, Tacora, and Sabik series.
These wood look tiles come in a variety of colors and have a beautiful undertone in each color. This product is great whether you prefer a design that has a consistent color scheme or plan to use a variety of colors and shades throughout your design.
The InOut Technology allows for one tile that can be used in both indoor and outdoor installs with anti-slip that is not rough to the touch.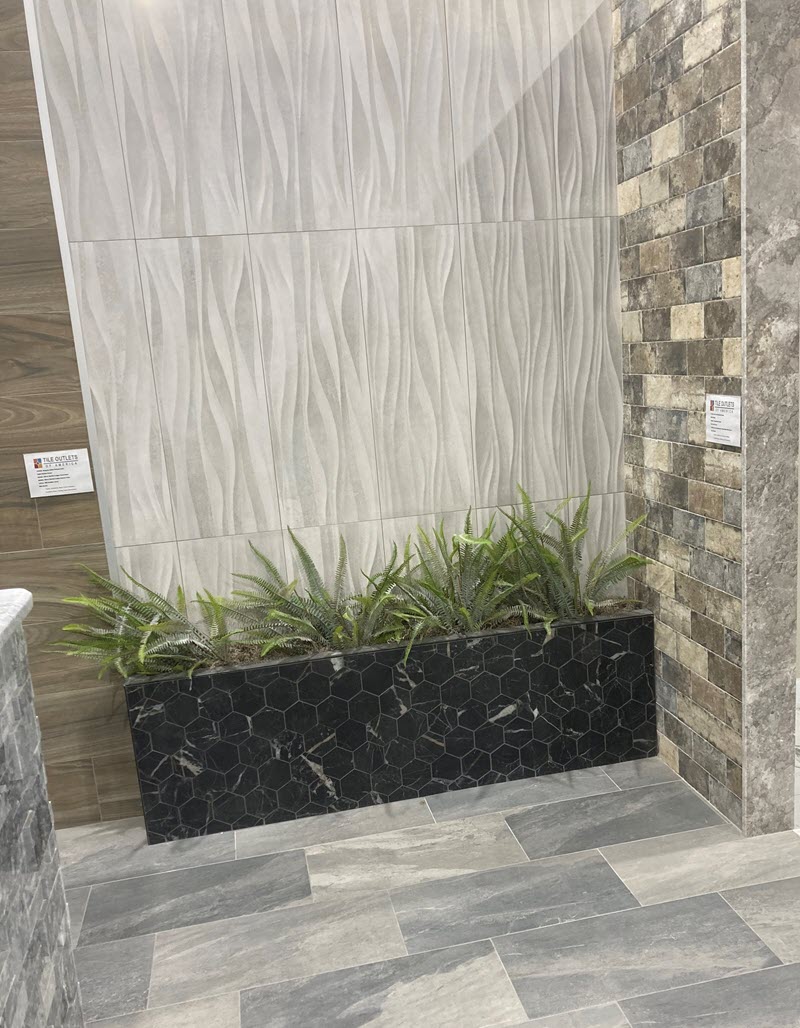 TOA: Do you have a favorite installation in the Inspiration Area?
AR: The Inspiration Center at Tile Outlets of America is a great place to show customers examples of what their finished project will look like and to give them design ideas. I have a couple favorite installations in the Inspiration Center.
In the mock outdoor area (see image immediately above), the wall tile we selected was the Fusion Steel 13x36, as an accent wall, and New York Broadway 4x8. BIS Grafito 12x24 was installed on the floors.
We built a planter in front of the accent wall using Kerdi Board and installed Canova Emperador 3" Hex Matte Mosaic on the face, sides, and top of the planter. We later had faux plants installed.
There are so many uses for tile, and I think this section shows this perfectly. It is also a great example of how you can use different sizes, colors, and textures, but still allow the area to flow together.
I also really like the section that has Revival Colours 6x35, Babylon 12x12, Ishtar Deco 12x12, and Metallic Oxide 3x6 Glass Mosaic. (See first installation image above.) In this section we installed a Schluter bench as well as the Ditra Heat Duo membrane on the floor and seat of the bench.
Ditra Heat Duo is an uncoupling and waterproofing membrane that provides sound control and a thermal break. I think it is a misconception that Floridians could not benefit from heated floors or other areas. Just imagine having a heated bench in your shower, which Ditra Heat Duo can provide. Many four-legged friends enjoy the warmth of Ditra Heat, especially senior dogs and cats.
There aren't many showrooms that have Ditra Heat on display. The next time you are in the Ft. Myers showroom, please feel free to enjoy the warmth it offers and feel free to ask any one of our knowledgeable sales associates for more information.
TOA: What advice do you have for first time TOA customers?
AR: If you are shopping at Tile Outlets of America for the first time, I would advise you to not get overwhelmed. You have come to the right place. Our knowledgeable sales representatives are more than happy to walk you through the process.
If you are needing backsplash material or installing in an area with cabinets, please bring in a piece of your granite if possible.
Take advantage of our 90-day return policy to purchase samples and bring them home with you. This will give you the opportunity to view the products in the lighting in your home and where they will be installed.
If you are uncertain what your finished project will look like, you can utilize the Tile Outlets of America Room Visualizer. This is a unique and great way to see the product in your room.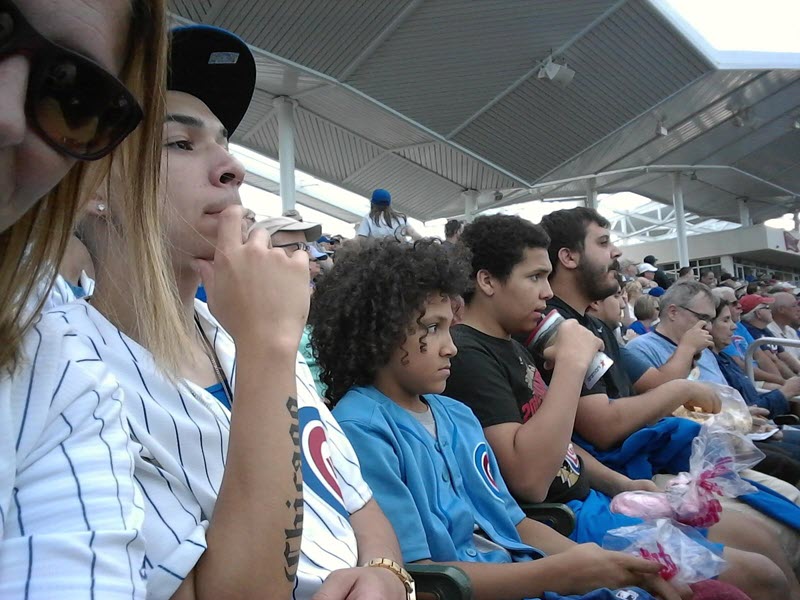 TOA: What do you like to do outside of TOA?
AR: I have three boys who range in age from 14-22. Most of my time, outside of Tile Outlets of America, revolves around them. My oldest has learned the trade and installed some phenomenal projects himself.
When I am not with my boys, you will usually find me on my lanai birdwatching with my three cats, one of which we recently rescued as a nursing kitten.

I enjoy most all sports but am above all a Chicago Cubs fan. I was even in attendance, in Chicago, when they were given their World Series rings.
I am also involved in a few nonprofit organizations throughout Florida that work to make changes on a state level. I enjoy volunteering my time for these organizations and have a passion for drawing awareness and making a difference.
TOA: Thank you, Anna, and congratulations!
Be Sure to Meet all 3 Store Leadership Teams
In Fort Myers
Here are the other members of the store leadership teams starting with the Tile Outlets Fort Myers Store,
>> Dennis Vera, Fort Myers Assistant Store Manager
>> Mark Scott, Fort Myers General Manager
In Tampa
Here are the managers from the Tampa Store:
>> Mike Alcala, General Manager
>> Bill Granger, Assistant Store Manager
>> Rickey Williams, Assistant Store Manager
In Sarasota
And here is the team from the Sarasota Store:
>> Chris Martin, General Manager
>> Bob Stangs, Assistant Store Manager
Come Visit Tile Outlets of America!
We invite you to visit Tile Outlets of America in Fort Myers, Florida to experience first hand how we help your dreams become reality.
There, you will find a beautiful selection of in-stock and first quality porcelain and ceramic tile, stone, mosaics and more available for a whole lot less to select from!
And be sure to say hello to Anna Robinson!