Outdoor Tile Looks and Inspiration: Featured Products Concept Board
Posted by TOA's Blog Team on Dec 18th 2020
Are you looking for outdoor tile looks to update or create an outdoor patio space? Perhaps some of these featured products will inspire you. You'll find them organized into concept boards that showcase specific outdoor looks that combine well and create interesting contrast to inspire your next project.
In this article, you'll learn more about these featured products.
Outdoor Tile Looks and Inspiration for Your Next Patio Project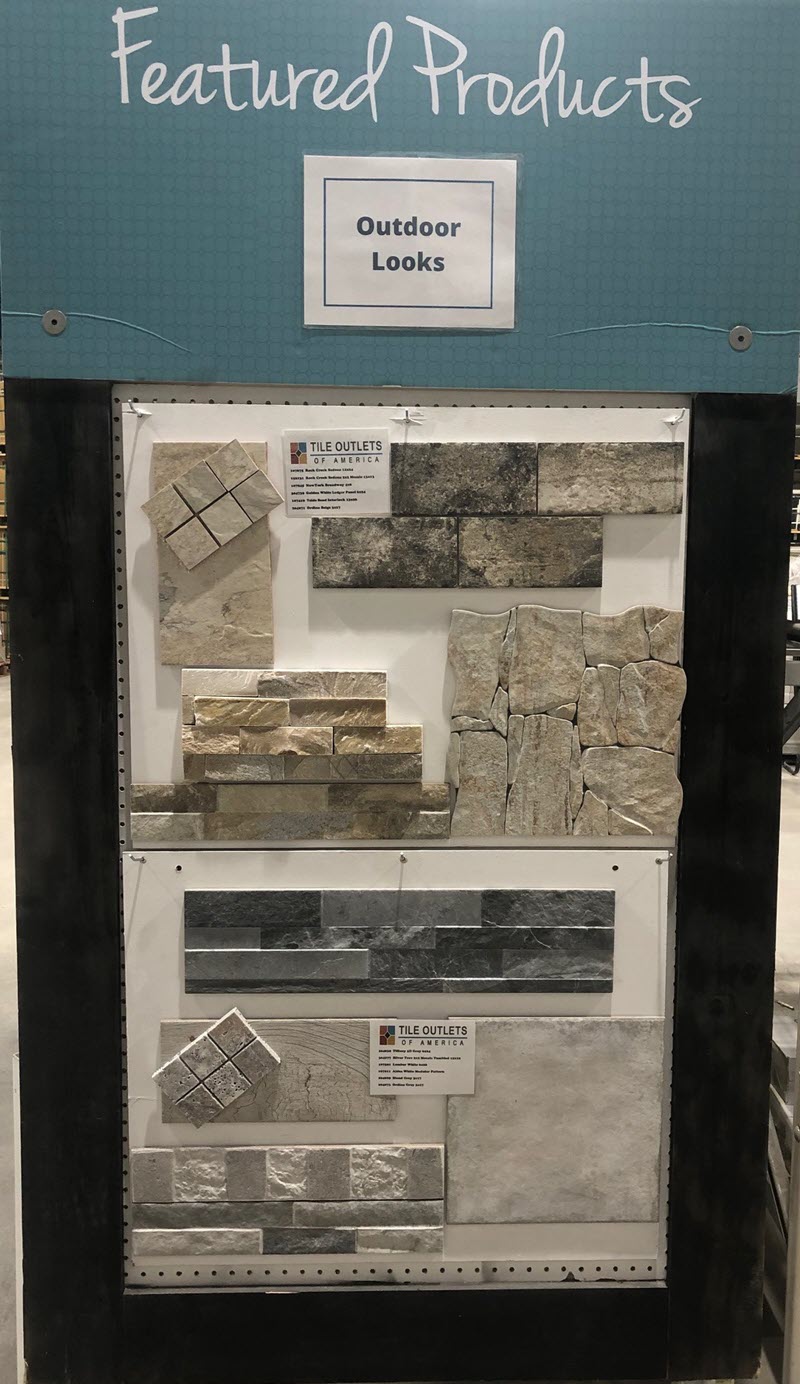 Outdoor looks are tremendously important when you live in Southwest Florida, and spend time outdoors in and around your pool and patio.
That's why we focused on outdoor looks for these Featured Products concept boards.
They will work if you're just getting started on your backyard oasis, or if you're looking to expand your pool and spa area.
You'll notice a range of shapes and marvelous textures to work with.
Ready to explore?
By the way, you'll find pool-related inspiration in these two articles:
>> Give Your Pool a Facelift With Tile and Mosaics
>> Expected and Unexpected Pool Tile Ideas for Your Backyard Spa
Outdoor Concept Board #1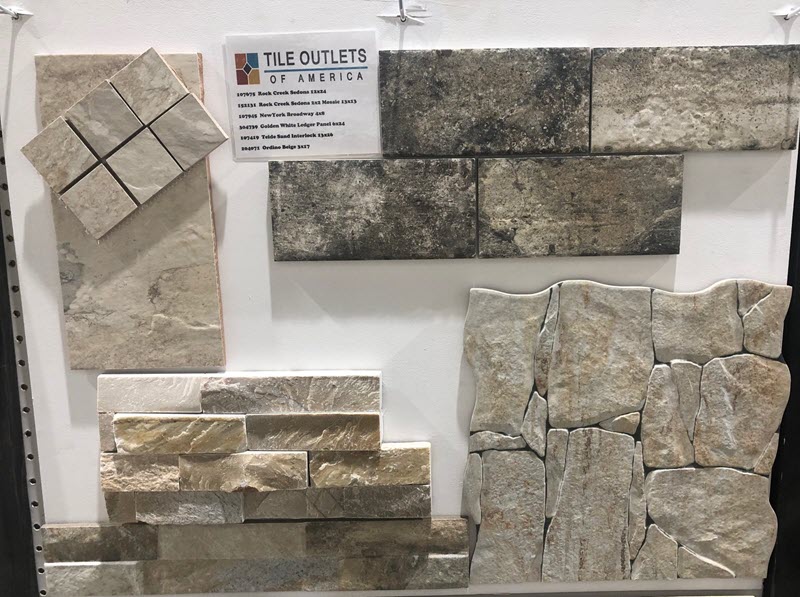 This first outdoor tile concept board focuses on warm stone-inspired looks, and includes the following products:
Rock Creek Sedona 12x24
Rock creek Sedona 2x2 Mosaic
New York Broadway 4x8
Golden White Ledger Panel 6x24
Ordino Beige 3x17
Teida Sand Interlock 13x26
The sales team in Tampa shares their perspectives on these products and why they included them on the concept boards.
Rock Creek Sedona 12x24 and Rock Creek Sedona 2x2 Mosaic
On the top far left of the board, you'll notice two related products - Rock Creek Sedona 12x24 tile and 2x2 mosaic.
Tampa sales rep Hanssel Cardentey is really impressed on how much this tile imitates natural slate tile from the look to the texture which makes it great for outdoors applications.
New York Broadway 4x8
You'll find New York Broadway subway tile on the top right of the board.
Tampa Sales rep Jesse Barzola explains the New York series is a great imitation of an actual aged brick which is great for outdoors or even indoors. From the texture to the color, this tile is truly a work of art.
If you love brick looks, you'll enjoy these articles:
>> Three Brick Look Tile Designs for Your Home
>> Brick Floor Tile Collection Creates A Timeless Craftsman Look
>> How to Design with Brick Porcelain Tile
Golden White Ledger Panel 6x24 and Ordino Beige 3x17
Ledger panels remain a classic for outdoor spaces. You'll find the Golden White Ledger and Ordino Beige on the bottom left of the concept board.
Sales rep Maite Caballero explains,
"... having lots of options is really important to the customer. These two different but similar tiles gives the customer what they need. From pure natural stone to low maintenance porcelain tile, these two tiles are great alternative for outdoor applications."
Teida Sand Interlock 13x26
The last item on this board is Teida Sand Interlock on the bottom right.
Luz Rosales, a Tampa customer service rep, is really impressed by the technology behind the teida sand porcelain tile. Luz explains,
"One can really see and feel the different high and low points of the tile, the detail in the grout design and the beautiful combination of colors."
Outdoor Concept Board #2
The second outdoor tile board focuses on cooler tones and features the following products:
Tiffany 3D Grey 6x24
Silver Trav 2x2 Mosaic Tumbled
Lumber White 6x26
Aldea White Modular Pattern
Blend Grey 3x17
Ordino Grey 3x17
Tiffany 3d Grey 6x24
At the top of this board, you'll find Tiffany 3d Grey.
Cabinet specialist Maria font really loves the color in this tile. This tile features a great outdoor classic look with a hint of a blue color which is very modern making, a great choice for any remodel or new construction.
>> See Blue Tile Inspiration at Cevisama
Silver Trav 2x2 Mosaic Tumbled and Lumber White 6x26
Under the Tiffany 3d Grey on the left side are Tumbled Silver Trav 2x2 Mosaic and Lumber White, a 6x26 wood plank look.
Tampa general manager Mike Alcala selected this combination. The lumber white features a unique weathered wood look design which you won't typically see outside. It's got a great textured finish that is ideal for the outside and when you combine it with the silver travertine, it gives you a unique combination between wood and stone.
Aldea White Modular Pattern
On the right side, you'll notice Aldea White Modular Pattern.
Tampa trade program manager Javier Garcia explains why he chose this tile:
"This tile screams good times! From a summer day around the pool to a cool night around the fire pit, this tile is perfect for any outdoor occasion. This tile imitates a travertine pattern without having to deal with the natural stone upkeep."
Blend Grey 3x17 and Ordino Grey 3x17
And, on the left bottom of this board, Blend Grey and Ordino Grey work together.
These two tiles are great for outside kitchens!
The Blend Grey features both smooth and textures finishes and the Ordino grey is full of details and a great combination of colors.
Are You Ready to Explore Outdoor Tile Products For Your Backyard Patio Oasis?
If you are, we would love to help you find the right tile. You can count on finding a wealth of beautiful options available at Tile Outlets of America, and we invite you to explore on the website and to visit the stores to see tile products in person.
Thanks for reading! See you soon!