Trade Pro Services at Tile Outlets of America
Posted by TOA's Blog Team on Feb 11th 2021
Are you familiar with Trade Pro Services at Tile Outlets of America? It's geared specifically toward tile installation pros with the goal of helping make them more successful.
At Tile Outlets, we take seriously the needs of tile installation professionals. We appreciate the trust they place in us to provide them with true Peace of Mind and to honor our customer promise. That's why, at each store in Fort Myers, Sarasota, and Tampa, you'll find a dedicated customer relations specialist ready to help you.
Meet the Trade Pro Services Customer Relations Specialists
In Fort Myers, your contact is Anna Robinson.
>> See Focus on Customer Service at Tile Outlets of America: Meet Bianca and Anna in Fort Myers, Florida
For Sarasota customers, your contact is Gary Tuhro.
>> See Gary Tuhro focuses on tile installation professionals in Sarasota
(You may have seen him at events such as the BIA Manatee County Trade Appreciation Night & Trade Show.)
And, in Tampa, you'll interact with Javy Garcia.
>> See Meet Employee-Owner Javy Garcia of Tile Outlets of America
What Does the Trade Pro Services Program Entail?
Trade Pro Services at Tile Outlets includes several elements:
A dedicated customer relations contact at each store
One-stop shopping for all of your professional installation needs - from LVT and tile, materials, and tools
A huge selection of in-stock first-quality materials
Access to product training sessions
Generous discounts and rebates
~~~~~~~
Trade Professional Benefits
The more you buy, the more you save!
Automatic discount on many purchases as soon as you sign up. Then receive additional discounts and rebates once you reach purchase milestones throughout the year.
Signing up is easy!
Call, email, or visit one of our three convenient locations and ask about the Tile Outlets Trade Pro Program.
~~~~~~~~~~~~
Tile Outlets of America stores are also a great place to go to with your customers or simply to send them so they can gather inspiration and ideas for their installation. In addition to the wide range of products - all first-quality and in-stock - available in-store, they'll be able to spend time in the Inspiration Area where they will see beautiful installations.
>> See Tile Design Inspiration from Tile Outlets Tampa
>> Or, Check out Tampa's Inspiration Area For Bathroom Remodel Ideas
>> Looking for Tile Design Inspiration? Check Out Tile Outlets in Fort Myers
For more ideas, you can send them to the Tile & More Blog or to the Design Ideas section on the TileOutlets.com website.
Here are four questions frequently asked about the program and the service.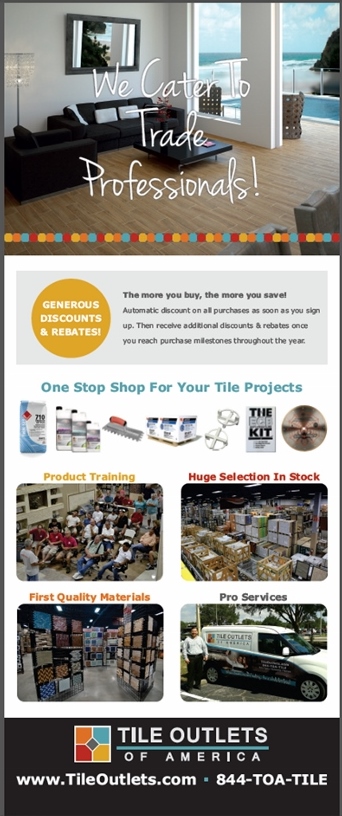 Q1: What do trade professionals most appreciate about Tile Outlets of America?
Based on what trade professionals like you tell us, they appreciate our customer service. They know that once they come into our store they are going to be helped with anything they need.
They also love the Trade Professional program which includes the Tile Outlets rebate program.
Q2: What is most important for trade professionals who shop at Tile Outlets of America?
Don't stress!
Your customer relations specialists are here to help you and your customer find the right product for your job.
Q3: What kinds of questions do trade installation professionals have about the Trade Pro program?
Contractors usually want to know how to sign up for the Trade Pro program. It's easy, come by and fill out a few question on the Trade Pro sign up form.
It takes about five minutes to enter you into our system. You will then have a unique id number assigned to your company name.
Whenever you shop or send your customers in, you can use that unique id number and start receiving the assigned discounts.
Also, you'll receive a quarterly rebate based on sales made under your id number for the previous quarter.
Q4: What should a contractor who's never been to Tile Outlets expect?
A contractor who has never shopped at Tile Outlets before can expect one thing:
"We are committed to providing our customer with an exceptional shopping experience every time."
Expect to be helped by a polite and educated tile specialist and greeted by everyone in our store.
We hope you'll be impressed by the tremendous in-stock selection of first quality products available at everyday low prices.
Plus, at the Tampa store you'll find help available in both Spanish and English.
From a project perspective, we suggest that whenever you're starting on a tile project, you have your customer do their homework in advance and shop well ahead of the project.
Then, always buy a little extra. A lot of customers come in years later needing only a few tile pieces to fix a repair and sometimes they can't find the tile because it has been discontinued.
Are You Interested in the Tile Outlets Trade Pro Services Program?
If you're a tile installation professional in Fort Myers, Sarasota, or Tampa, we invite you to contact one of the Tile Outlets customer service specialists to learn more.
Thanks for reading!