Transform Your Bathroom With Vanities from Tile Outlets
Posted by TOA's Blog Team on Sep 2nd 2021
If you're looking for a new look for your bathroom, consider adding vanities from Tile Outlets of America.
Vanities come in many different looks and styles. They can create a statement, help you get organized and will definitely transform your current bathroom.
In this article, Kate Spencer focuses on bathroom vanities. It's inspired by her it to Suncoast View when that very topic came up.
How to Transform Your Bathroom With Vanities from Tile Outlets of America
For an easy upgrade to a bathroom design, vanities are ideal. Simply by replacing your existing solution with one of the vanity pieces, we'll show you, you wind up with a completely different look. Why? Because of the range of choices available from Tile Outlets.
We carry vanities from four different companies. As a result, you have a multitude of design choices including, modern, transitional, and traditional. You'll find ornate vanities with hand-carved details on them, floating options with flat panels, and many in between with clean lines, simple doors but interesting details.
Ultimately, there's something for everyone.
Kitchen and Bath Design Services
If you aren't sure how to proceed, and what's best for you, don't worry. Tile Outlets of America has design services available for standard cabinets with 3D renderings. All you need is the size of the space available and plumbing locations. With that information, our designers can offer you many different design choices to choose from.
>> Meet Michelle, Kendra, and Maria.
Quick Ship Program
By the way, bathroom vanity options are available with a quick ship program. Please allow 3 to 4 weeks for shipping to the stores.
Most of the vanity options are fully assembled and just need to be removed from the box and installed.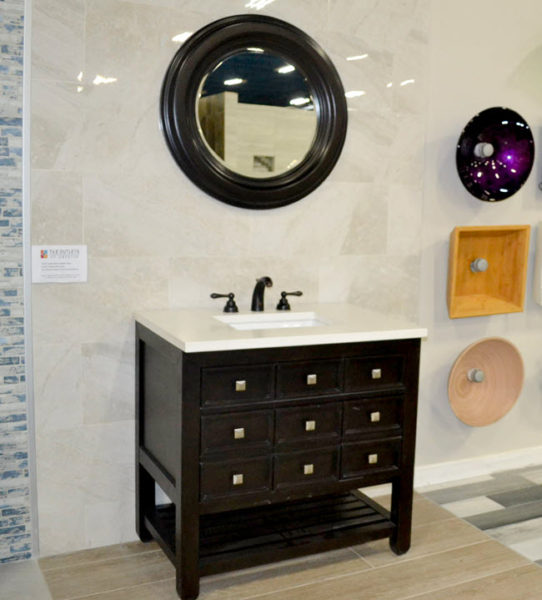 The Different Styles of Vanities From Tile Outlets
To help you make sense of the different vanity styles available at Tile Outlets, we've organized them into the following categories:
Vanity furniture pieces
Wall mounted vanities
Single sink vanities
Double sink vanities
Note that not all of the styles detailed here are available as the different vanity manufacturers regularly introduce new and retire older styles. However, these examples give you an idea of what's possible.

Vanity Furniture Pieces
What makes vanities stand out in comparison to built-in cabinets is how they make a statement. They aren't meant to blend into the room's design. Instead, the boldness of these furniture pieces stands out as you see in the images below.
The first example is a single sink furniture piece that stands up to the bold ledger focal wall.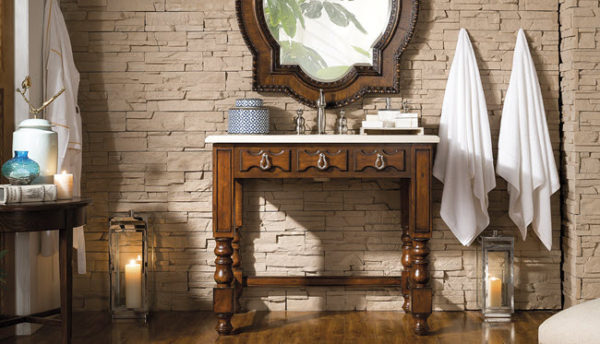 This next example features two sinks, ample storage drawers, and cabinet space. This traditional piece has an heirloom quality.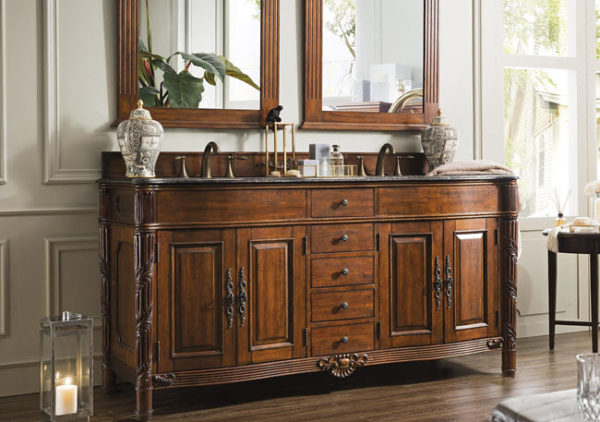 Or, go minimalistic with this Asian inspired piece.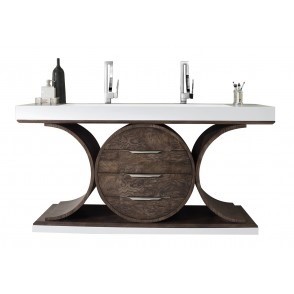 You'll find transitional furniture piece examples further below in the article.
For additional information about furniture pieces, be sure to check out these two articles:
>> Furniture Inspired Vanities Available at Tile Outlets of America
>> What's New in Kitchen and Bath Cabinets from KBIS 2017

Wall Mounted Vanities
You aren't limited to furniture pieces when it comes to vanities. You also have the option of wall mounted vanities.
Wall mount vanities are just that: they attach to the wall and sit off the floor. These vanities come in single sink and double sink options.
You'll find a variety of colors and looks to choose from to complement your space.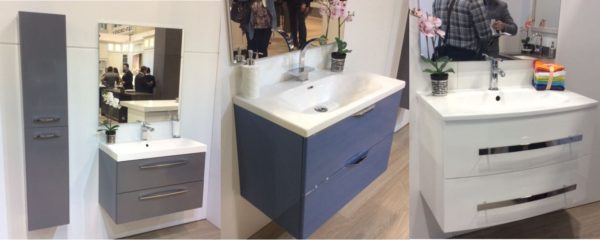 Some of the vanity companies include mirror and countertop options.
As you see from the images, wall mounted vanities look airy and light. They float off the floor, creating a sense of space and contemporary elegance.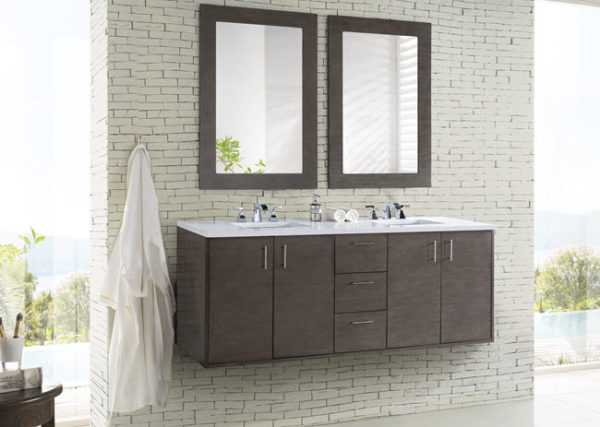 Depending on how much space you want in your vanity, a wall mount vanity might do the job.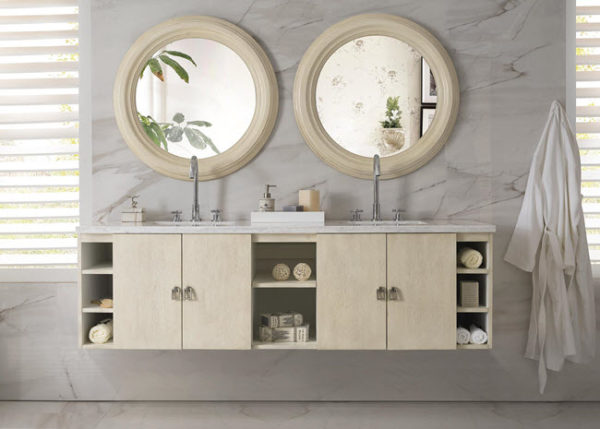 Single Sink Vanities

Just because a vanity is a single vessel sink doesn't mean it is a small vanity. You can have a variety of choices to select in different sizes, many of which give you ample storage space.
Here are several examples of modern, transitional and traditional single sink vanities. Notice the coordinating mirrors.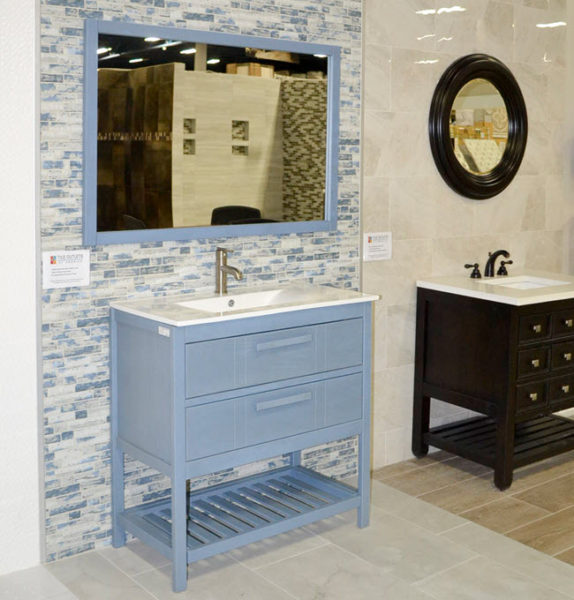 Below you see a single-sink floating vanity.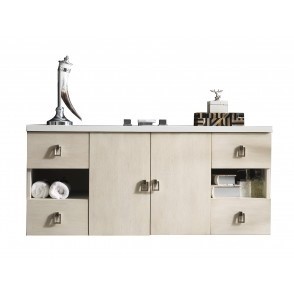 The single-sink furniture piece vanity below offers plenty of storage.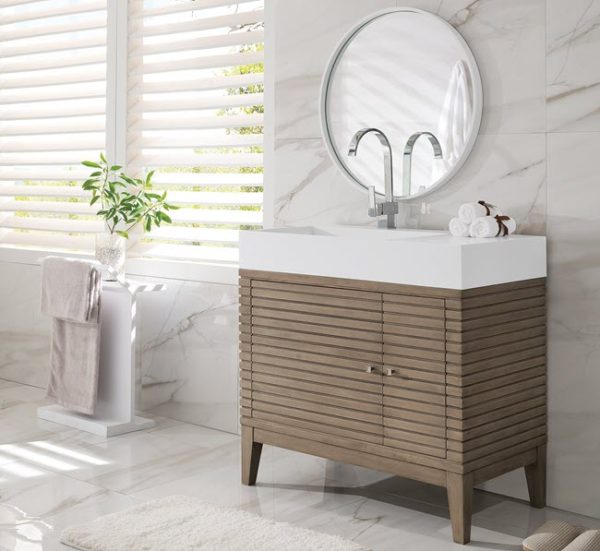 Here's another single-sink vanity with coordinating mirror.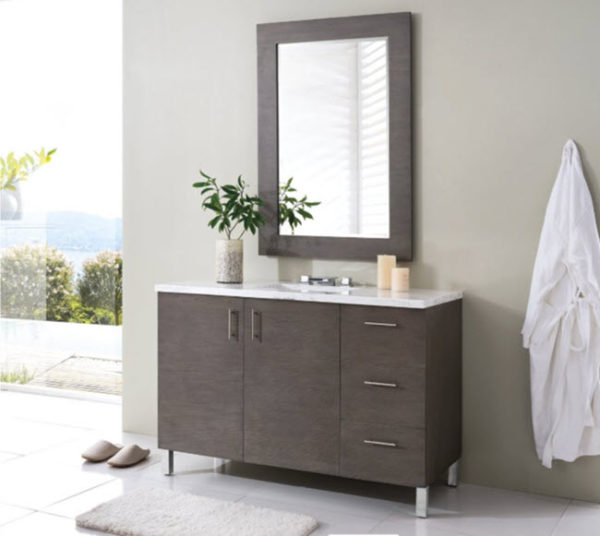 This next example is from the Tile Outlets store. Notice the glass top (more on that below) and the glass door and drawer inserts.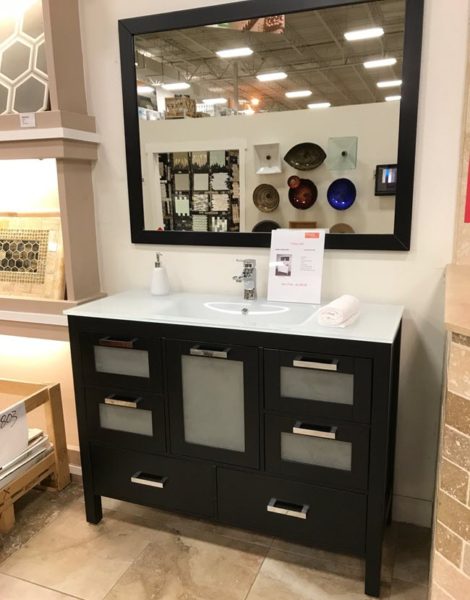 Here's a single-sink furniture piece with a marble countertop.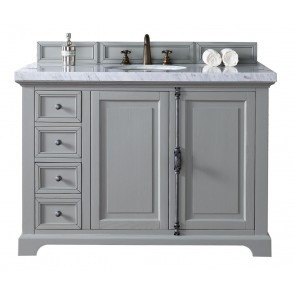 If you prefer a traditional look, here's a single-sink furniture piece vanity.
And yet another with different drawer/door configuration.
Although you'll find that compact vanity styles accommodate only one sink, don't assume that larger styles featuring two sinks can't be modified for one sink. And vice versa as you see in the image below.
Double Sink Vanities

For the household that needs a double sink vanity, you'll find many options to choose from. You can select one with just the right number of drawers and cabinets you desire.
Notice, too, that there are open concepts available, so you can display your towels and slippers.

Here's a stately furniture piece vanity with two sinks.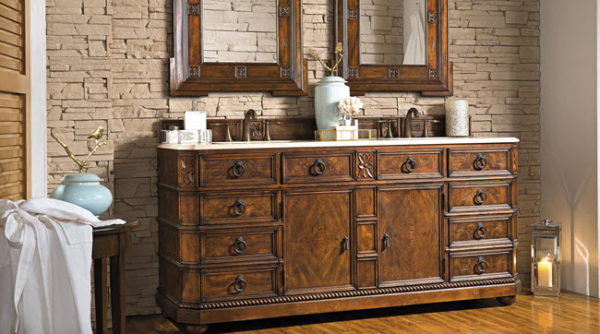 Some of these larger pieces also come with a bridge piece to create a make-up counter as you see below. You can even customize it to have outlets and even USB plugs.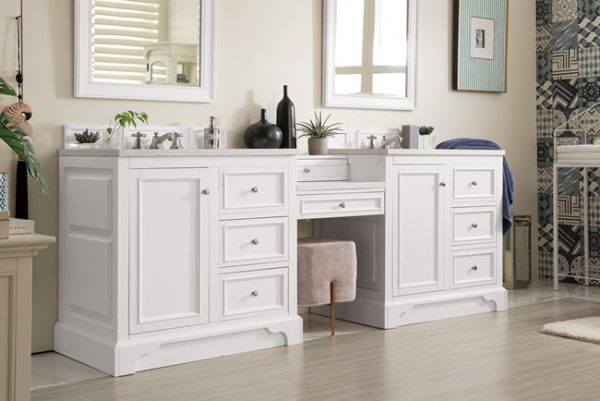 Buying Vanities From Tile Outlets of America
One of the advantages of these vanities from Tile Outlets is that they can come as a complete package that includes the sink and countertop, the faucet, and mirrors. Some options include everything including the P trap and hot and cold water lines.
You even have options such as countertop and faucet choices, decorative mirrors as well as glass inserts for the doors, so you can customize your vanity package to your needs. If you prefer, you can supply your own countertop.
You'll find every kind of vanity from ornate to simple and everything in between. The vanities themselves make full use of all available storage space, with some having flip downs on the false sink fronts and a shelf in the sink area. You'll even find vanities with hidden electrical outlets and divided drawers for storage convenience.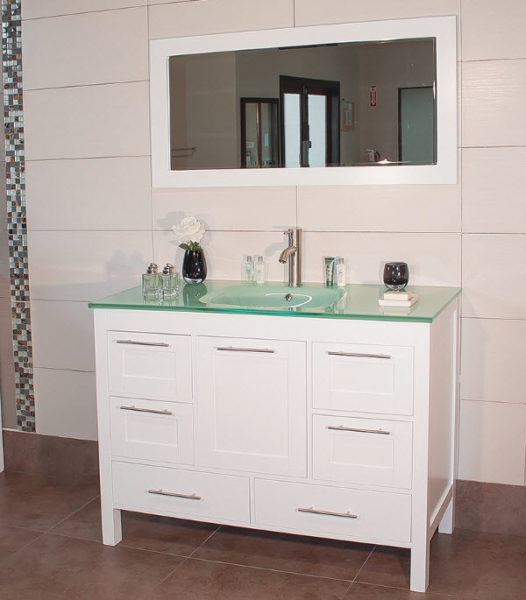 Vanity Construction
These vanity options are of wood construction and well made. You'll find options available made from solid wood with a high quality lacquered finish for that clean modern design, ornate carved designs as well as transitional styles.
The cabinets have soft close hinges and drawers plus comfort height. The handles on the drawers can be customized by vanity.
Sink choices vary by the vendor; some options include quartz with ceramic under mount sinks or integrated white tempered glass.
Standard vanity sizes range from 24", 36", 48", 60" and 72" in length. There are many colors and finish choices to select from depending on your design preference.
Here's the 5:34-minute video segment titled All About Vanities from Tile Outlets of America on Suncoast View.
Ready to Transform Your Bathroom with Vanities From Tile Outlets?
If yes, we'd love to show you firsthand the different vanities available. We invite you to visit Tile Outlets and look forward to helping you transform your bathroom.
Thanks for reading.
Kate
SHOP Vanities on Tile Outlets of America!
Note: We originally published this article on January 27, 2019, and have updated it.