Celebrating Tile for National Tile Day
Posted by Kate Spencer on Feb 23rd 2023
How are you celebrating National Tile Day? We celebrate by sharing with you the latest tile trends!
Are you ready to learn more?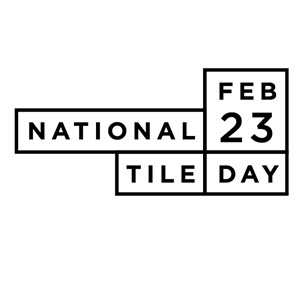 What is National Tile Day?
National Tile Day takes place on February 23.
It was founded in 2017 by Coverings, the largest international tile & stone show in North America. The purpose of National Tile Day is to shine a spotlight on the benefit of tile in residential and commercial design and recognize how timeless a role it has played in architecture and design.
Alena Capra, industry ambassador for Coverings, says,
"National Tile Day is rooted in a desire to celebrate the many great benefits tile has to offer as a material. We're encouraging the architecture and design community to get inspired by tile."
>> See Alena Capra, Interior Designer, Talks Tile and Design

The Latest Tile Trends for National Tile Day
Based on what we've observed attending the latest tile shows (Cersaie, Cevisama, Coverings...), here are 8 top tile trends:
1. Playful Tile Shapes: Hexagons, Fishscales, Arabesques and More
Ah, the shapes you'll find in tile, and not just in mosaics!
As you see in the image below, the traditional hexagon shape has been morphed and given dimension.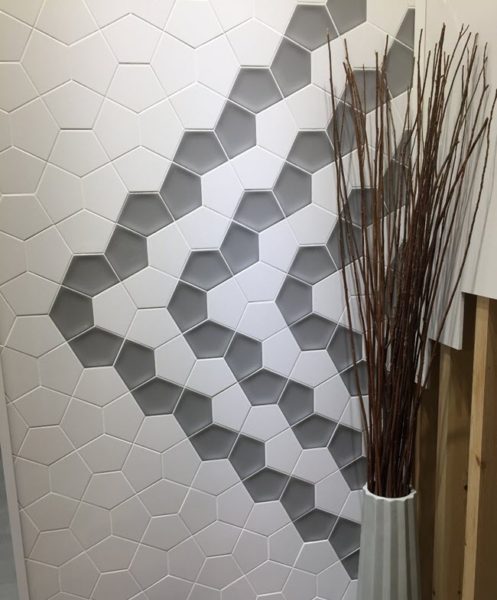 If you haven't already, be on the lookout for fishscale tile for walls and floors interpreted in bold colors, subtle patterned ones and in patchwork designs.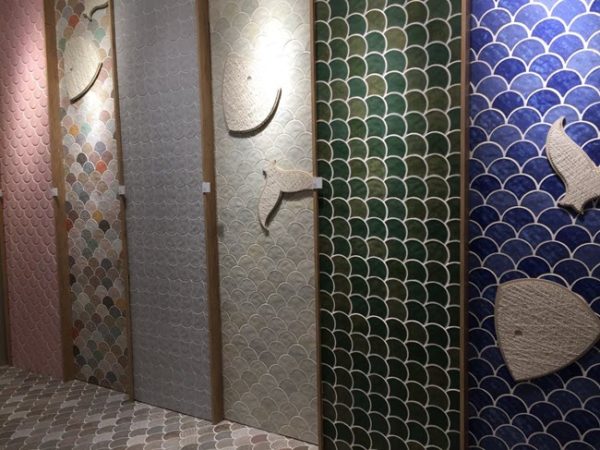 >> See Explore the Wonders of Mosaic Shapes with Kate on Suncoast View
2. Blues and Bricks are Strong
You'll see blues not just in fish scale patterns, but also in glass subway tile and bold decorative tile designs.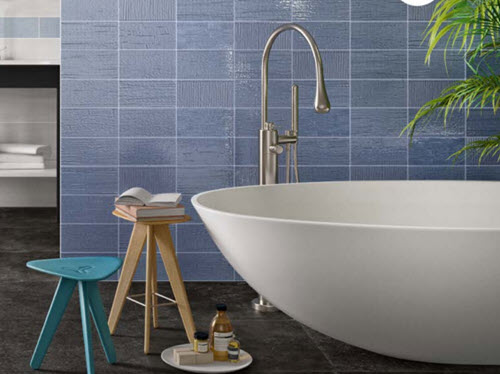 Notice the brick shape. It's classic and incredibly versatile given that it looks as stunning installed vertically as it does horizontally, and when mixed with other colors or textures.
3. Large Scale vs. Small Scale Tile Formats
Paradoxically, as tile scales larger, it also gets smaller making for interesting contrasts. Below you see a rectangular shaped tile juxtaposed with small hexagons. Color ties them together.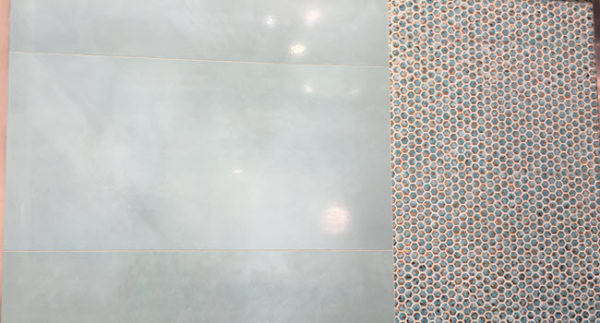 >> See Big Tile or Little Tile? How to Design for Small Bathrooms and Living Spaces on Suncoast View
4. Stone Looks Go Darker
Classic Carrera white marble looks have paved the way for other classic stones, including darker shades that contrast well with other styles of tile including decorative patterns and wood looks in tile.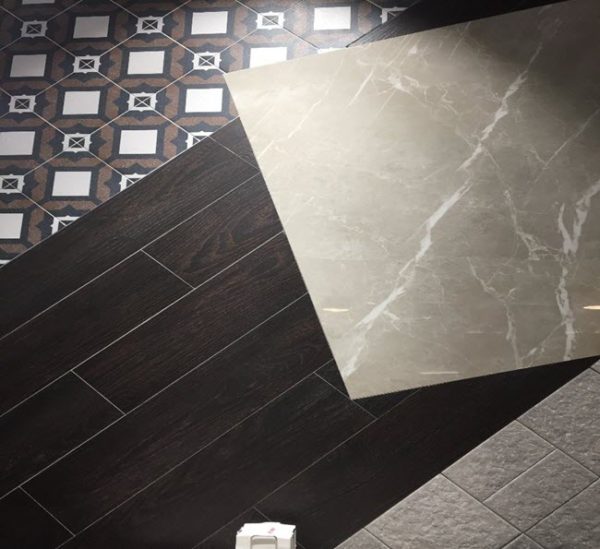 >> See How to Combine Tile Patterns and Styles for Unique Design Ideas
>> Have you downloaded tile patterns?
5. Wood Look Tile Continues Strong
Speaking of wood looks, they aren't going away! Quite the opposite.
You'll see them interpreted in different looks - from weathered to industrial - and in stunningly realistic patterns, with textures that rival the rustic, hand-scraped effects now available in hardwoods - with the benefit of being porcelain and not susceptible to water damage.
>> See Learn About the Range of Wood Plank Tile Sizes on Suncoast View
>> Explore Wood Look Tile Design Ideas
6. Traditional Decorative Tile Patterns Reinterpreted
Decorative tile patterns, ranging from stylized to traditional patchwork and cement tile-like designs also benefit from reinterpretation with different surface effects (e.g., Terrazzo, textures) as well as scale.

>> See Decorative Graphic Tile Designs in Porcelain from Tile Outlets of America
>> Explore Decorative Tile Design Ideas
7. Interesting Tile Surface Effects
I mentioned Terrazzo looks above. Yes, you'll notice it in surprising interpretations from traditional looks to lunar-scape aggregates and in patterns.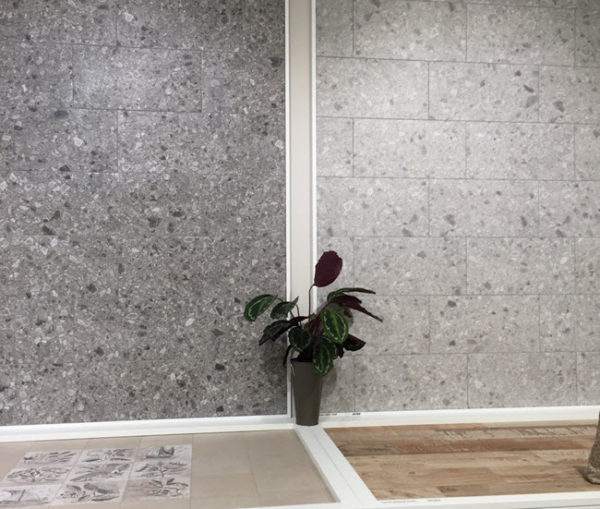 >> See What's New in Tile? Terrazzo Looks at Cevisama 2018
Other effects include three-dimensional tile and unusual textures.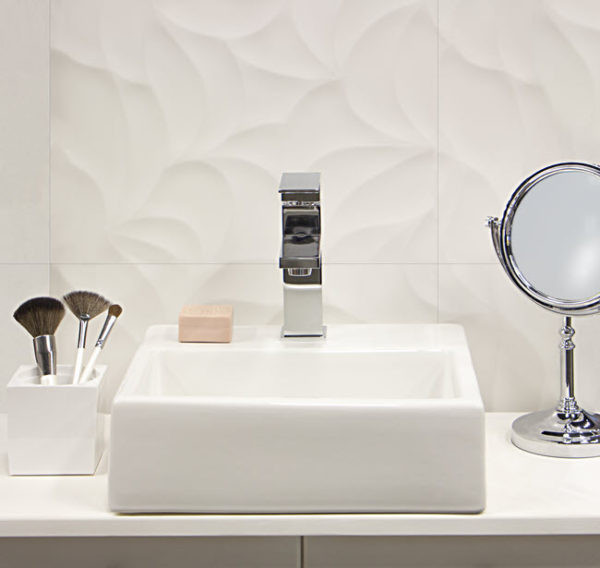 >> See Designing With White Tile on Suncoast View
8. New Uses for Tile
As tile manufacturing technology evolves, so do the possibilities.
Oversized gauged porcelain panels (measured in feet not inches) make possible wallcoverings in tile as well as countertops.
On the other end of the spectrum, thicker porcelain pavers become ideal solutions for outdoor spaces.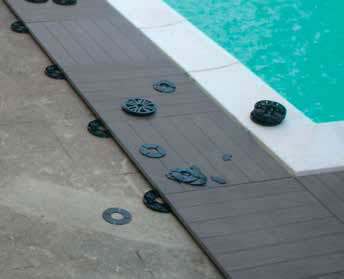 >> See Kronos USA Porcelain Pavers: Perfect for Your Outdoor Spaces!
Ideas on How to Observe National Tile Day
If you'd like to be more actively involved (in addition to including tile in your upcoming remodel), you can share on Instagram and Twitter favorite tile images and include the hashtags #WhyTile, #Coverings2023, and #NationalTileDay.
Also, look around you and take the time to admire and appreciate the tile around you - its beauty, how it has been installed, the quality of the craftsmanship...
I hope, too, that you'll explore tile online. You'll find stunning boards on Pinterest and remarkable images on Instagram, not to mention blog articles that highlight the beauty of tile - including here on the Tile & More Blog.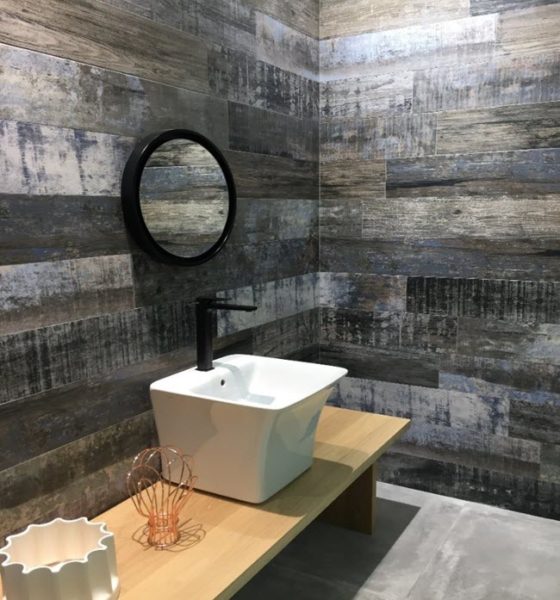 Looking for More Tile Inspiration?
Check out these articles:
>> Coverings Celebrates National Tile Day with a Look at Tile Trends
>> How Do You Celebrate National Tile Day?
Here are a few Pinterest Boards created by WhyTile that are sure to inspire you:
Happy National Tile Day from All of Us at Tile Outlets of America!
Tile is timeless. I hope you'll let us know how you celebrate.
Thanks for reading.
Kate