12 Days of Tile Installation Tips
Posted by TOA's Blog Team on Dec 23rd 2021
'Tis the season to share and what better information to share than Tile Installation Tips?
In honor of the season (and somewhat inspired by The 12 Days of Christmas), we are excited to present to you the 12 Days of Tile Installation Tips updated for 2019.
Our 12 Days of Tile Installation Tips
Here are our 12 top installation tips and resources with links for learning more. If you notice a topic missing, be sure to let us know so we can address it in the coming year.
Day 1 - What's Different Between Porcelain and Ceramic Tile?
A question that comes up frequently during the tile shopping process is what is the difference between porcelain and ceramic tile.
Let's explore since it can get confusing and the right product to choose will depend on what you are trying to create with tile. In this article, we address what's similar, what's different and then test your knowledge of porcelain vs. ceramic tile!
Day 2 - How to Install Tile Correctly
At the heart of every tile installation is ensuring proper mortar coverage. How To Install Tile Correctly and Get Proper Mortar Coverage looks at the National Tile Contractor Association's Trowel & Error video with advice on tile installation best practices around mortar coverage.
Day 3 - Use the Right Tools to Install Tile
You'll want to review this article on trowels: 9 Top Questions About Trowels.
If you plan to work with glass tile and/or wood plank tile, you'll appreciate this article about some of the tools available at Tile Outlets of America: How to Cut Glass Tile and Wood Plank Tile: Cortag Demonstration.
>> Shop Tile Installation Products at Tile Outlets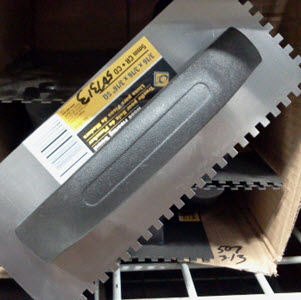 Day 4 - What Role Does Grout Play in Tile Installations?
Grout is critical to a successful tile installation as Why You Need Grout When You Install Tile and Stone explains.
You'll appreciate how to properly maintain glazed ceramic tile, porcelain tile and grout using Aqua Mix Products.
>> Learn about Grout and Thinset Mixing Best Practices.
In Frequently Asked Questions About Grout, we address questions that regularly come up about grout, grout joints, the right grout space, best practices, using spacers and how to avoid streaks.
Don't estimate the benefit of working with Grout Release Before Grouting Textured Tile for Easier Clean Up.
Grout for Glass Mosaics
We like Crystal Glass Grout a lot and sell it at all Tile Outlets of America locations. The reason is that it is ideal for glass mosaic tile. Regardless of the color of the glass, this grout works beautifully.
What this means is that you no longer have to change grout colors when you create designs with multiple colors of glass mosaic tile. In this article, Jean Snell of The Tile Doctor® demonstrates how to apply Crystal Glass Grout.
>> Check out Add Sparkle and Color to Your Grout With Litokol Starlike Crystal Glitter Grout.

Day 5 - How Does PEI Affect Your Tile Installation?
No one likes surprises, especially after tile has been installed. In How PEI Helps You Select Ceramic or Porcelain Tile for Your Remodel, we explain what PEI is and how it helps ensure that you have the right tile for your installation project.
In fact, we recommend that you Consider a Mockup for your Tile Installation Project to avoid those and other installation surprises.
Day 6 - Why Underlayment Matters When You Are Installing Tile
Are you planning a tile installation project? If yes, don't forget underlayment!
Underlayment in a tile project can mean the difference between a project that lasts for years and one you have to redo because an unexpected crack develops in your concrete slab.
Tile installation experts, says "underlayment is like an insurance policy." Here's what underlayment and why it matters so much when you're installing tile.
Here's Perspective on Tile Installation Underlayment from NAC Products Expert, Steve Price during a recent product knowledge training session.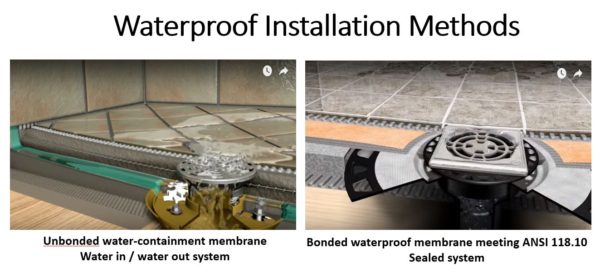 Day 7 - How to Prevent Moisture Issues in Tile Shower Installations?
Critical to a beautiful shower installation is ensuring that it will perform over time even in the wettest environment. How to Manage Moisture in Tile Showers: Schluter Training Session offers valuable perspective and advice on ensuring long-term function and beauty.
Schluter provided additional perspective on how to use their products for an entirely waterproof enclosure in Build a Waterproof Shower Enclosure with Schluter Products.
Be sure to check out What You Learn From a Schluter Innovation Workshop based on Gary Tuhro's participation.
Day 8 - How To Property Set Large Format Wall And Floor Tile
Wondering how to set large format wall and floor tile? For example, products such as these: Have You Tried Large Format Tile?
What's critical is having the right installation materials such as what's available from TEC Specialty Products.
Larger format tiles (including the very popular plank tiles) are affecting tile installation products and methods. Since they have more inherent warpage, you need to know the proper kind of mortar to use and how much to compensate. Here's our must-read article on the subject:
>> An Introduction to Tile Warpage and the Role of Mortar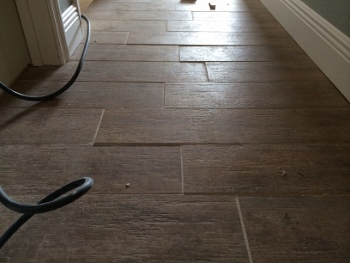 Day 9 - How to Prevent Lippage
Similarly, as tile formats have gotten larger in width and length (think plank sizes), preventing lippage has become more of a tile installation priority. These three articles offer perspective and solutions:
>> Learn How to Use the Tuscan Leveling System When Installing Tile
>> Create a Lippage-free Tile Installation with the Tuscan Leveling System
>> Managing Lippage: Why Offsets Matter When Installing Tile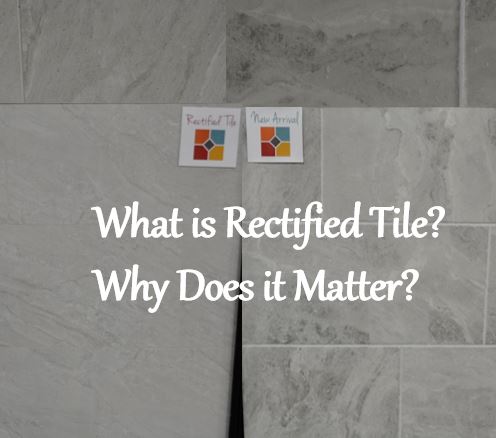 Day 10 - What is Rectified Tile?
In response to questions about rectified tile, we put together What is Rectified Tile and Why Does It Matter for Your Tile Installation?
Day 11 - Immerse Yourself In Our Tile Installation Videos
If you're looking to do your own tile installation (i.e., take a DIY approach), and prefer a visual approach, you might want to go directly to the video library where you will find videos of product knowledge tutorials:
Day 12 - All About Travertine Tile
Travertine tile is a big favorite with Tile Outlets of America customers. Here is information all about Travertine!
What Makes Travertine Unique?
Are you intrigued with Travertine and its timeless natural beauty? Would you like to learn more? Here are 13 facts about Travertine Tile.
Have you ever wondered where that beautiful Travertine comes from and how it becomes a series of tiles that you can use for a kitchen backsplash, a shower or a floor? Here's a brief overview of the Travertine mining process and the steps that go into bringing Travertine tile to Tile Outlets of America so you can bring your dream project to life.
The Truth About Buying Travertine Tile offers you an overview of what makes Travertine tile so versatile and timeless.
What Are The Different Travertine Tile Finishes?
Your dream kitchen has Travertine tile written all over it, until you encounter terms such as honed, polished, tumbled, chiseled edge, and more.
You're no longer sure how Travertine fits into your dream… This article explains what those tile finish terms mean – especially for Travertine - so you clearly envision how this stone can transform your kitchen, or any other room inside your home or outdoors based on the look you want to create.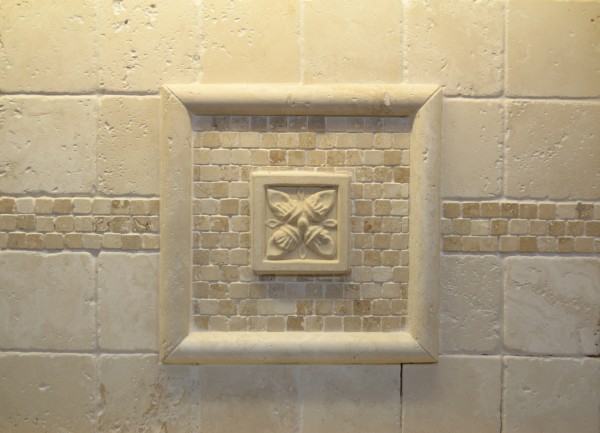 Tips For Sealing Travertine Tile
If you spend much time exploring Travertine to find the perfect pattern for your kitchen or bath project, you will most certainly care about this next step: sealing your Travertine tile to ensure that it looks as beautiful as it did when you first saw it! In this article, we explain why, when to seal and how to do so.
If you read Why and How to Seal Travertine Tile, you know that it's critical to seal your stone tiles. In this article, we're going to explain what types of stone sealers are available and how to choose the one that is best for you.
When you're figuring out what to seal your stone with there are two considerations. The first is do you want a natural or enhanced finish. The second is where will your stone tile be: indoors or outdoors? We explain both considerations in this article.
How To Install Travertine Tile
Travertine tile is a classic choice for floors and walls, both indoors and out. It's versatile and timeless in its beauty and sure to transform any space you install it in. In this article, we share 6 high-level tips to keep in mind before getting started with your Travertine tile installation project. At the end of the article, you'll find links to several resources that go into more depth on how to install Travertine tile.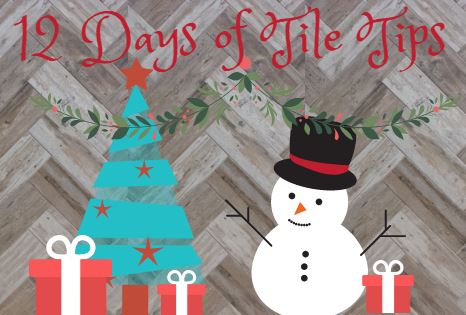 Happy Holidays from Tile Outlets of America!
We hope you find these 12 days of tile installation tips helpful. If there's a question you have about installing tile, please don't hesitate to ask us and we'll address it here on the blog.
We wish you intense happiness with visions of sugar-plum tiles dancing in your head.